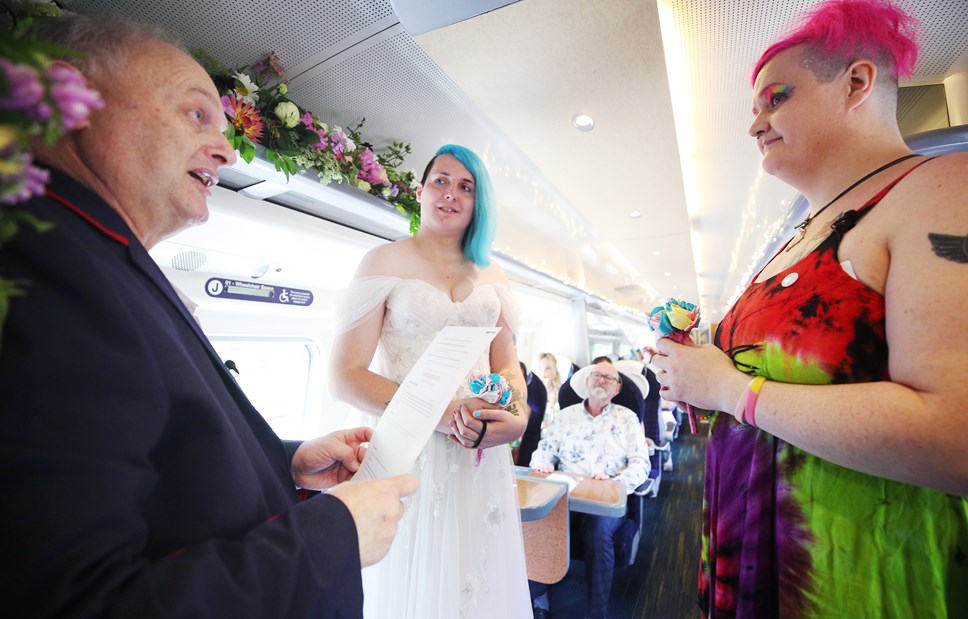 "It was such a joyous occasion."
Train manager Peter Davis on his role when Jane Magnet and Laura Dale wed on Avanti West Coast's Marriage Carriage.
19 August, 2021
The start of a memorable day began early when Jane and Laura arrived at Euston for a reception with friends and family in the First Class lounge where I gave a little speech.
After the photos were taken, we got on board the Marriage Carriage and I conducted the service. As well as being the celebrant, I was also the master of ceremonies.
I was asked to do this because I was formerly an ordained minister and left the church in 2006. I then landed a job in the railways, holding a number of positions before becoming a train manager based at Euston.
"It was a bit of dream come true and will stay with me for a while."
In the run up to the big day, I provided Jane and Laura with various resources and reading materials so they could work together on what they wanted to say for their vows at the ceremony.
But the most important thing for me was to get them to look at each other when they recited their vows – which were really profound. That is a lasting memory.
Celebrating with a same sex couple was a huge thing as I am gay myself. Essentially, you are honouring the love between two people and that was really awe inspiring and humbling for me. And what a fantastic couple they are.
This was a celebration like no other – full of magnificent bright colours. It was a dream come true and will stay with me for a while.
The fact that our workplace was used to mark such a momentous occasion for Jane and Laura was incredible. It was such a joyous occasion in the midst of what had been a lot of gloom and certainly captured the imagination of a lot of people.
It even made the news in Adelaide in Australia where I am originally from and I was made up that I got fair few texts from my friends back home who heard about it!
Images:

Main: Peter with Laura and Jane on Avanti West Coast's Marriage Carriage
Second image: Peter with Laura and Jane at Birmingham New Street
Third image: Peter (4th left) with Laura, Jane and the Marriage Carriage team from Avanti West Coast
For the full story: Couple get hitched at high speed on Avanti West Coast's Marriage Carriage