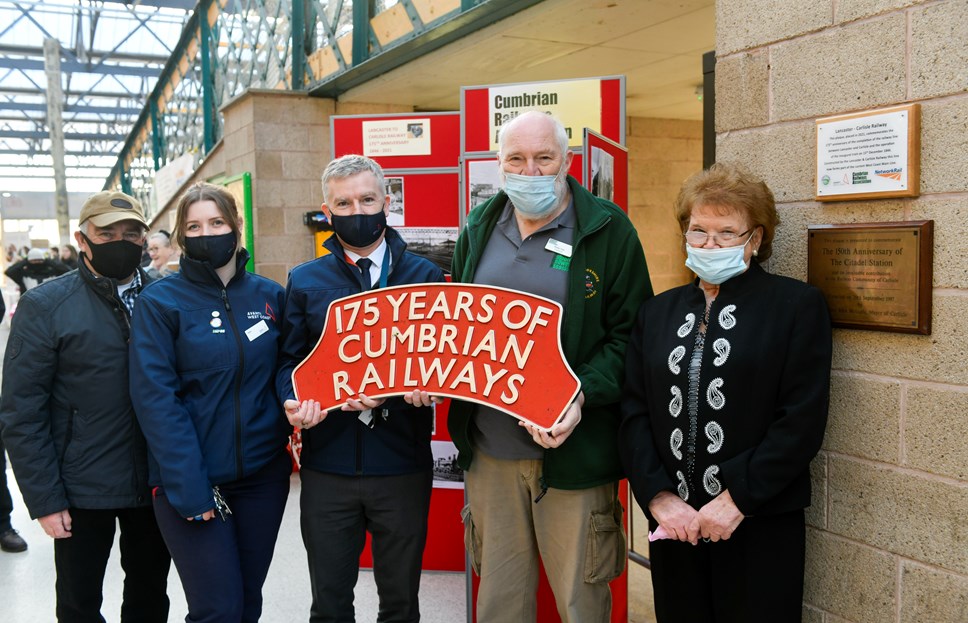 Avanti West Coast celebrates 175 years of Lancaster and Carlisle railway
Avanti West Coast joins community to celebrate 175 years of Lancaster and Carlisle railway at Cumbrian stations.
Train operator marks milestone event with local communities in Cumbria
Carlisle and Penrith stations host celebrations for 69-mile stretch of railway
Commemorative plaques unveiled at stations to mark opening of railway in 1846
Avanti West Coast has teamed up with local communities based around its Cumbrian stations to celebrate the opening of the Lancaster and Carlisle railway in 1846.
Working in partnership with Cumbrian Railways Association (CRA), Community Rail Cumbria, and industry partners, Avanti West Coast hosted events at Carlisle and Penrith stations to mark the 175th anniversary of the railway line between Lancaster and Carlisle.
The week-long celebrations, which were part-funded through Avanti West Coast's Station Community Project Fund, involved photographic displays documenting the line, the appearance of locomotives from rail freight company, Direct Rail Services and the unveiling of commemorative plaques by retired railway workers.*
At Penrith, local schoolchildren created birthday cards and representatives from the community shared stories of their connections to the railway line.
The Lancaster and Carlisle railway – now known as the West Coast Main Line, which connects London and Glasgow - first opened on 15 December 1846 when the inaugural train from Lancaster arrived in Carlisle.
Timetabled passenger services started two days later – making it possible for people in Lancaster and Cumbria to travel to and from the south by rail.
The 69-mile railway line, which goes across Shap summit (the highest point on the West Coast Main Line), and the associated stations and viaducts took 30 months to construct.
Mark Green, Avanti West Coast Station Manager at Penrith, said: "We're proud to be playing our part to celebrate 175 years of the Lancaster and Carlisle railway. As gateways to the North Lakes and City of the Lakes, Penrith and Carlisle stations are key destinations on our route, where our iconic Pendolino trains provide a clean, green journey option.
"Working with industry partners, past rail workers and the community has highlighted how the railway makes a lasting impression on everyone, and the important role train travel has played and continues to play today in connecting people and places."
Cumbrian Railways Association Chairman, Philip Tuer, said: "The CRA and other partners believe that this milestone of railway construction should be properly recognised and celebrated as a key event for Cumbria, Penrith, Carlisle and the railway network as a whole."
ENDS
Contact Information
Laura Normansell
Avanti West Coast
Notes to editors
*Ken Harper, a trustee at CRA, who has been involved with Penrith station for over 60 years, unveiled a plaque at Penrith. Ken was a railway enthusiast before starting a job at Penrith No.1 signal box in 1965. He served 42 years on the railway, where he held various roles based at Penrith and Carlisle.
Moira Wilson unveiled the commemorative plaque at Carlisle. Moira was born into a railway family (her father was a shunter). She joined the railway in 1951 and served all 42 years of her career at Carlisle.
Image (L - R): Ken Harper (Trustee at Cumbrian Railways Association); Katie Smith (Avanti West Coast Customer Service Assistant); Mark Green (Avanti West Coast Station Manager); Philip Tuer (Chairman of Cumbrian Railways Association); Moira Wilson (ex-railway worker)
About Avanti West Coast
Avanti West Coast, operator of intercity rail services on the West Coast Main Line, is a joint venture between FirstGroup and Trenitalia, delivering a cleaner, greener railway that drives the West Coast forward.
We're on a mission to revolutionise train travel, linking together the towns and major cities of the UK to create an iconic railway the country can be proud of. We've got big plans including a fleet of new intercity trains, as well as the complete refurbishment of the existing Pendolino train fleet. We will introduce more train services every week with new routes added, and a much-improved onboard service with enhanced free Wi-Fi, plug sockets, 25,000 brand new seats and improved catering. Since 8 December 2019, passengers have benefitted from improved passenger compensation, available for journeys delayed by just 15 minutes.
For the latest news, visit the Avanti West Coast Media Room: https://newsdesk.avantiwestcoast.co.uk/
Press Office: 0845 000 3333
About Cumbrian Railways Association
The Cumbrian Railways Association is an educational charity founded in 1976 to promote interest in and knowledge of the very varied railway history of the county of Cumbria.
The Association holds two conferences a year in the county for its members. Membership currently numbers over 500.
More information about the Association can be found on their website at www.cumbrianrailways.org.uk
About Community Rail Cumbria
Community Rail Cumbria (CRC) comprises the three accredited Community Rail lines in Cumbria: the Cumbrian Coast Line, the Furness Line and the Lakes Line. The team also work closely with neighbouring Community Rail teams for the Tyne Valley line, Settle – Carlisle line, Leeds – Lancaster – Morecambe line and lines into Lancashire.
The partnerships are greatly helped by community volunteers and support local communities to adopt their local station. This encourages station development with projects such as gardening and landscaping, building renovations and community events.
Accredited in 2019 by the Department for Transport and the Community Rail Network (formerly ACoRP), CRC works in partnership with the rail industry, Local Authorities, community groups, funding partners and the private sector to support the use and improvement of local railway stations and services across Cumbria. CRC also has a strong focus on promoting and marketing our railways encouraging local communities and visitors to use the train to and through Cumbria.