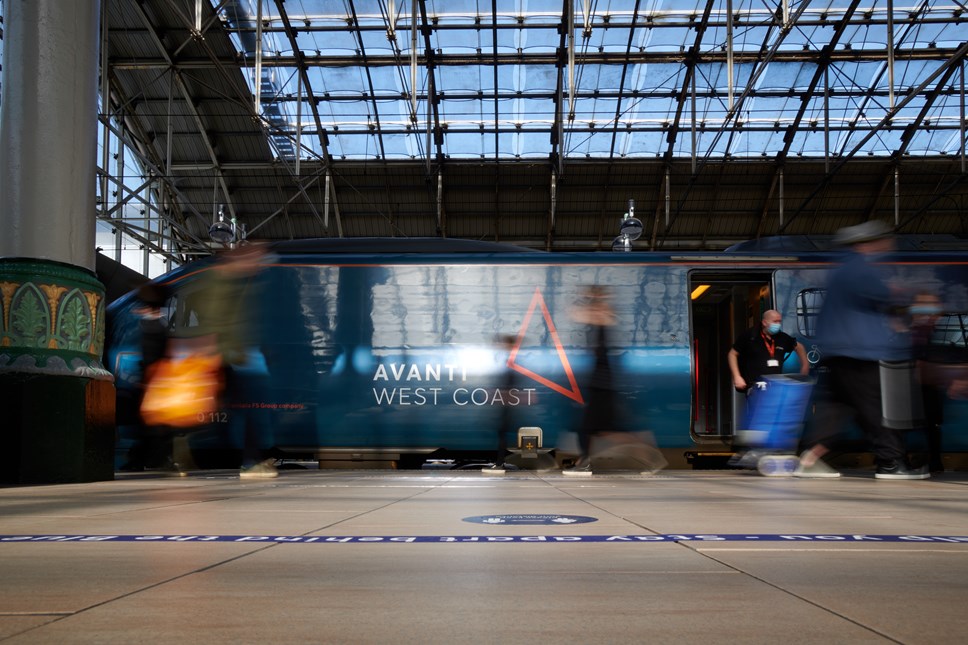 Avanti West Coast champions wellbeing during Community Rail Week
Avanti West Coast helps community to champion self-care for mental health amongst rail users in Manchester.
Avanti West Coast helps champion self-care for mental health amongst rail users
Community offers stress-relief sessions and self-care kits at Manchester Piccadilly
Project aims to build confidence and reduce anxiety around rail travel since pandemic
Avanti West Coast is supporting a wellbeing initiative aimed at those who are anxious about travelling by train as part of activity to mark Community Rail Week.
Passengers travelling to and from Manchester Piccadilly will be offered stress-relief sessions and self-care kits in an effort by community groups to support mental health.
The project, which has been developed by South East Lancashire Community Rail Partnership (CRP), aims to build travel confidence with those who are less familiar with the railway, as well as reduce anxiety for anyone returning to rail following the removal of COVID-19 restrictions.
Teaming up with Ordinary Glory (a Manchester-based theatre company that makes theatre for social change), the CRP is distributing handcrafted self-care packs containing chocolates, herbal teabags, and signposting information to mental health services to passengers in Manchester.
Designed to enable people to access support and help, the self-care packs have been developed through workshops held by Ordinary Glory with Bolton residents who have experienced mental ill health.
The packs have been adapted to be easier to carry on the move and offer extra support for anyone who feels nervous about travelling by train, as part of activity to mark Community Rail Week - an annual event where 74 Community Rail Partnerships and 1,200 Station Friends groups across the UK host activities to raise awareness of rail amongst local people.
Passengers can also take part in 60-second stress-relief sessions, facilitated by Ordinary Glory, involving a variety of mindfulness-based techniques to help the manage anxiety around travel and other life stress.
Funded through Avanti West Coast's Station Community Fund, the initiative aims to give passengers and potential rail users tips and tools to enable them to feel confident and comfortable about making a journey by train.
Joanna Buckley, Community Manager at Avanti West Coast, said: "We want to get more people travelling again and encourage the communities we serve to make cleaner, greener journeys, so we're pleased to be supporting South East Lancashire CRP and Ordinary Glory's efforts to champion self-care for mental health amongst passengers this Community Rail Week.
"By championing self-care and offering extra support we hope to build travel confidence and help reduce anxiety around rail travel enabling everyone to give the train a try."
Dr Steph Dermott, Community Rail Officer for South East Lancashire CRP, said: "It's been a fantastic opportunity to engage with people at Manchester Piccadilly during Community Rail Week, and offer something quite unique. We've had some great feedback from customers and staff, with most people telling us they "really needed this"!
"Many people are still suffering with stress, anxiety and other mental health issues following the pandemic, and it has been a pleasure to be able to offer people a chance to take 60 seconds out of a busy day to de-stress. We're so pleased to be able to work with Ordinary Glory on this project. The self-care kits they created are a wonderful way to promote the importance of good mental health. We hope to continue this work at other stations in the near future."
Amy Hailwood, Artistic Director at Ordinary Glory, said: "We're delighted to be partnering with South East Lancashire Community Rail Partnership on this innovative project in support of good mental health and the importance of self-care. Working together has allowed our self-care packs, co-designed by people with lived experience of mental ill health, to reach a much wider audience of people with the message that 'self-care is not selfish' and that taking time to attend to your needs is really important.
"Our first stress-relief pop-up at Manchester Piccadilly was a great success with lots of passengers stopping to find out more, try out some stress relief tips and leave a little lighter in their step. Theatre is ultimately all about creating connections between people and we're really pleased to be doing this in a new context as part of Community Rail Week."
As part of Community Rail Week, the intercity operator is also welcoming CRPs in Greater Manchester to promote their railway line with stalls at Stockport station.
ENDS
Contact Information
Laura Normansell
Avanti West Coast
Notes to editors
About South East Lancashire Community Rail Partnership
South East Lancashire Community Rail Partnership (CRP) was formally established in June 2019, growing out of the work of Bolton Station Community Development Partnership. The CRP aims to take a more strategic approach with a strong emphasis on promoting social inclusion and community cohesion, particularly through arts-related activities.
https://www.southeastlancscrp.org.uk/
About Ordinary Glory
We are a Manchester based theatre company that makes theatre for social change. Our big dream is a world in which every individual and community flourishes and fulfils their full potential.
Telling stories in an experiential way unlocks hearts and minds to the possibility of transformation. This potential is powerful. We channel this potential into practical, social change action by directly connecting high quality, contemporary theatre shows with public education, advocacy and participation projects.
We can't do this alone and we don't want to. We collaborate with individuals and organisations to ensure our work has a long-lasting, sustainable impact. We also intentionally create space before, during and after our shows for conversation, relationship and community to flourish. Our work might be made with professional artists, or non-professionals, or a mixture, it depends on the project. Likewise, it might be found in a traditional theatre venue or a non-traditional performance space like a bingo hall, a pub or a swimming pool. The values we are guided by mean that how we do what we do is as important as what we do, and in the pursuit of artistic excellence, people always matter.
https://www.ordinaryglory.co.uk/
About Avanti West Coast
Avanti West Coast, operator of intercity rail services on the West Coast Main Line, is a joint venture between FirstGroup and Trenitalia, delivering a cleaner, greener railway that drives the West Coast forward.
We're on a mission to revolutionise train travel, linking together the towns and major cities of the UK to create an iconic railway the country can be proud of. We've got big plans including a fleet of new intercity trains, as well as the complete refurbishment of the existing Pendolino train fleet. We will introduce more train services every week with new routes added, and a much-improved onboard service with enhanced free Wi-Fi, plug sockets, 25,000 brand new seats and improved catering. Since 8 December 2019, passengers have benefitted from improved passenger compensation, available for journeys delayed by just 15 minutes.
For the latest news, visit the Avanti West Coast Media Room: https://newsdesk.avantiwestcoast.co.uk/
Press Office: 0845 000 3333