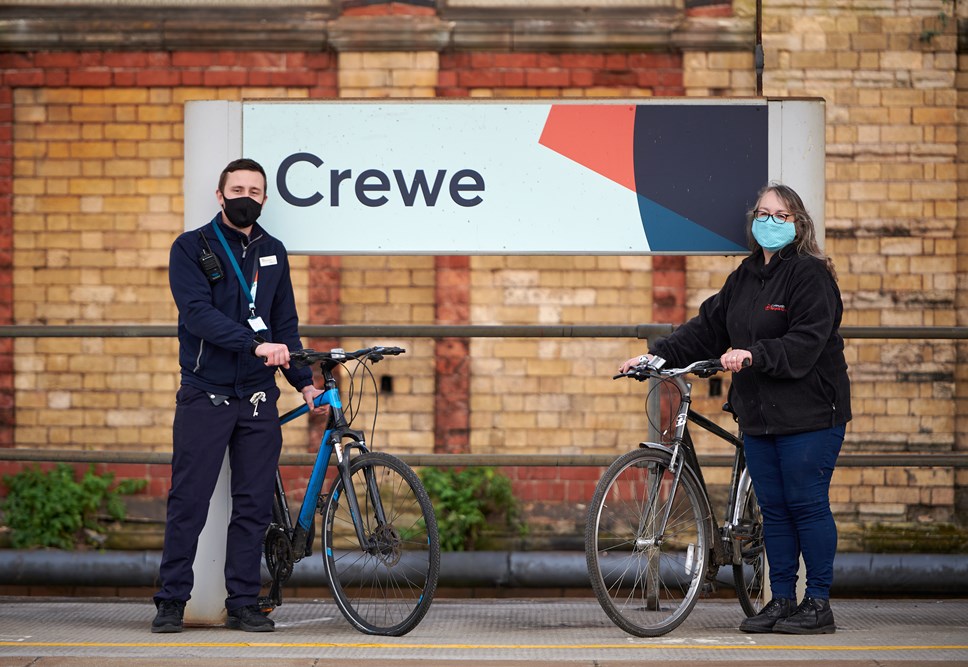 Avanti West Coast donates unwanted bikes to help local community
Avanti West Coast partners with local business to put bikes abandoned at Crewe station to good use.
Avanti West Coast team help put unwanted bikes to good use
Bikes abandoned at Crewe station repurposed and recycled by volunteers
Donations help Community Recycle Cycles to support local community
Abandoned bikes left at Crewe station have been given a new lease of life after Avanti West Coast partnered with a local business ensuring they are put to good use.
The cycles have been donated to Community Recycle Cycles – a local not for profit bike shop which enlists volunteers to repurpose the unwanted bicycles to be sold in the community.
Giving the bikes to help a good cause was the idea of Customer Service Assistant Danny Pope and Team Leader Mark Litton who are based at the station.
With unwanted cycles taking up space in the bike racks, and many of them in good condition, Danny and Mark were keen to dispose of them responsibly, making sure they could be utilised by the community.
They approached Community Recycle Cycles – based in the town – offering the bikes to support the company's work.
Community Recycle Cycles takes in donations of bikes into their retail shop, where volunteers aged 14 - 79 (including three young adults with learning disabilities, and some with physical disabilities, or mental health conditions) repair and refurbish them for resale. They also provide a repair service to keep the local community cycling safely.
Income generated through their work is used to support volunteers with training opportunities – including Cytech (an internationally recognised training and accreditation scheme for bicycle technicians), management training or mental health awareness.
Speaking on why he decided to give the abandoned bikes a new home, Danny said: "With unwanted bikes that were in good condition taking up space in the cycle racks, I was keen to find a suitable use for them. Working with my colleagues we have been able to donate the bikes to Community Recycle Cycles, who can give them a new lease of life. It is great the bikes can be repaired or recycled and we're really proud to be supporting this fantastic initiative. It is making a difference in the local community by giving people in Crewe opportunities – whether it is new skills, training, education, or employment, which is something we're committed to championing at Avanti West Coast."
Annette Cormack, Director of Community Recycle Cycles, said: "As a not for profit business, we are totally reliant on donations and the expense goes into restoring the bikes, replacing parts if needed but keeping the prices affordable. Most of our donations come from individuals but having donors such as Avanti West Coast can really help in both the numbers of bikes we receive and having the backing of a high-profile company in the area.
"During the lockdowns, one of the challenges has been getting hold of parts that come from abroad. We have been able to keep providing our service as we are able to use parts from bikes that are not suitable for restoration. This means that bikes in any condition are always very welcome."
ENDS
Contact Information
Laura Normansell
Avanti West Coast
Notes to editors
About Community Recycle Cycles
Community Recycle Cycles is a not for profit community interest company providing a largely volunteer run bicycle shop in Crewe.
They take donations of bicycles into their retail shop, where volunteers are supported and trained to repair and refurbish them for resale at affordable prices. Additionally, in their workshop they provide an affordable repair service for customers, helping to keep local residents cycling safely on roadworthy bicycles.
Volunteers are given the opportunity to work in a small supportive team, to learn new skills and grow in confidence, helping them to take the next steps to accessing education, employment or future training.
https://community-recycle-cycles.co.uk/
About Avanti West Coast
Avanti West Coast, operator of intercity rail services on the West Coast Main Line, is a joint venture between FirstGroup and Trenitalia, delivering a cleaner, greener railway that drives the West Coast forward.
We're on a mission to revolutionise train travel, linking together the towns and major cities of the UK to create an iconic railway the country can be proud of. We've got big plans including a fleet of new intercity trains, as well as the complete refurbishment of the existing Pendolino train fleet. We will introduce more train services every week with new routes added, and a much-improved onboard service with enhanced free Wi-Fi, plug sockets, 25,000 brand new seats and improved catering. Since 8 December, passengers have benefitted from improved passenger compensation, available for journeys delayed by just 15 minutes.
For the latest news, visit the Avanti West Coast Media Room: https://newsdesk.avantiwestcoast.co.uk/
Press Office: 0845 000 3333