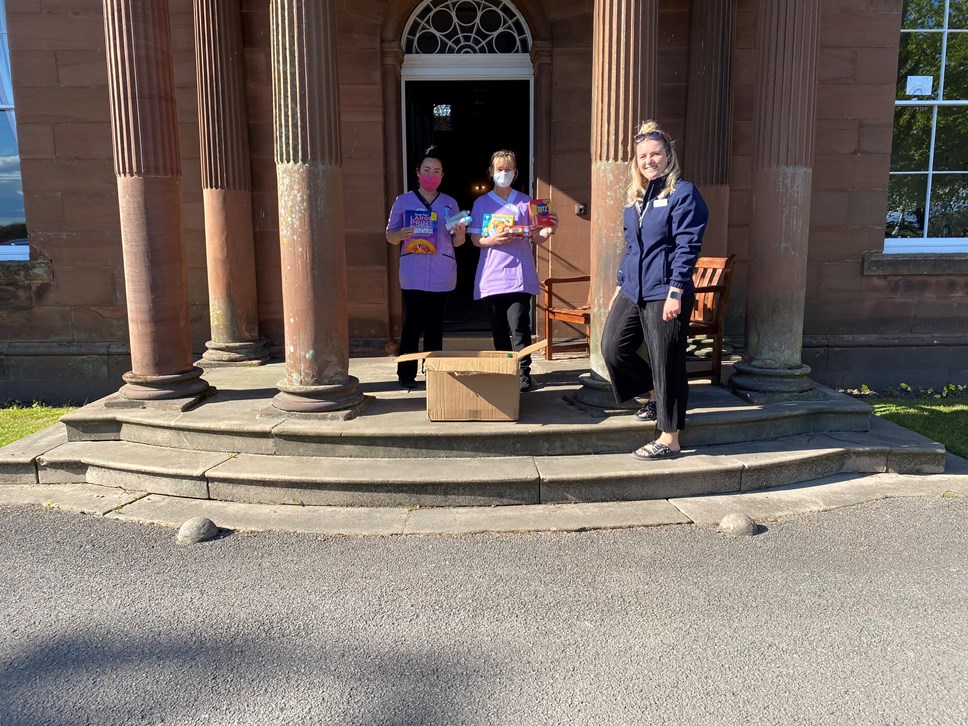 Avanti West Coast employees deliver goods to care homes during COVID-19 crisis
Hundreds of essential items and gifts have been delivered to care homes in Carlisle.
Avanti West Coast staff help lift mood of local community in Carlisle during COVID-19 crisis
Carlisle care homes welcome donations for their residents
Cycling club pedals together to raise £1,300 for Carlisle Foodbank
Hundreds of essential items and gifts have been delivered to care homes in Carlisle by Avanti West Coast staff helping the local community during the COVID-19 crisis.
For the last few weeks, teams based at Carlisle station have donated food, toiletries, and gifts including board games, activity books and confectionary in an initiative led by Katie Smith, Customer Service Assistant at Carlisle station.
As part of her voluntary role as Avanti West Coast's Community Champion, Katie created a collection – encouraging colleagues who work at the station, onboard and in office-based roles to make donations that would lift the spirits of local care home residents, who were unable to see their family and friends due to lockdown restrictions.
Local businesses also donated to the cause before Katie delivered the items to Burnrigg Court and Rosehill Residential Homes.
Katie said: "At Carlisle we wanted to do our bit during the COVID-19 crisis and as care homes look after the most vulnerable people in our community. The residents being cared for there have once looked after us in one way or another, so our collection was a great opportunity to give back to them – especially at this unsettling time. I hope the essential items and treats will lift their spirits and show them that while their loved ones can't be with them at this present moment, we at Avanti West Coast are all thinking of them dearly."
Tony Graham, an onboard chef at Avanti West Coast and keen cyclist, has also helped to lift the mood of the community by hosting a 'Social Distance Bike Ride', as part of his cycling club – Carlisle Reivers Cycle Club, whilst supporting a local cause. The bike ride raised £1,300 for Carlisle Foodbank, as cyclists donated to take part.
Tony said: "Being a part of a local cycling club it's good to get out, and although we can't ride together in a group we have found other ways to do it – our Social Distance Bike Ride is a brilliant example. It was great to bring everyone together and most importantly help the wider community by raising money for Carlisle Foodbank, which is a vital service for the local community – even more so now during the coronavirus crisis."
ENDS
Contact Information
Laura Normansell
Avanti West Coast
Notes to editors
About Avanti West Coast
Avanti West Coast, operator of intercity rail services on the West Coast Main Line, is a joint venture between FirstGroup and Trenitalia, delivering a cleaner, greener railway that drives the West Coast forward.
We're on a mission to revolutionise train travel, linking together the towns and major cities of the UK to create an iconic railway the country can be proud of. We've got big plans including a fleet of new intercity trains, as well as the complete refurbishment of the existing Pendolino train fleet. There will be 263 more train services every week by 2022 with new routes added, and a much-improved onboard service with enhanced free Wi-Fi, plug sockets, 25,000 brand new seats and improved catering. Since 8 December, passengers have benefitted from improved passenger compensation, available for journeys delayed by just 15 minutes.
For the latest news, visit the Avanti West Coast Media Room: https://newsdesk.avantiwestcoast.co.uk/
Press Office: 0845 000 3333