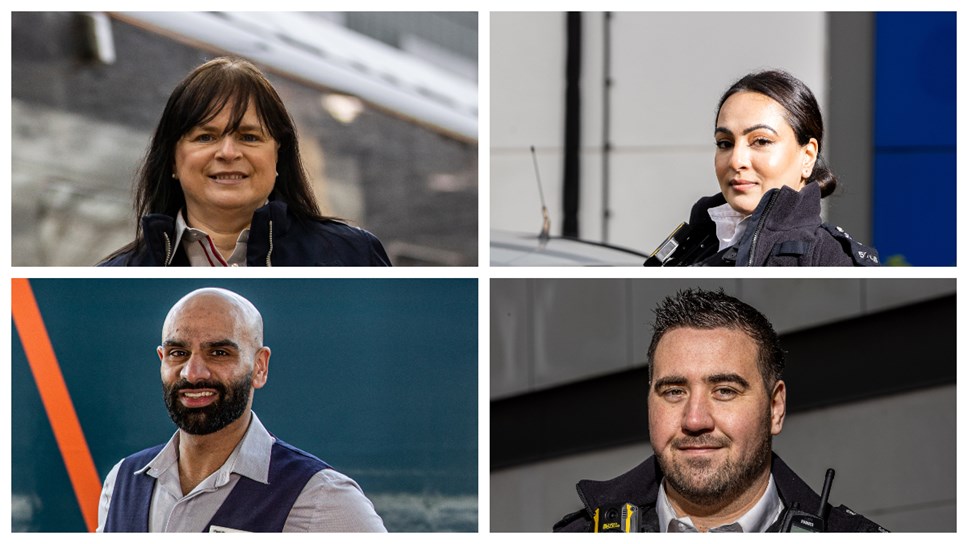 Avanti West Coast employees star in exhibition recognising Railway Heroes
Four Avanti West Coast employees feature in National Railway Museum's exhibition, which recognises efforts during coronavirus crisis.
National Railway Museum highlights role of rail workers in UK's COVID-19 response
Railway Heroes exhibition celebrates efforts of those working across rail industry
Employees share experience of how they helped and volunteered over the last year
Avanti West Coast employees are featuring in an exhibition organised by the National Railway Museum that celebrates the contribution of rail workers during the COVID-19 pandemic.
The online exhibition, titled Railway Heroes, recognises the selfless achievements of people from across the rail industry over the last 12 months.
Featured in the 16 case studies are four from Avanti West Coast, including Janet Bamber and Hussain Master, Train Managers both based at Preston.
Fellow Train Manager, CJ Morgan, and Seema Jadva, who works in human resources, are also profiled after receiving special dispensation by the train operator to volunteer their working hours to support the Metropolitan Police as Specials on the streets of London.
Janet dedicated her time to a community group volunteering to make scrubs for NHS. Using experience from her previous career as a seamstress, Janet spent seven hours a day sewing thousands of scrubs, dentist gowns and accessories for NHS workers in Lancashire.
Hussain increased his volunteering hours at a local foodbank in Preston, helping to deliver hundreds of hot meals to NHS workers and the wider community.
Seema and CJ were both able commit extra hours and take on additional shifts while volunteering as Specials for the Metropolitan police - providing support to frontline colleagues, and safety, visibility, and reassurance in its response to the COVID-19 Crisis.
Each of their stories will feature alongside a portrait photograph from renowned press photographer, Charlotte Graham.
Once lockdown restrictions are lifted, a physical exhibition will open simultaneously at the National Railway Museum in York, and Locomotion in Shildon, County Durham.
Phil Whittingham, Managing Director at Avanti West Coast said: "It's an honour for Avanti West Coast to see our people recognised in this exhibition alongside the rest of the rail industry.
"Whether it is keeping people connected, dedicating time to help others or bolstering the efforts of the emergency services, the railway and its workers have played a vital role throughout the pandemic.
"I am so proud of their efforts to support the UK's response to the coronavirus crisis and make a difference in the local communities we serve."
Judith McNicol, Director of the National Railway Museum, said: "This exhibition is an opportunity to say 'thank you' to the thousands of railway key workers who have kept the country going over the last year. From delivering essential supplies and transporting NHS workers, to selfless volunteering, the stories featured in the exhibition are an inspiration and fully deserving of wider recognition."
The Railway Heroes exhibition can be viewed here: railwaymuseum.org.uk/whats-on/railway-heroes
ENDS
Contact Information
Laura Normansell
Avanti West Coast
Notes to editors
For images, please credit Charlotte Graham.
About the National Railway Museum
The National Railway Museum in York has the largest collection of railway objects in the world and prior to COVID-19, attracted more than 750,000 visitors per year.
The collection includes over 260 locomotives and rolling stock, 600 coins and medals and railway uniform, equipment, documents, records, artwork and photographs
The museum holds an archive of over 1400 sound times and 16 boxes of papers and photographic material from pioneering sound recordist Peter Handford, whose catalogue can be searched here.
Admission to the National Railway Museum is free although tickets must be booked in advance at www.railwaymuseum.org.uk
The National Railway Museum is part of the Science Museum Group of national museums which includes Locomotion in Shildon, the Science Museum in London, the Science and Industry Museum in Manchester and the National Science and Media Museum in Bradford
About Avanti West Coast
Avanti West Coast, operator of intercity rail services on the West Coast Main Line, is a joint venture between FirstGroup and Trenitalia, delivering a cleaner, greener railway that drives the West Coast forward.
We're on a mission to revolutionise train travel, linking together the towns and major cities of the UK to create an iconic railway the country can be proud of. We've got big plans including a fleet of new intercity trains, as well as the complete refurbishment of the existing Pendolino train fleet. We will introduce more train services every week with new routes added, and a much-improved onboard service with enhanced free Wi-Fi, plug sockets, 25,000 brand new seats and improved catering. Since 8 December 2019, passengers have benefitted from improved passenger compensation, available for journeys delayed by just 15 minutes.
For the latest news, visit the Avanti West Coast Media Room: https://newsdesk.avantiwestcoast.co.uk/
Press Office: 0845 000 3333