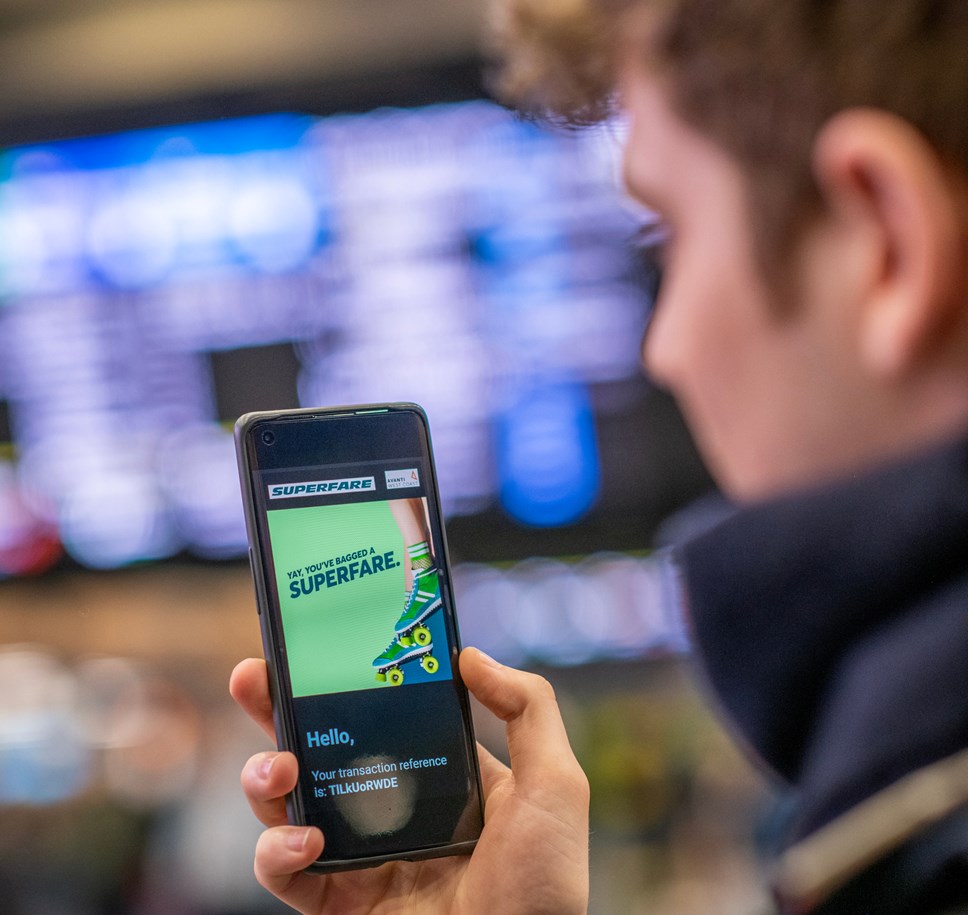 Avanti West Coast expands low-cost Superfare for flexible travel on cross-border journeys
Avanti West Coast's low-cost Superfare ticket now available for customers making journeys between London and Glasgow.
Avanti West Coast extends innovative low-cost ticket, Superfare, to Scotland route
Cheaper fare aimed at those who can be flexible offers one-way ticket from London to Glasgow for £30
Customers buying Superfare ticket assigned seat 24 hours before train's departure
Avanti West Coast has extended its innovative low-cost ticket to customers making cross-border journeys on its Anglo-Scot route that can be flexible with their travel plans.
The Superfare ticket, which enables customers to book a journey for a specific date with the choice of morning, afternoon, or evening slots at a cheaper fare – with the exact time of travel being selected by the intercity operator – can now be purchased for journeys between London and Glasgow.
With around 24 hours' notice, Avanti West Coast will match customers to an empty seat on a quieter train and advise them of their reservation details and train's departure time.
Available for single journeys between the capital and Glasgow, the one-way ticket costs £30 and comes after the launch of the cheaper fare to other destinations on the West Coast route, including Birmingham, Liverpool, Manchester, and Preston.
Weekday travel dates from Monday 24 April are available to book now. From 20 May, Superfare tickets will be available seven days a week, when tickets for Saturdays and Sundays from 10 June are released following the completion of major upgrade work by Network Rail in Carstairs, Scotland.
Bookings can be made at least seven days and up to 21 days before travel, and the number of tickets available each day will vary.
The fare, currently being trialled by Avanti West Coast, is aimed at people who would not normally opt to travel by train to their favoured destination. As part of the trial, the train operator has partnered with discount website, Student Beans, to promote the offer to its members.
Sarah Copley, Executive Director for Commercial at Avanti West Coast, said: "We're excited to rollout our Superfare ticket on our Anglo Scot route, so more customers who have flexibility around travel times can enjoy cheaper fares to another destination on the West Coast. Customers simply pick the date and time of day they wish to travel, then 24 hours before their journey we match them to an empty seat onboard a specific train with a reservation.
"By offering a quick and easy way to select even more cost-effective fares, we hope to make it simpler for customers to find the right ticket for their needs, while encouraging others to take the train."
ENDS
Contact Information
Laura Normansell
Avanti West Coast
Notes to editors
Notes to Editors
Superfare tickets is being trialled with 100,000 available until the end of July. They are available on an independent website - https://avantisuperfare.co.uk/
Below are the set prices:
One-way between London and Birmingham - £12
One-way between London and Liverpool – £15
One-way between London and Manchester – £20
One-way between London and Preston – £22
One-way between London and Glasgow - £30
About Avanti West Coast
Avanti West Coast, operator of intercity rail services on the West Coast Main Line, is a joint venture between FirstGroup and Trenitalia, delivering a cleaner, greener railway that drives the West Coast forward.
We're on a mission to revolutionise train travel. Our refurbed Pendolinos are returning to the rails, with a £117m investment that's delivering best in class comfort. Rebuilt using sustainable materials wherever possible, including tables made from recycled plastic bottles, our upgraded fleet offers 25,000 brand new seats, free Wi-Fi, onboard recycling and much more.
New Hitachi trains are set to replace our Voyager trains from 2023, leading to a 61% cut in carbon emissions. Quieter and roomier, with more reliable Wi-Fi, wireless charging for electrical devices and a real-time customer information system, the new 23-strong fleet is the result of a £350m investment in sustainable travel.
We're tackling climate change wherever we can, from reducing energy and water use to training drivers in eco-driving techniques and sourcing food and drink from local suppliers. Our goal is to be net zero carbon by 2031. We're on track.
For the latest news, visit the Avanti West Coast Media Centre: https://newsdesk.avantiwestcoast.co.uk/