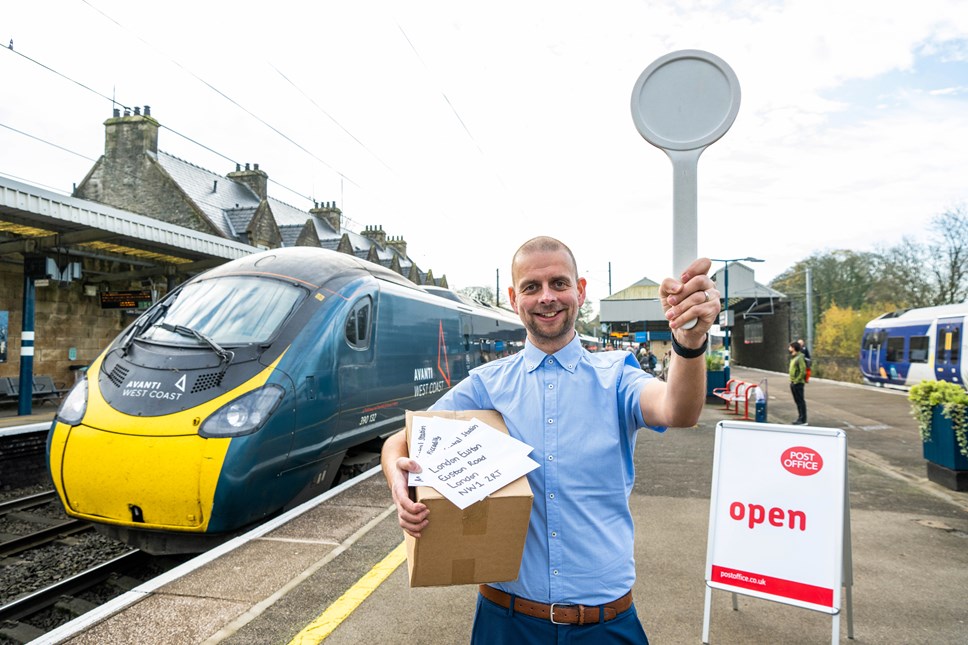 Avanti West Coast helps restore village Post Office with new pop-up counter at Oxenholme station
Avanti West Coast helps Cumbrian community restore its Post Office two years after it was deprived of its only service.
Avanti West Coast restores rural village's Post Office two years after branch closed
Cumbrian Postmaster to provide pop-up counter service at Oxenholme station
Community will have access to outreach Post Office services on set weekdays
Avanti West Coast has helped a Cumbrian community restore its Post Office with a new pop-up counter at Oxenholme station two years after it was deprived of its only service.
Working with Tim Farron, MP for Westmorland and Lonsdale, and local Postmaster, Phil Ballantyne, the intercity operator has provided the Cumbrian station it manages as a venue for an outreach Post Office service – where a Postmaster comes to premises within a community for limited hours each week to provide services. It is believed to be the first of its kind on the West Coast Main Line and one of a few Post Offices operating at a railway station in the UK.
The pop-up facility will be available in the station's ticket office and hosted by Avanti West Coast – supporting the community's efforts to bring back Post Office services, which were lost when the branch closed in February 2020.
Phil, who became a Postmaster in 2002 after taking over his mum and dad's business in Houghton, Cumbria, will make visits on Monday morning and Thursday afternoon to Oxenholme station to provide locals with products and services. These include sending letters, returning parcels, banking, bill payments and changing currency. This service is initially being trialled two days a week to establish if there is demand for a more frequent service in the longer term.
Oxenholme station, which is known as the gateway to the Lake District and connects into the 10-mile branch line to Windermere, was put forward by Tim Farron as the most ideal place to restore the village Post Office because it is within easy reach for most residents.
As Postmaster for the Cumbrian market town of Appleby, Phil is a familiar face to locals in the region. For the last eight years, Phil and his team have been providing an outreach service across 10 communities in Cumbria and Lancashire. Oxenholme will be the eleventh location where they offer people in rural places access to Post Office services.
Oxenholme is a new location for Phil, and this latest venture will see him visit the station for four hours every week with a counter service between 11:00 – 13:00 on Mondays; and 12:30 - 14:30 on Thursdays.
Speaking of opening a new outreach Post Office service, Phil said: "Working as a Postmaster, I know how important it is for people in rural places to have access to essential Post Office services – not only does it enable them to carry out everyday errands, but it also brings a sense of community and company for some.
"So, I'm excited to be expanding my operation to serve Oxenholme with Post Office services they need. As a gateway to the Lakes, Oxenholme station will be a great place to meet people from all walks of life and I look forward to saying hello during my weekly visits."
Samuel Williams, Post Office Network Provision Lead, said: "Phil does an amazing job serving so many communities providing essential services and a friendly face to chat to."
Tim Farron, MP for Westmorland and Lonsdale, said: "After two and a half years of working with Avanti West Coast and local councillors, I'm delighted that we have finally secured a new post office for Oxenholme. This is a key local service that residents have been deprived of ever since the previous post office closed just before the pandemic, so it's great news that it's now open and in a prime location."
Matthew Worman, Regional Growth Manager at Avanti West Coast, said: "We want to make a difference in the communities we serve and support causes that matter most to them, which is why we're proud to be hosting a pop-up Post Office for the village of Oxenholme.
"Like the Post Office, we connect people, and wanted to play our part to restore access to essential services by utilising space at the station to keep the community connected. It's exciting this facility is the first of its kind on our West Coast route and we'd like to thank Tim Farron MP, Phil Ballantyne, and the community for working with us to make this happen.
"We're pleased to welcome Phil to Oxenholme and hope to see both new and familiar faces using the services, as well as visitors writing home about their adventures to the Lake District."
ENDS
Contact Information
Laura Normansell
Avanti West Coast
Notes to editors
Main image: Postmaster, Phil Ballantyne, at Oxenholme station.
To find out more about the Oxenholme Post Office branch, visit: https://www.postoffice.co.uk/branch-finder/0724726/oxenholme
About Post Office
With over 11,500 branches, Post Office has the biggest retail network in the UK, with more branches than all the banks and building societies combined.
Post Office is helping anyone who wants cash to get it whichever way is most convenient. Partnership with over 30 banks, building societies and credit unions means that 99% of UK bank customers can access their accounts at their Post Office.
Cash withdrawals, deposits and balance queries can be made securely and conveniently over the counter at any Post Office; and the biggest investment by any organisation or company in the last decade is being made to safeguard 1,400 free-to-use ATMs across the UK.
Post Office is simplifying its proposition for Postmasters with a focus on its cash and banking; mails and parcels; foreign exchange; and bill payments services.
Research has found that visits to the Post Office help drive another 400 million visitors to other shops, restaurants and local businesses equating to an estimated £1.1 billion in additional revenue for High Street businesses.
7% of the population live within three miles of a Post Office; and 4,000 branches are open seven days a week.