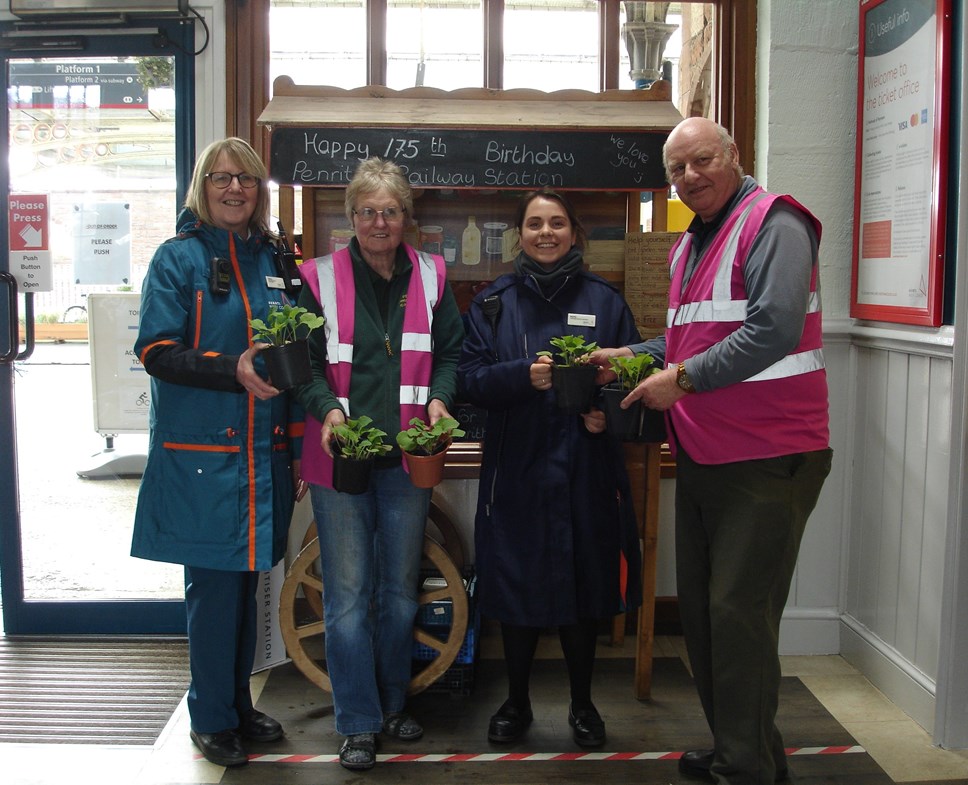 Avanti West Coast on track to grow gardening community in Penrith
Avanti West Coast creates seed and plant donation point at Penrith station to get more people gardening.
Avanti West Coast supports initiative to get Penrith community gardening
Donations of surplus seeds, seedlings and plants can be made at Cumbrian station
Gardening group hopes contributions from locals will inspire others to grow plants
Avanti West Coast is encouraging green-fingered locals to donate surplus seeds and plants as part of a community initiative to get the people of Penrith gardening.
Working with Penrith Community Gardeners – a local volunteer gardening group – the intercity operator has created a donation point at Penrith station for unwanted seeds, seedlings and plants.
The initiative is designed to put surplus items to good use and encourage sustainable gardening, while inspiring more people to grow their own plants.
Those who wish to get involved in the initiative and donate can place their contributions in the hand cart located at the main entrance of the station.
Budding gardeners can collect the items they would like and have the option to make a small monetary donation to support the work of Penrith Community Gardeners, who tend the planters at the Cumbrian station.
So far contributions by the local community have included 250 strawberry plants, scores of seeds, and gardening magazines – raising more than £200 for volunteer gardeners to brighten up the town with blooms.
Joan Robinson of Penrith Community Gardeners said: "Gardening can bring joy to many – it can connect people and make a difference to our places and spaces. With Avanti West Coast we want to spread this joy by encouraging donations from our community. We know there will be gardeners out there with surplus seedlings and plants they're splitting up. Even books that might help others to get started are useful. Any contributions will be welcome to get people growing their own plants."
Natalie Balmer, Avanti West Coast Community Champion at Penrith, said: "We want to make a difference in the communities we serve, so we're pleased to be working with Penrith Community Gardeners to provide a dedicated space at the station where people can make donations of seeds and plants to help others.
"By supporting local people to grow their own vegetables we hope it will enable them to take up gardening and become more self-sufficient. We're delighted with the response so far and would like to thank everyone for their donations, as we help expand the green-fingered community here in Penrith."
ENDS
Contact Information
Laura Normansell
Avanti West Coast
Notes to editors
Main image (L-R): Eleanor Slack (Avanti West Coast Team Leader at Penrith), Joan Robinson (Penrith Community Gardeners), Natalie Balmer (Avanti West Coast Customer Service Assistant and Community Champion at Penrith); Malcolm Carruthers (Penrith Community Gardeners)
About Avanti West Coast
Avanti West Coast, operator of intercity rail services on the West Coast Main Line, is a joint venture between FirstGroup and Trenitalia, delivering a cleaner, greener railway that drives the West Coast forward.
We're on a mission to revolutionise train travel, linking together the towns and major cities of the UK to create an iconic railway the country can be proud of. We've got big plans including a fleet of new intercity trains, as well as the complete refurbishment of the existing Pendolino train fleet. We will introduce more train services every week with new routes added, and a much-improved onboard service with enhanced free Wi-Fi, plug sockets, 25,000 brand new seats and improved catering. Since 8 December 2019, passengers have benefitted from improved passenger compensation, available for journeys delayed by just 15 minutes.
For the latest news, visit the Avanti West Coast Media Room: https://newsdesk.avantiwestcoast.co.uk/
Press Office: 0845 000 3333