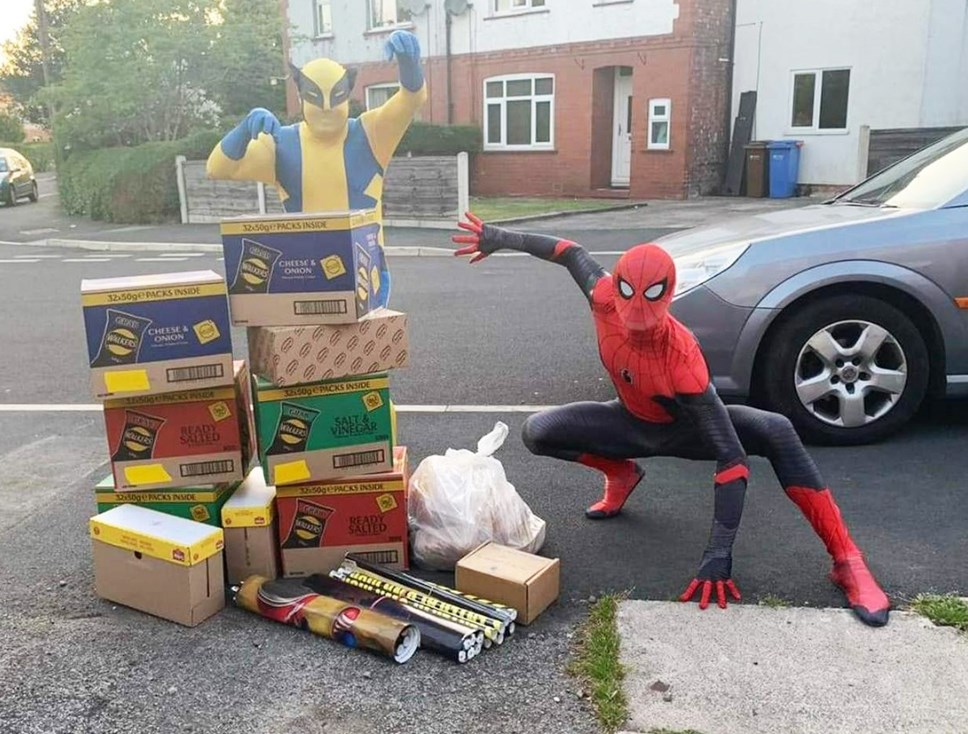 Avanti West Coast serves up a treat for local communities
Treats donated by Avanti West Coast to good causes across the network.
Avanti West Coast help lift spirits by delivering treats to local good causes
Excess stock donated to organisations in Greater Manchester, Glasgow, the West Midlands and London
Hundreds of treats have been donated by Avanti West Coast to good causes across the network during the COVID-19 crisis.
Raspberry crumble, cheese and onion crisps, chocolate brownies, coffee, soft drinks and black pudding are just some of the items that have been donated by the intercity operator since March across the United Kingdom.
The excess stock was delivered to organisations in London, Greater Manchester, Glasgow and the West Midlands.
Efforts in Greater Manchester, which has seen donations made to Clough Fold Children's Home, Heartly Green Care Home have been led by Karen Gibbons who works in the HQ support team for Avanti West Coast.
"I've a number of friends who are key workers in frontline roles," explained Karen. "I really wanted to help so when I found out we had excess stock it seemed like the right thing to do, and a great way to provide staff and those they are caring for with some treats."
Karen has also donated goodies to the Stockport Spider-Men, two friends who have donned the guise of the webslinger and other superheroes to deliver food parcels to local charities and key workers.
Jason Baird, one of the Stockport Spider-Men, who with a friend can be seen running around the town in their outfits, has set up a Facebook page which has already attracted close to 10,000 members.
"A massive thank you to Avanti West Coast for their second donation of food," Jason commented. "Their support, and that of the wider community, has been overwhelming. We will now pass on to local key workers including those at the Greater Manchester Ambulance Service and include some items in our Happy Boxes which we will be distributed to local families."
In London and the West Midlands, donations have been made to Fareshare, the UK's national network of charitable food redistributors, made up of 17 independent organisations. The items, donated by Avanti West Coast's Food and Beverage team, included 222 black puddings, 414 blueberry muffins, 4260 hand wrapped fruit cakes and 5976 bottles of still water will be package with other items and redistributed to front charities and community groups.
Avanti West Coast has made a number of donations this year, the excess stock is made up of food items sold on board and in First Class lounges. But with the closure of the lounges and food no longer being served in the wake of the pandemic, additional deliveries could be made with the help of DHL, Avanti West Coast's catering partner.
James Persad, Head of Marketing and Engagement at FareShare, said: "We're enormously grateful to Avanti for their donation of drinks and snacks. We're working harder than ever to get food out to the charities and community groups providing a lifeline for those in need during this crisis, and donations like these are crucial."
Further deliveries were made to Glasgow Children's Hospital Charity, whose fundraising has been hit hard by the Covid-19 crisis. The treats included 320 chocolate brownies, 205 bags of cheese and onion crisps and 168 bottles Sprite.
Ends
About Avanti West Coast
Avanti West Coast, operator of intercity rail services on the West Coast Main Line, is a joint venture between FirstGroup and Trenitalia, delivering a cleaner, greener railway that drives the West Coast forward.
We're on a mission to revolutionise train travel, linking together the towns and major cities of the UK to create an iconic railway the country can be proud of. We've got big plans including a fleet of new intercity trains, as well as the complete refurbishment of the existing Pendolino train fleet. There will be 263 more train services every week by 2022 with new routes added, and a much-improved onboard service with enhanced free Wi-Fi, plug sockets, 25,000 brand new seats and improved catering. Since 8 December, passengers have benefited from improved passenger compensation, available for journeys delayed by just 15 minutes.
https://newsdesk.avantiwestcoast.co.uk/
Press Desk contact: 0845 000 3333/ pressdesk@avantiwestcoast.co.uk
Contact Information
Richard Stanton
Avanti West Coast