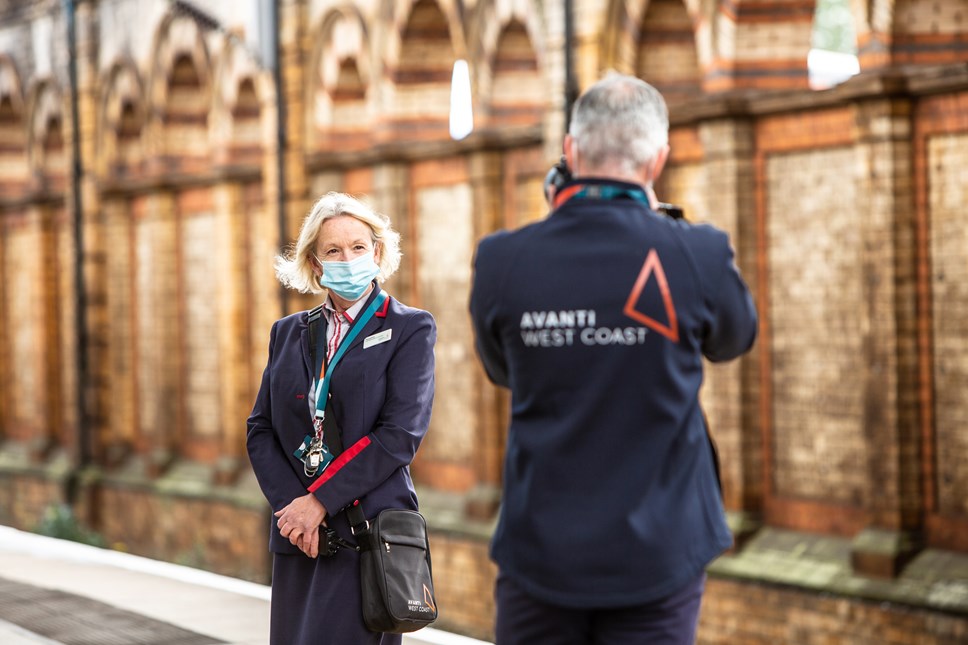 Avanti West Coast staff capture unique insight into Crewe station during pandemic
Avanti West Coast team at Crewe chronicle their experience of COVID-19 pandemic with unique photo book to raise money for charity.
Team at Crewe station document experience of pandemic with photo book
Customers and community invited to chronicle Crewe's coronavirus story
Avanti West Coast staff at Crewe station have chronicled their experiences of the railway during COVID-19 to raise money for charity and encourage others to share their stories.
Customer Service Team Leader, Marc Scruton, and Customer Service Assistant, Jacqui Hemingway, based at Crewe have worked together to create a photo book that documents the station and its team over the last seven months.
Marc, who previously worked as a professional photographer before joining the railway nearly 20 years ago, took the opportunity when very few customers were travelling to venture around the station with his camera to record what the team at Crewe experienced and how they worked to keep vital services running during COVID-19.
The spirit of the Avanti West Coast team and the unusual scenes of empty platforms and deserted entrances captured by Marc's photos, prompted Jacqui to ask colleagues to share their experience of working on the railway throughout the pandemic.
Their stories have been brought together, alongside staff portraits and sights only witnessed by Marc, for a book that provides a first-hand account of Crewe station – from the moment it fell silent as the country went into lockdown, to the minutes the team burst into applause to show their appreciation for carers and NHS workers.
The book will be auctioned off online on 27 November, as part of Rail Aid – a fundraising initiative for Railway Children – an international children's charity based in Cheshire.
Speaking of his aspirations to record Crewe station during coronavirus, Marc said: "As a photographer I take my camera everywhere, so this gave me an opportunity to keep it at work and use it to document as much as possible during the pandemic.
"We witnessed the station as never seen before and I wanted to capture it through our eyes, as we experienced it – and for the feelings, thoughts, fears, challenges and experiences of my colleagues to be recorded.
"Through my photography I was keen to provide an insight into what we felt and some of the sights we saw – to see Crewe during ordinary peak times with only one or two people travelling is surreal. I hope our book gives a sense of what we experienced in the last few months, something that could only really be understood if you worked here at the time. Everyone will have stories to tell and experiences to relive, but these will soon be forgotten so I wanted to capture as much as I could."
Jacqui is now planning to chronicle a snapshot of life in Crewe during lockdown with a project titled 'Capture Crewe'.
"We have missed the familiar faces of customers at the station and engaging with our local community. We're keen to connect with them and Capture Crewe is designed to do that through photography, while raising vital funds for Railway Children", Jacqui said.
"We would love to know what they've experienced – whether it's making a difference, taking up a hobby or enjoying the simple things. So, we can tell Crewe's story and remind people they're not alone" added Jacqui.
The team at Crewe station are inviting customers and the local community to share a photo and short statement of their experience of the pandemic – for display at the station and on Avanti West Coast's social media channels.
Images must be submitted by 23:59 on 27 November 2020 and should consider Avanti West Coast's photography guidelines. A donation to Railway Children is encouraged when making a submission.
ENDS
Contact Information
Press Desk
Avanti West Coast
Notes to editors
Notes to Editors
Photos taken by Marc are titled Crewe Station Photo Book.
To bid for the Crewe Station photo book at the Rail Aid Auction (Lot 84), visit: https://givergy.uk/railaid/?controller=lots&category=All%20Lots
Donations to Railway Children, as part of the Capture Crewe project can be made here: https://justgiving.com/fundraising/CreweStation2020
Submissions for the 'Capture Crewe' project can be made online here by 23:59 on 27 November 2020. Photographs should consider Avanti West Coast's photography guidelines (see below). For more information about 'Capture Crewe', visit: https://www.avantiwestcoast.co.uk/where-we-go/community-hub/capture-crewe
Avanti West Coast photography guidelines
Art pieces should portray stories which capture moments and people from our local areas, contemporary or historic. We want to capture local community heroes, showcasing their story and the importance of them to the local community.
The stories depicted should be overall positive, they could have an underlying British wit but not veer into obvious, cheesy or bold humour.
For photography, colours should feel rich and natural. It shouldn't be over saturated or be in black and white.
We love photography which captures moments in people's lives – it should feel candid, real and unexpected.
About Rail Aid
Rail Aid is a new fundraising initiative that brings the entire railway together in support of Railway Children.
Rail Aid is being launched in a direct response to the COVID-19 outbreak which has made Railway Children's work with vulnerable young people even more vital.
For more information, visit: https://railaid.co.uk/
About Railway Children
Railway Children is an international children's charity working with street children in India, East Africa and the UK.
Railway Children fights for vulnerable children who live alone at risk on the streets, where they suffer abuse and exploitation.
https://www.railwaychildren.org.uk/
About Avanti West Coast
Avanti West Coast, operator of intercity rail services on the West Coast Main Line, is a joint venture between FirstGroup and Trenitalia, delivering a cleaner, greener railway that drives the West Coast forward.
We're on a mission to revolutionise train travel, linking together the towns and major cities of the UK to create an iconic railway the country can be proud of. We've got big plans including a fleet of new intercity trains, as well as the complete refurbishment of the existing Pendolino train fleet. We will introduce more train services every week with new routes added, and a much-improved onboard service with enhanced free Wi-Fi, plug sockets, 25,000 brand new seats and improved catering. Since 8 December, passengers have benefitted from improved passenger compensation, available for journeys delayed by just 15 minutes.
For the latest news, visit the Avanti West Coast Media Room: https://newsdesk.avantiwestcoast.co.uk/
Press Office: 0845 000 3333