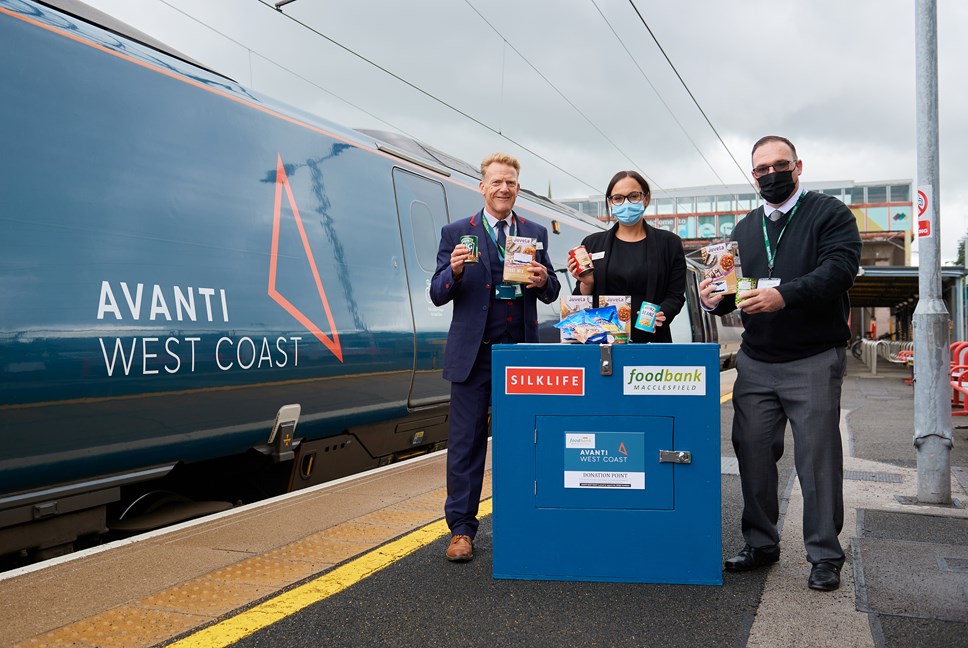 Avanti West Coast teams up with Macclesfield Foodbank to help those in need
Avanti West Coast creates donation point with Silklife Foodbank in Macclesfield to enable charity to help others.
Avanti West Coast and Silklife Foodbank create donation point at station
Partnership designed to help food bank meet increased demand for its services
Customers and community invited to support with food and financial donations
Avanti West Coast has teamed up with a food bank to create a donation point at Macclesfield station in an effort to meet increased demand for food parcels in the area.
Working with Silklife Foodbank – a service run and supported by Silklife Church in Macclesfield that provides emergency food parcels to local people – Avanti West Coast has set up a dedicated space to facilitate donations, helping those in need.
The donation point, located in the station's booking hall, provides a prominent place in the town for the community to donate food items or make a financial donation to keep the food bank stocked up.
Avanti West Coast's team at Macclesfield decided to accept donations after learning more people were being referred to Silklife as a result of the pandemic – the current average referral rate per month is 175 – an increase of 95% on this time last year.
A QR code (a distinctive code that can be scanned with a smart phone or device) which links to Silklife Foodbank's JustGiving page, is also on display on the wall as part of the donation point – making it easier to pledge money.
To meet demand, the service which has operated for 10 years, has been scaled up significantly. Its latest partnership with the long-distance operator aims to make it easier for the community, whose support is becoming increasingly important, to help others.
Anyone who wishes to donate items of food can speak to a member of the Avanti West Coast team at the station. Money can be donated by scanning the QR code with a personal mobile device.
Laura Harper, Avanti West Coast Station Manager at Macclesfield, said: "We want to make a difference in the communities we serve, so we're proud to have joined up with Silklife Foodbank to support their vital work with a donation point at Macclesfield station.
"By making it easier for our customers and the community to do their bit to help others, we hope to keep Silklife Foodbank stocked up so they can provide for those in need, which is more important than ever as we continue to face the impact of the pandemic."
Dan Blackman, Silklife Foodbank Manager, said: "We are really excited that Avanti West Coast has agreed to site a food donation point at Macclesfield station. This will be a huge help to those wishing to donate food outside of the usual foodbank opening hours. Avanti West coast has also agreed to launch our first-ever window sticker that allows anyone with a mobile device to scan the QR code and donate to the foodbank through JustGiving. We are really grateful to Avanti West Coast and all the rail users who help us to help others."
ENDS
Contact Information
Laura Normansell
Avanti West Coast
Notes to editors
About Avanti West Coast
Avanti West Coast, operator of intercity rail services on the West Coast Main Line, is a joint venture between FirstGroup and Trenitalia, delivering a cleaner, greener railway that drives the West Coast forward.
We're on a mission to revolutionise train travel, linking together the towns and major cities of the UK to create an iconic railway the country can be proud of. We've got big plans including a fleet of new intercity trains, as well as the complete refurbishment of the existing Pendolino train fleet. We will introduce more train services every week with new routes added, and a much-improved onboard service with enhanced free Wi-Fi, plug sockets, 25,000 brand new seats and improved catering. Since 8 December 2019, passengers have benefitted from improved passenger compensation, available for journeys delayed by just 15 minutes.
For the latest news, visit the Avanti West Coast Media Room: https://newsdesk.avantiwestcoast.co.uk/
Press Office: 0845 000 3333
About Silklife Foodbank
Silklife Foodbank was established in December 2010 in response to Macclesfield's growing need for on-the-spot emergency food parcels. Each food parcel provides 4-5 days of nutritional non-perishable food for those in our neighbourhood who have fallen on hard times and are temporarily unable to provide for themselves, often through no fault of their own. We Work in partnership with local support agencies and frontline care professionals such as Cheshire East, Social Services, Citizens Advice and Peaks and Plains. This ensures that we are able to reach the most vulnerable people and families in our town who would otherwise go hungry. Silklife Foodbank is run and supported by Silklife Church and is stocked mainly by regular food and financial donations from church members and increasingly through the local community.