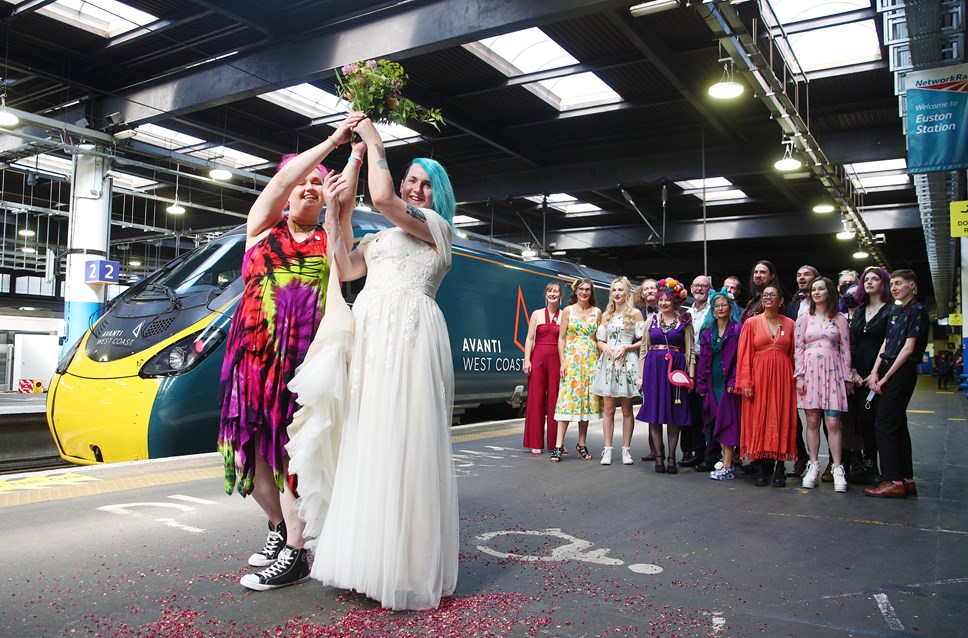 Couple get hitched at high speed on Avanti West Coast's Marriage Carriage
A pair of train enthusiasts who endured months of disappointment trying to get married finally held their dream wedding celebration on a Pendolino.
Laura and Jane's dream of a wedding on board a train becomes a reality
The pair beat 150 entrants to tie the knot on a Pendolino with family and friends
They were chosen after enduring months of disappointment trying to get wed
A pair of train enthusiasts who endured months of disappointment trying to get married finally held their dream wedding celebration on a Pendolino thanks to Avanti West Coast.
The train operator laid on a special "Marriage Carriage" for Jane Magnet and Laura Dale who wed on board the Euston to Birmingham service in front of family and friends.
They were winners of an unique competition which set out to find a couple deserving of a day they would never forget.
Jane and Laura's nuptials were put on hold for the past 18 months due to restrictions and lockdowns as a result of the COVID-19 pandemic.
A panel - made up of Jane Fry, Editor-in-Chief of Affinity Weddings Magazine and Avanti West Coast Train Manager, Paul Austin - chose them from almost 150 couples who entered to be in with a chance of walking down the Avanti West Coast aisle together.
The pair met on an internet gaming forum and quickly got to know each other through a shared love of video games and "very silly humour". Both huge fans of trains, they were excited at the chance of involving locomotives on their special day.
Before setting off on the 10:59 Euston to Birmingham service, they enjoyed a reception in the Avanti West Coast First Class Lounge, complete with a photo booth supplied by Bespoke Event Services.
The Marriage Carriage was decorated by North London based florist Florette Flowers. A Wedding Breakfast was provided in First Class and train themed wedding cake was supplied by The Pudding Compartment based in Flint, north Wales.
To keep with the railway theme, Laura and Jane were wed on board by Avanti West Coast Train Manager and ex-Clergyman, Peter Davis.
Speaking about her special day, Laura said: "As a huge train fan, today has been a dream come true – having Jane and our friends and family with us as we celebrated our wedding at high speed. Trains are a huge part of my life. The first time I met Jane, we travelled on the West Coast Mainline to a video game convention in Telford, and we often travelled onboard with friends to Birmingham Comic-Con. Jane used to travel to Birmingham New
Street to see her Nan, so this route has a real place in her heart, and today will forever take us to our happy place as I think back to the ceremony.
"We have had to postpone planning our wedding due to the pandemic, finances and marriage logistics. And this followed years of working through logistics to get gender recognition certificates, a very slow and stressful process, so we could both be Wife and Wife on our special day."
Natasha Grice, Avanti West Coast's Executive Director of Customer Experience, said, "It's been a tough 18 months for everyone, including married couples to be. We wanted to put smiles back on people's faces and what better way to do that than by helping one lucky couple finally celebrate their special day and reuniting them with loved ones they haven't seen since before the pandemic.
"Having Laura and Jane, two huge train fans, celebrate their dream wedding onboard an Avanti West Coast Pendolino was incredibly exciting and heart-warming. This wedding has been a highlight for our team and will be fondly remembered for years to come."
Jane Fry, Editor-in-Chief of Affinity Weddings Magazine, said, "It's been a tough 18 months for us all, and it brings me so much joy that friends and families are now able to get back together for wedding celebrations.
"Picking a winning couple to be wed onboard the Avanti West Coast Marriage Carriage, was tough, with hundreds of incredible stories shared from all corners of the UK. Laura and Jane's story really brought to life all the struggles couples have faced and had to overcome, and seeing them with family and friends yesterday was heart-warming, especially given their love of trains! Yesterday was the first day that Laura had seen her two sisters since before the pandemic, and it was emotional, to say the least! With wedding restrictions now lifting, I hope all the other entrants can soon enjoy their special day, surrounded by loved ones."
Contact Information
Melissa van der Haak
Notes to editors
About the Avanti Marriage Carriage
The safety of our passengers is always our utmost priority. Avanti West Coast abided by the latest coronavirus guidance from the UK government.
All guests took multiple lateral flow tests 72 hours ahead of the wedding celebration and on the morning of to ensure the safety of all guests on the Avanti West Coast Marriage Carriage.
Numbers within the carriage were controlled to ensure a safe and enjoyable experience.
See full Terms and Conditions of the competition here – https://www.avantiwestcoast.co.uk/marriage-carriage
About Avanti West Coast
Avanti West Coast, operator of intercity rail services on the West Coast Main Line, is a joint venture between FirstGroup and Trenitalia, delivering a cleaner, greener railway that drives the West Coast forward.
We're on a mission to revolutionise train travel, linking together the towns and major cities of the UK to create an iconic railway the country can be proud of. We've got big plans including a fleet of new intercity trains, as well as the complete refurbishment of the existing Pendolino train fleet. We will introduce more train services every week with new routes added, and a much-improved onboard service with enhanced free Wi-Fi, plug sockets, 25,000 brand new seats and improved catering. Since December 2019, passengers have benefitted from improved passenger compensation, available for journeys delayed by just 15 minutes.
For the latest news, visit the Avanti West Coast Media Room: https://newsdesk.avantiwestcoast.co.uk/
Contact: Melissa vanderHaak – Senior Consumer PR Manager at Avanti – 07399819880
Press Office: 0845 000 3333