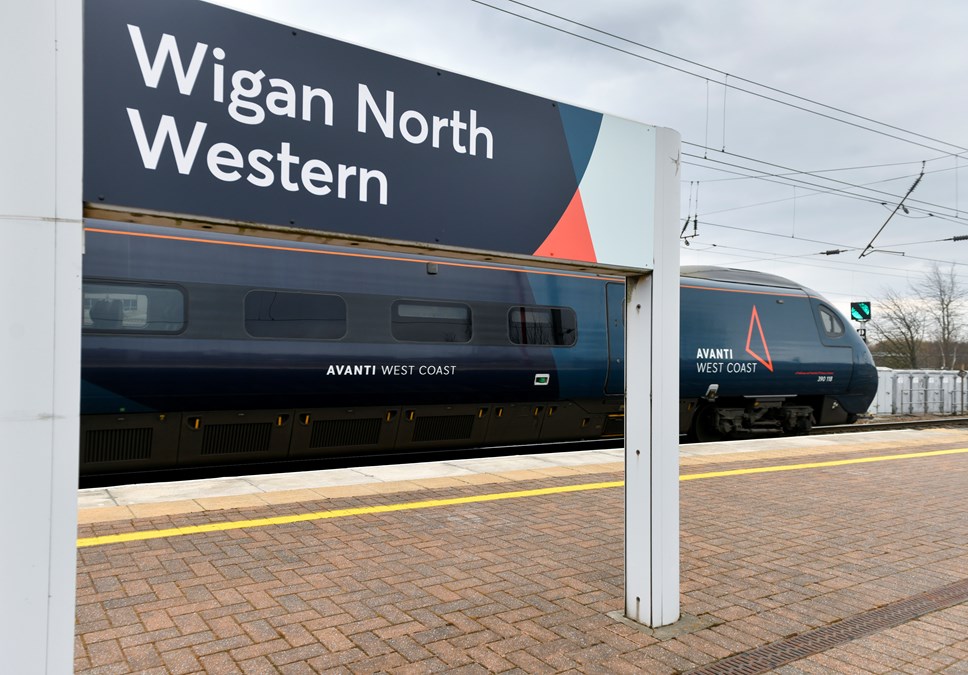 Local artists invited to get onboard with mural at Wigan North Western station
Project by Avanti West Coast and Wigan Community Rail set to create large-scale artwork that celebrates Wigan.
Avanti West Coast is working with Community Rail Partnership on art project
Local artists invited to create artwork for Wigan North Western station
Heritage, history, people, and places of Wigan to be celebrated with bespoke mural
Avanti West Coast is working with the local community to invite artists to create a bespoke mural at Wigan North Western station that celebrates the heritage of the area.
The intercity operator and Wigan Community Rail would like local artists to put forward their ideas for the mural, which will champion the history, people, and places of the Greater Manchester town.
Funded by Avanti West Coast's Station Community Fund and designed by Wigan Community Rail – part of South East Lancashire Community Rail Partnership - the Wigan North Western Mural Project aims to transform a blank space at the station with the large-scale artwork.
The chosen design will be picked by a selection panel, and volunteers who are recently qualified artists or young people who have an interest in visual arts, will help bring it to life, alongside the individual who created the winning submission. This is part of the project's efforts to showcase local talent and engage the wider community.
The panel are looking for an "innovative and colourful" piece of art, which will feature on the walls of the station's underpass that sits beneath the platforms, providing a welcoming gateway for everyone travelling to or from Wigan North Western station.
Artists interested in contributing to the joint project are encouraged to submit a contemporary design that features significant members of the community (past and present) and celebrates the landscape, as well as buildings of the area.
With the mural intended to reflect Wigan, people living and working in the area will be able to share their views on what the mural should represent through a social media campaign called 'Wigan Heroes'.
Suzanne Nicholls, Avanti West Coast Community Champion at Wigan North Western, said: "We are so excited to be working with Wigan Community Rail to bring some colour to Wigan North Western station.
"The unique artwork will transform the subway – reflecting the history of the town and community we live in and serve. We're sure it will bring some cheer to our customers, local community and the Avanti West Coast team for many years to come."
Dr Steph Dermott, Community Rail Development Officer at Wigan Community Rail, said: "This mural will be a great opportunity to showcase local creative talent and gives the community an opportunity to choose people and places that are important to them and celebrate Wigan. We will shortly be launching our Wigan Heroes campaign for nominations."
Artists who wish to find out more can visit: https://www.boltoncommunityrail.org.uk/wp-content/uploads/2021/04/Wigan-NW-Mural-Project-Artists-Brief-07.04.21.pdf
The deadline for applications is midnight Sunday 16 May 2021.
ENDS
Contact Information
Laura Normansell
Avanti West Coast
Notes to editors
Image 'Avanti West Coast Wigan North Western 2' is the station underpass, where the large-scale artwork will be installed.
About South East Lancashire Community Rail Partnership
South East Lancashire Community Rail Partnership (CRP) was formally established in June 2019, growing out of the work of Bolton Station Community Development Partnership. The CRP aims to take a more strategic approach with a strong emphasis on promoting social inclusion and community cohesion, particularly through arts-related activities.
https://www.boltoncommunityrail.org.uk/
About Avanti West Coast
Avanti West Coast, operator of intercity rail services on the West Coast Main Line, is a joint venture between FirstGroup and Trenitalia, delivering a cleaner, greener railway that drives the West Coast forward.
We're on a mission to revolutionise train travel, linking together the towns and major cities of the UK to create an iconic railway the country can be proud of. We've got big plans including a fleet of new intercity trains, as well as the complete refurbishment of the existing Pendolino train fleet. We will introduce more train services every week with new routes added, and a much-improved onboard service with enhanced free Wi-Fi, plug sockets, 25,000 brand new seats and improved catering. Since 8 December 2019, passengers have benefitted from improved passenger compensation, available for journeys delayed by just 15 minutes.
For the latest news, visit the Avanti West Coast Media Room: https://newsdesk.avantiwestcoast.co.uk/
Press Office: 0845 000 3333