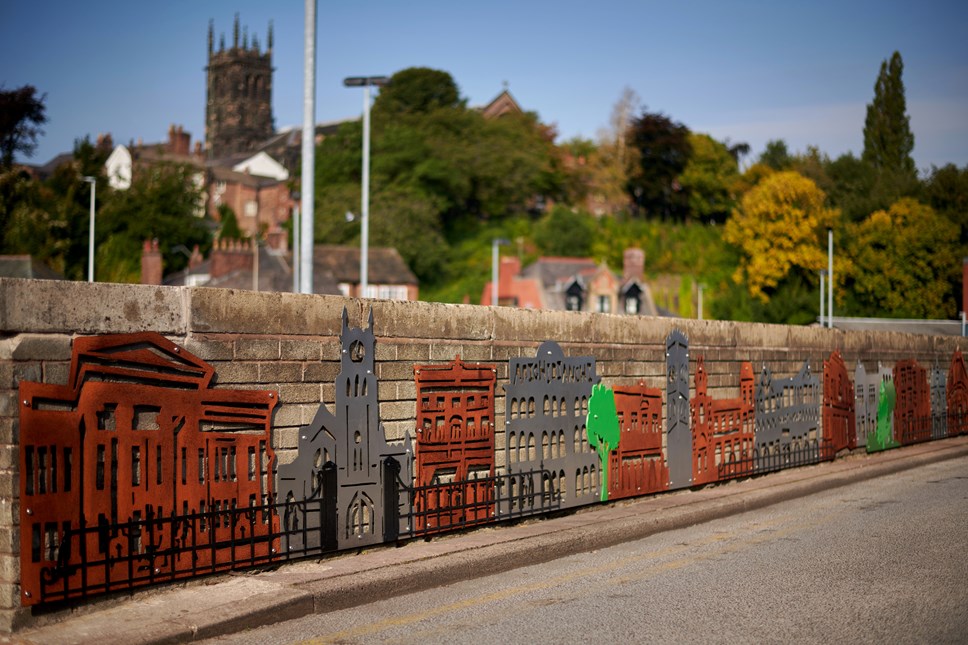 Macclesfield's heritage celebrated with artwork at station
Bespoke artwork goes on display at Macclesfield station to celebrate town's heritage.
Avanti West Coast displays bespoke artwork at Macclesfield station
Mural created by sculptor and local community celebrates the town's rich heritage
A bespoke piece of artwork has been installed by Avanti West Coast at Macclesfield station to celebrate the town's heritage.
Commissioned by Macclesfield Town Council, the metal mural was created by artist and sculptor, Tim Davies.
Its creation was part of a project to produce a unique piece of work for the local community and increase the appreciation of public art in the town.
Tim was the favourite artist to deliver the project, following a public consultation with local residents. He designed the artwork from images produced by pupils from five schools in Macclesfield.
Featuring landmarks of the town, including designer furniture store, Arighi Bianchi, and the original Hovis Mill, the mural reflects the rich heritage of Macclesfield.
It was made using a laser cut artwork technique, which Tim has been developing while creating art with children for the past decade. This is the first time he has used it for a piece on public display.
As the gateway to the Cheshire town for commuters, visitors, shoppers and residents, Macclesfield station was chosen as the location for the artwork, where it can be enjoyed immediately after arriving by train, against the backdrop of the town.
Speaking of his first art project at a railway station, Tim Davies, said: "I have a strong record in delivering high-quality public artwork commissions in schools, festivals, theatre and commerce - together with over twenty years of experience working within education and community group settings. Community engagement and inspiring young people is at the heart of my practice as an artist and I relished the opportunity to work with a new community. It is empowering to see the children's artwork displayed in such a bold and permanent way."
Councillor Janet Jackson MBE, said: "I'm really pleased to see this mural finally installed at the train station. It provides a welcome to Macclesfield depicting a number of our iconic heritage buildings and setting the scene with regards to the character of the town."
Laura Harper, Avanti West Coast Station Manager at Macclesfield, said: "We're delighted to have this beautiful artwork on permanent display at Macclesfield station – it provides a cheerful welcome to the many people arriving by train each and every day. Tim and the local children have perfectly captured the spirit of this great town and its community, which we're proud to serve, and we're sure this mural will be enjoyed for many years to come."
ENDS
Contact Information
Press Desk
Avanti West Coast
Notes to editors
The schools involved were Bollinbrook Primary School, Park Royal Community School, Ash Grove Academy, Macclesfield Academy and Macclesfield College
About Tim Davies
Artistic Director Tim Davies is a sculptor and innovative engineer with a passion for large-scale, kinetic creations and high impact spectacles.
About Avanti West Coast
Avanti West Coast, operator of intercity rail services on the West Coast Main Line, is a joint venture between FirstGroup and Trenitalia, delivering a cleaner, greener railway that drives the West Coast forward.
We're on a mission to revolutionise train travel, linking together the towns and major cities of the UK to create an iconic railway the country can be proud of. We've got big plans including a fleet of new intercity trains, as well as the complete refurbishment of the existing Pendolino train fleet. We will introduce more train services every week with new routes added, and a much-improved onboard service with enhanced free Wi-Fi, plug sockets, 25,000 brand new seats and improved catering. Since 8 December, passengers have benefitted from improved passenger compensation, available for journeys delayed by just 15 minutes.
For the latest news, visit the Avanti West Coast Media Room: https://newsdesk.avantiwestcoast.co.uk/
Press Office: 0845 000 3333