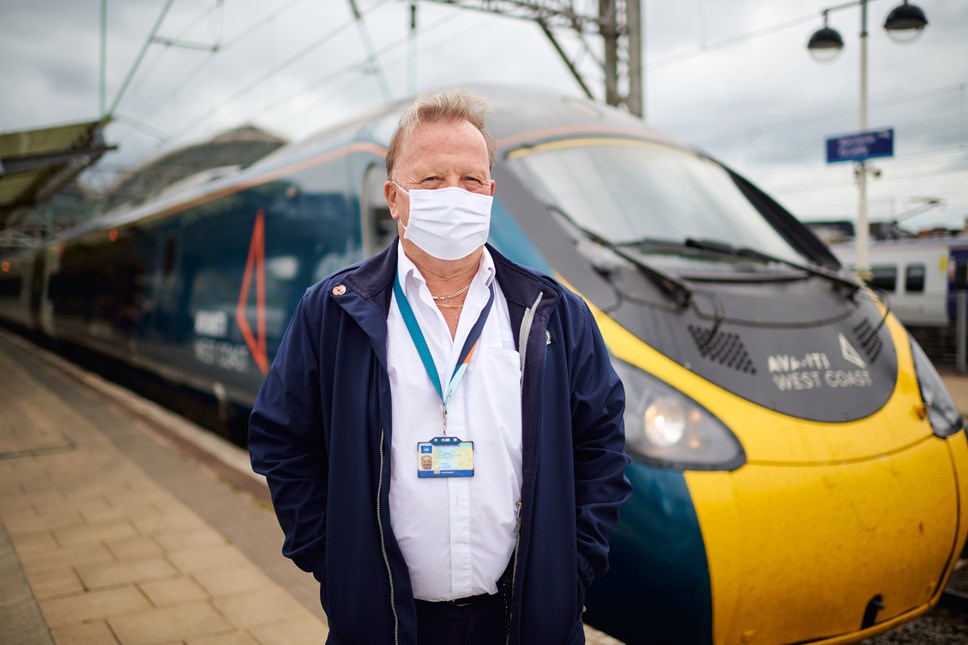 Next stop – retirement! Train driver makes last journey after 50 years on railway
Avanti West Coast train driver retires after reaching 50-year career milestone on railway in Manchester.
Manchester driver, Steve Wilson, retires after half a century on the railway
Steve accompanied by family as he makes last journey as a train driver
Joined in 1971, following in his father's footsteps
An Avanti West Coast employee made his last journey as a train driver, marking the end of 50 years on the railway.
Steve Wilson, 66, drove Pendolino 390157 from London Euston to Manchester Piccadilly – where he has been based for 15 years, for his final shift before retirement.
To celebrate the end of his long career, Steve's wife and two daughters joined him for his last working day to gain an insight into the role he has done over the last five decades.
Accompanied by Steve's manager, Dave Wright, they gave him a send-off at Euston station before travelling as passengers onboard the train to Manchester – it is the first time the family have made a train journey with their dad in the driver's seat.
Steve was greeted by applause from his family after stepping out of the driver's cab for the last time at Manchester Piccadilly before being presented with his 50 years' service award.
Following in his father's footsteps, Steve joined the railway in 1971 – working on the platforms at Manchester Oxford Road.
In 1974 he began working on the footplate (a term to describe where the driver operates a steam locomotive) – marking the start of a career driving trains based out of Manchester.
Speaking of his half century on the railway, Steve said: "I have many happy memories of my time on the railway and have thoroughly enjoyed working with colleagues as part of the 'Railway Family'.
"It meant a lot to share my last journey as a driver with my wife and two daughters, so they could experience the job I've loved doing – it has certainly been a memorable send-off for my retirement."
Dave Wright, Driver Team Manager at Avanti West Coast, said: "Steve is a rare breed of railwayman that has achieved the 50-year milestone, he has been a credit to Avanti West Coast and the depot at Manchester and will be sorely missed by everyone. During my time at Manchester it has been a privilege to manage Steve and I wish him all the best in his retirement."
ENDS
Contact Information
Laura Normansell
Avanti West Coast
Notes to editors
About Avanti West Coast
Avanti West Coast, operator of intercity rail services on the West Coast Main Line, is a joint venture between FirstGroup and Trenitalia, delivering a cleaner, greener railway that drives the West Coast forward.
We're on a mission to revolutionise train travel, linking together the towns and major cities of the UK to create an iconic railway the country can be proud of. We've got big plans including a fleet of new intercity trains, as well as the complete refurbishment of the existing Pendolino train fleet. We will introduce more train services every week with new routes added, and a much-improved onboard service with enhanced free Wi-Fi, plug sockets, 25,000 brand new seats and improved catering. Since 8 December 2019, passengers have benefitted from improved passenger compensation, available for journeys delayed by just 15 minutes.
For the latest news, visit the Avanti West Coast Media Room: https://newsdesk.avantiwestcoast.co.uk/
Press Office: 0845 000 3333