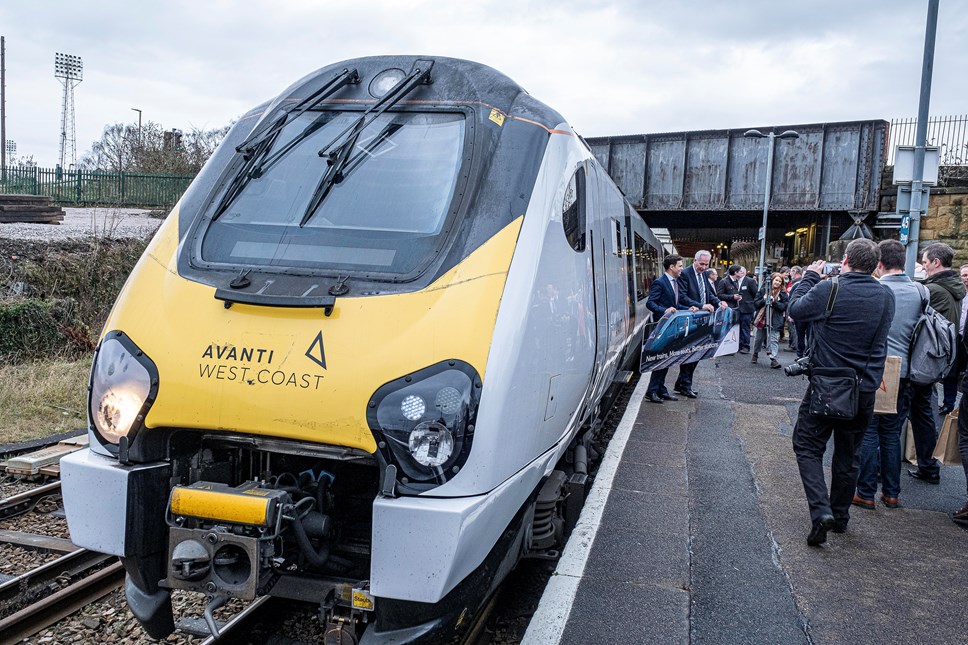 North Wales welcomes Avanti West Coast
Avanti West Coast holds official launch event in Wrexham and announces package of improvements including new trains, more services, and improved compensation
North Wales welcomes Avanti West Coast at Wrexham General Station
Train bearing the Avanti West Coast branding at launch event
New era herald for the future of services on the route
Avanti West Coast has taken over the operation of long-distance train services in North Wales, heralding a new era with new trains and more services to and from England.
To mark the occasion in the presence of Ken Skates AM, Minister for Economy and Transport (Welsh Government) and key stakeholders from across Wales, a train bearing the Avanti West Coast branding is today (Dec 19) visiting Wrexham General station for a photo call.
The triangular Avanti logo symbolises the three geographic points of the West Coast Main Line that includes the connections between communities in North Wales and cities across England and Scotland.
Avanti West Coast will make significant improvements to rail services in North Wales including:
A new fleet of quieter, more accessible and greener bi-mode trains in 2022 on the strategic Holyhead to London Euston route that also serves Bangor, Colwyn Bay, Llandudno Junction, Prestatyn and Rhyl.
These new trains will have reliable, free Wi-Fi; at-seat wireless inductive charging for electronic devices, plug and USB sockets; a brand-new catering offer and a real-time passenger information system
Withdrawing the diesel Super Voyager trains and cutting CO2 emissions by more than 60%
More train services between North Wales and England including an additional service from Llandudno to London Euston from December 2020
From December 2022, new direct services from Gobowen (via Wrexham) to London Euston that provides a rail link for nearby Oswestry on the England-Wales border
Enhanced Welsh language provision for Welsh-speaking customers including announcements on Avanti West Coast train services in North Wales
'Delay Repay 15' compensation for customers when trains are delayed by 15 minutes or more.
Ken Skates AM, Welsh Government Minister for Economy and Transport said: "I'm pleased to welcome the start of the Avanti West Coast franchise and the increased services it will provide here in North Wales, as well as improved links to future high speed rail services. It is good to see the commitment to partnership working and I look forward to having meaningful engagement in the process for developing services to be delivered in the future.
"A commitment to work with Transport for Wales will ensure both franchises work collaboratively for passengers and stakeholders to deliver integrated services that meet the needs of Welsh customers fairly and equitably. We want to see improved services and connections for the people of North Wales that will deliver long-term benefits and I'm pleased to see the introduction of a new fleet of greener trains."
Steve Montgomery, Managing Director of First Rail said: "Our plans for new, greener trains, and for more services and new destinations will significantly enhance the quality of rail journeys for our customers travelling in and beyond North Wales. Avanti West Coast will work collaboratively with stakeholders and strategic partners such as Transport for Wales to bring communities across our network closer together."
Ernesto Sicilia, Managing, Director of Trenitalia (UK), said: "We're honoured to begin operating rail services between Wales and England. Avanti represents our progressive and innovative values of quality, dynamism and innovation: this is what we want to guarantee to the people of North Wales".
Contact Information
Press Desk
Avanti West Coast
Notes to editors
Avanti West Coast Press Office: 0845 000 3333/ press.desk@avantiwestcoast.co.uk
About the West Coast Partnership
The West Coast Partnership is a joint venture between FirstGroup and Trenitalia. The franchise comprises two distinct parts – Avanti West Coast that runs long distance services in North Wales and on the West Coast Main Line; and West Coast Partnership Development that will work with HS2 Ltd and the DfT to develop and operate high speed rail services.
Both will work in partnership with stakeholders, communities and customers along the route to develop and enhance rail services and help stimulate economic growth. The new partnership will build on the existing success and culture of the current operator by bringing together the best parts of both Virgin Trains and First Trenitalia. Our goal is to "deliver a progressive railway service that generates nationwide prosperity and pride".
About FirstGroup
FirstGroup plc (LSE: FGP.L) is a leading provider of transport services in the UK and North America. With £7.1 billion in revenue and around 100,000 employees, we transported 2.2 billion passengers last year. Whether for business, education, health, social or recreation – we get our customers where they want to be, when they want to be there. We create solutions that reduce complexity, making travel smoother and life easier.
We provide easy and convenient mobility, improving quality of life by connecting people and communities. Each of our five divisions is a leader in its field: In North America, First Student is the largest provider of home-to-school student transportation with a fleet of 42,500 yellow school buses, First Transit is one of the largest providers of outsourced transit management and contracting services, while Greyhound is the only nationwide operator of scheduled intercity coaches. In the UK,
First Bus is one of Britain's largest bus companies with 1.6 million passengers a day, and First Rail is one of the country's largest and most experienced rail operators, carrying 345 million passengers last year. Visit www.firstgroupplc.com and follow us @firstgroupplc on Twitter.
About Trenitalia
Trenitalia is Italy's primary rail operator and one of the leading railway operators in Europe with presence also in France, Germany and Greece. In UK through its subsidiary Trenitalia UK the Group runs c2c franchisee. Trenitalia is the only high-speed operator in the world that faces domestic rail competition while giving exceptional service to its customers and producing revenues of over €5.37bn. Trenitalia offers two major services: high-speed rail and regional transport. The company is best known for its iconic Frecciarossa high-speed services.
Ferrovie dello Stato Italiane, the ultimate shareholder of Trenitalia, is the main Italian transport company with €58bn of investments in its business plan for 2019-2023. The Group is contributing to the overall investment volume in the country and supporting the development and the improvement of the transport, infrastructure, logistics and tourism sectors. FS Italiane's operating revenue grew to €12bn in 2018, producing an EBITDA of €2.5bn with a net result of €560m.