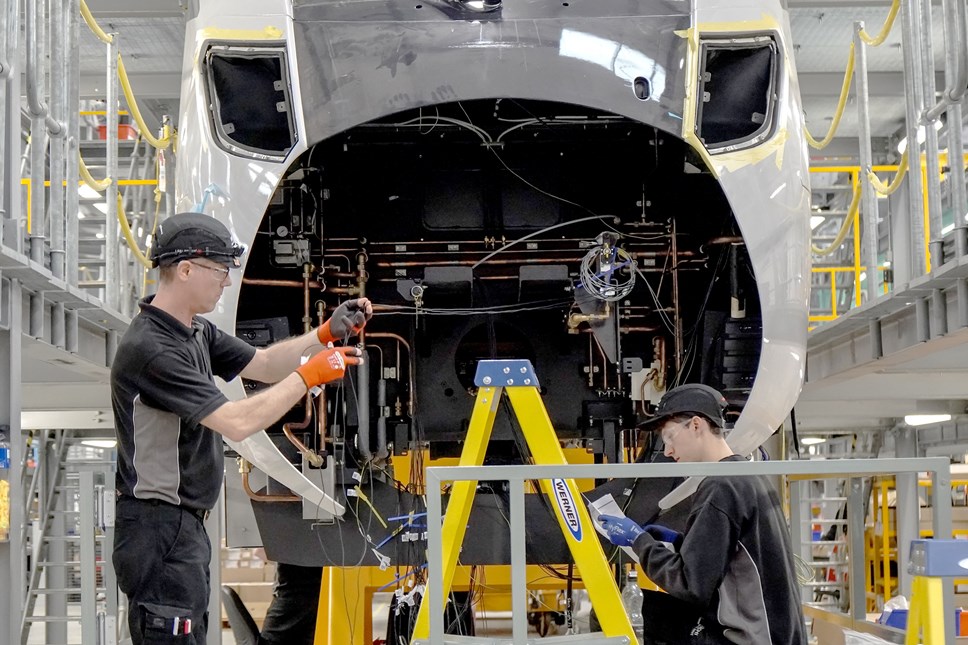 Start of testing marks major milestone for Avanti West Coast's new fleet
Work progressing well on Avanti West Coast's new fleet of trains in readiness for entry into service in 2023.
Watershed moment as first train begins static testing at Hitachi Rail's Newton Aycliffe factory
New images show work is progressing well on £350m order for new trains
New fleet on course to enter service in 2023 serving West Coast Main Line
The first of Avanti West Coast's new fleet of trains has entered static testing at Hitachi Rail's Newton Aycliffe factory in the North East of England.
In a major milestone for the £350m project, carriages from a Class 805 bi-mode train are being coupled together to mark the start of the extensive testing programme ahead of the planned entry into service in 2023. All basic functionality of the train, from brakes to engines, doors to toilets, will be put through their paces prior to the start of dynamic testing later in the year, when the trains will move under its own power for the first time.
The new fleet will be a mix of ten seven-carriage electric trains and 13 five-carriage bi-mode trains, with the ability to switch seamlessly between electric and diesel power. The electric trains (Class 807) will operate between London, the West Midlands and Liverpool while the bi-mode version will be focused on the London to North Wales route.
New images give a first look at the extent of progress on the next generation of intercity trains for the West Coast route.
Phil Whittingham, Managing Director at Avanti West Coast said: "It's great to see the new trains taking shape. The investment is a key part of our exciting plans to raise the bar for the UK rail industry, and our wider commitment to improve the customer experience and a more sustainable operation."
The new Hitachi trains offer more space and a quieter journey compared to the diesel-only Voyager trains they replace. This will lead to a 61 percent reduction in carbon emissions. Customers will also enjoy better and more reliable free Wi-Fi, at-seat wireless charging for electronic devices, plug sockets and USB slots; a brand-new catering offer and a real-time passenger information system that can advise customers of connecting rail services.
Jim Brewin, Head of UK & Ireland at Hitachi Rail said: "Our teams across the UK are working tenaciously to deliver more Hitachi intercity trains, which are proven to boost reliability and performance.
We look forward to Avanti passengers experiencing the transformation that follows the introduction of this brand new fleet."
Contact Information
Richard Stanton
Avanti West Coast
Notes to editors
About Avanti West Coast
Avanti West Coast, operator of intercity rail services on the West Coast Main Line, is a joint venture between FirstGroup and Trenitalia, delivering a cleaner, greener railway that drives the West Coast forward.
We're on a mission to revolutionise train travel, linking together the towns and major cities of the UK to create an iconic railway the country can be proud of. We've got big plans including a fleet of new intercity trains, as well as the complete refurbishment of the existing Pendolino train fleet. We will introduce more train services every week with new routes added, and a much-improved onboard service with enhanced free Wi-Fi, plug sockets, 25,000 brand new seats and improved catering. Since 8 December, passengers have benefitted from improved passenger compensation, available for journeys delayed by just 15 minutes.
For the latest news, visit the Avanti West Coast Media Room: https://newsdesk.avantiwestcoast.co.uk/
Press Office: 0845 000 3333
About Hitachi Rail
Hitachi Rail is a fully integrated, global provider of rail solutions across rolling stock, signalling, service & maintenance, digital technology and turnkey. With a presence in 38 countries, across six continents and over 12,000 employees, our mission is to contribute to society through the continuous development of superior rail transport solutions. We are proud of our global achievements, from our world ¬famous 'bullet trains', to our signalling solutions and turnkey projects, state ¬of¬ the-art traffic management and digital solutions. Drawing on the wider Hitachi Group's market-leading technology and research-and-development capabilities, we strive for industry ¬leading innovations and solutions that can deliver value for customers and sustainable railway systems that benefit wider society. For information about Hitachi Rail, visit www.hitachirail.com