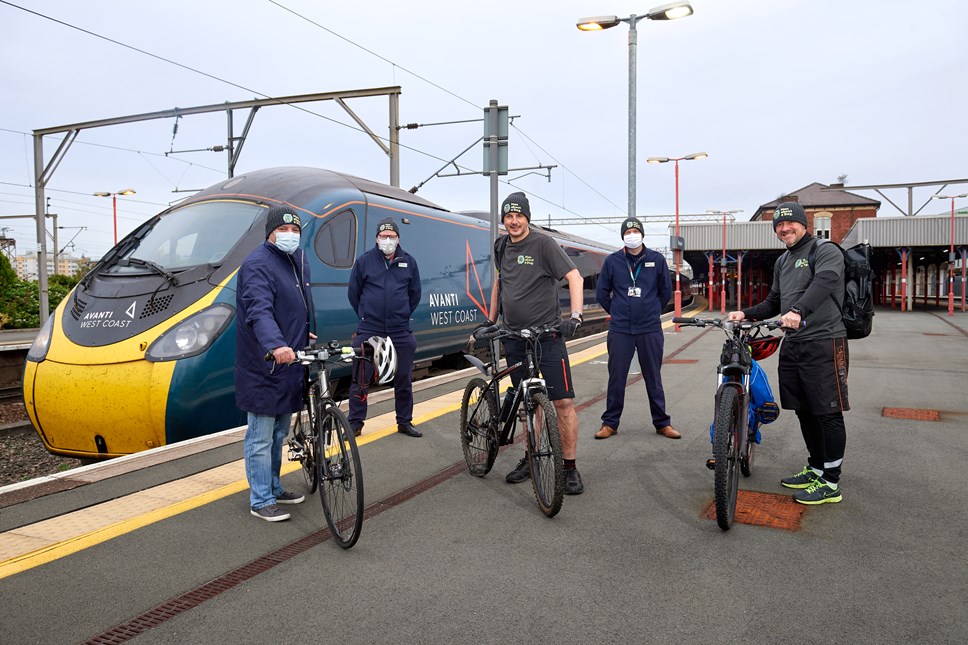 Stockport station team take on fundraising challenge for local cause
Avanti West Coast team at Stockport take part in fundraiser to help local project that supports people who have survived a suicide attempt
Avanti West Coast staff at Stockport station challenge themselves to walk and cycle nearly 150 miles for charity
Funds raised will help local project that provides support to people who have survived a suicide attempt
Team have reached half of £1,000 fundraising target for cause close to their hearts
Avanti West Coast staff based at Stockport station are undertaking a charity fundraiser to help a local group that supports people who have survived suicide attempts.
Eight colleagues, who work on the platforms, in the Ticket Office and as Welcome Hosts at the station, have teamed up to walk and cycle nearly 150 miles.
They are raising vital funds for Man about a Dog (MaaD) – a group based at Stockport Progress and Recovery Centre (SPARC), that supports people who have attempted to take their own life.
Originally the team challenged themselves to cycle from Chester to Snowdonia in North Wales (78 miles) and climb Snowdon (approximately 10 miles) in March but due to the COVID-19 pandemic their plans were put on hold.
Eager to fundraise for MaaD, who regularly visit Stockport station to support Avanti West Coast staff and customers, they adapted the challenge by basing it closer to home and following social distancing guidelines.
To date, the team have clocked up a combined total of 120 miles locally on their bikes by cycling a round trip from Marple to Macclesfield, as well as pedalling from Stockport station to Bosley and back again. Determined to incorporate an element of their original challenge, Customer Service Assistant, Kevin Dodd, climbed Snowdon with his partner last month.
The team are due to complete their challenge together in two socially distanced groups, with a 10-mile walk between Marple and New Mills along the Cheshire Meander Circular Walk later this week (17 October). They also plan to climb Mount Snowdown once lockdown restrictions ease.
Over half (£600) of the fundraising target has been reached, which will help the MaaD Team to continue their vital work.
Tony Sweeney, Customer Service Assistant at Avanti West Coast, said: "We know first-hand how vital the work of Man about a Dog is to the local community and we want to do our bit to raise funds to support this great project. Whilst it is not the original fundraiser we planned, we are determined to complete this challenge and are proud to be clocking up the miles locally. We are excited for our final trek and would like to thank everyone for their continued support with our fundraising efforts."
Speaking about the efforts of Avanti West Coast staff, Chris Platt, Project Manager at Man about a Dog, said: "This is the most ambitious and challenging fundraising activity that anyone has ever organised for us. We are so grateful to all the staff at Stockport station and particularly the eight colleagues for all their efforts to fundraise for us. Our current funding is due to run out next year, and we are amazed at the support from Team Avanti West Coast that will allow our unique and life-saving work to continue.
"We are also actively looking for long-term funding that will ensure the long-term future of the project, enabling us to continue to support the expected increase in the numbers of people attempting suicide during and after the COVID-19 pandemic."
To support the team at Stockport and help raise funds for Man About a Dog, visit: https://gf.me/u/ywvccj
The Stockport station team are raising additional funds by providing emergency medication pill boxes in return for a small donation to MaaD.
ENDS
Contact Information
Press Desk
Avanti West Coast
Notes to editors
The team at Stockport station are Carl Bavister, Kevin Dodd, Chris Done, Gareth Hughes, Lisa Magee, Darren Musgrave and Tony Sweeney.
About Man about a Dog
Man about a Dog (MaaD) is a project based at SPARC in Stockport, Greater Manchester. We provide peer support based on the message that suicidal thoughts and attempts should not be hidden away or feared. Survivors can speak about their thoughts and attempts with us. All MaaD workers have survived a suicide attempt and we still experience thoughts of wanting to kill ourselves. We are survivors; surviving, surviving. We can identify with you if you have attempted to end your life or are thinking about doing so.
About Avanti West Coast
Avanti West Coast, operator of intercity rail services on the West Coast Main Line, is a joint venture between FirstGroup and Trenitalia, delivering a cleaner, greener railway that drives the West Coast forward.
We're on a mission to revolutionise train travel, linking together the towns and major cities of the UK to create an iconic railway the country can be proud of. We've got big plans including a fleet of new intercity trains, as well as the complete refurbishment of the existing Pendolino train fleet. We will introduce more train services every week with new routes added, and a much-improved onboard service with enhanced free Wi-Fi, plug sockets, 25,000 brand new seats and improved catering. Since 8 December, passengers have benefitted from improved passenger compensation, available for journeys delayed by just 15 minutes.
For the latest news, visit the Avanti West Coast Media Room: https://newsdesk.avantiwestcoast.co.uk/
Press Office: 0845 000 3333