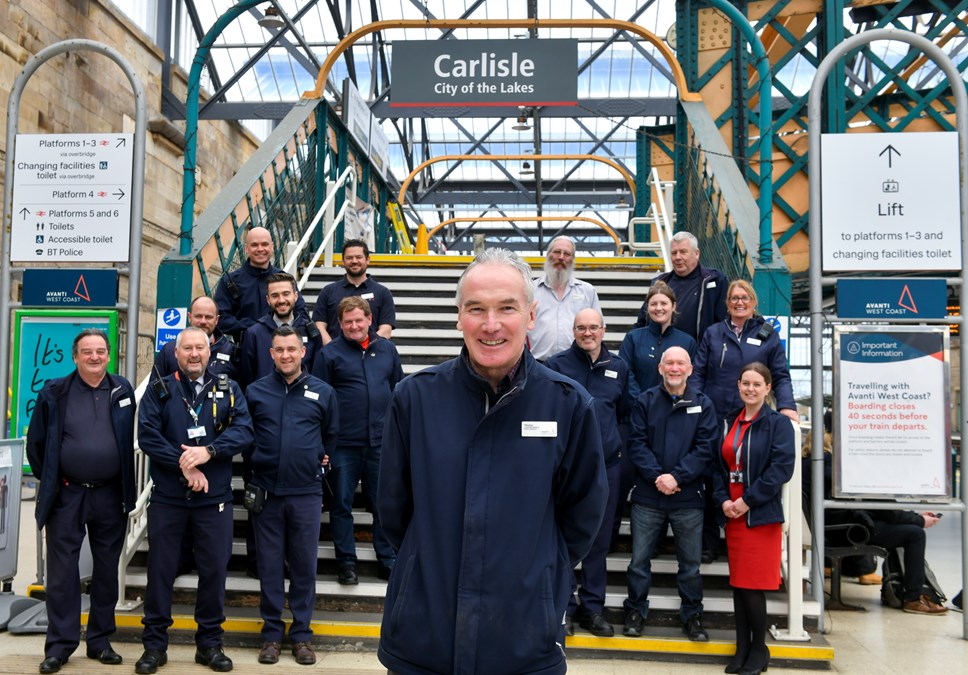 Tommy waves goodbye to the railway after reaching 50-year milestone
Avanti West Coast Team Leader, Tommy Michalek, retires from railway after half a century on the West Coast Main Line.
Avanti West Coast Team Leader, Tommy Michalek, retires after half a century
Joined railway in 1971 at 15 following in family's footsteps on West Coast Main Line
End of an era for his family after decades of service on the railway in Carlisle
An Avanti West Coast employee has completed his final shift after a 50-year career, marking the end of an era for his family's service on the railway.
Team Leader, Tommy Michalek, 65, led the Avanti West Coast team's platform operation at Carlisle for the last time on 31 March before his retirement after achieving the milestone.
His final shift also signals the end of his family's long connection to the rail industry, as he is the last member of his family to retire from the railway.
Tommy's uncle worked at Carlisle Canal station until its closure and transferred to Watford. It was there that Tommy began his career in July 1971 aged 15.
Twelve years later in 1983, he moved back to Carlisle as an Area GPR (General Purpose Relief) at Carlisle Yard, where he was responsible for covering different jobs between Carlisle and Oxenholme.
In 1992 he became a Freight Service Manager, before coming back to the passenger railway in 1994 at Carlisle station, where he has been based for nearly 30 years holding various roles from Customer Service and Retail Assistant, to GPR and Team Leader.
Clocking up half a century on the railway, Tommy follows cousins Stan (a Train Driver for 50 years), Ron (who worked in accounts for 46 years) and Tony (who worked in roles at Euston and Watford for 40 years) to retire with decades of service on the West Coast Main Line.
Tommy waves off Avanti West Coast Pendolino at Carlisle, where he was based for 30 years
The railway has also played a key role in Tommy's personal life – an avid Carlisle United fan he travels by train to watch his beloved Blues play across the UK. Once he's hung up his dispatch baton and whistle, Tommy plans to continue following his team and enjoy retirement by travelling with his wife.
To mark the end of his 50-year career, Avanti West Coast's Managing Director, Phil Whittingham, presented Tommy with a framed print of his service report – detailing the various roles he's held at Watford, London Euston, and Carlisle. Colleagues at Carlisle gathered at Tommy's presentation to give him a round of applause and good luck wishes.
Reflecting on his railway career, Tommy said: "I've really enjoyed my time on the railway and had a good career. I love Carlisle station – it's my home station, where I've spent most of my working life – but it's the people that make it. I'm going to miss my colleagues and look forward to seeing them when I travel by train to watch Carlisle United."
Michael Byrne, Avanti West Coast Station Manager at Carlisle, said: "Tommy is a well-loved member of the team, who will be sorely missed by everyone here in Carlisle. He's a rare breed of railway staff – his dedication has always been unwavering. He's conscientious and there isn't anything he doesn't seem to know!
"Tommy's knowledge of the railway is extensive and invaluable – everyone seems to turn to him when they have a query. It has been a pleasure working with Tommy and we all wish him the very best for his retirement."
ENDS
Contact Information
Laura Normansell
Avanti West Coast
Notes to editors
Main image: Avanti West Coast Team Leader, Tommy Michalek, with colleagues at Carlisle station
About Avanti West Coast
Avanti West Coast, operator of intercity rail services on the West Coast Main Line, is a joint venture between FirstGroup and Trenitalia, delivering a cleaner, greener railway that drives the West Coast forward.
We're on a mission to revolutionise train travel, linking together the towns and major cities of the UK to create an iconic railway the country can be proud of. We've got big plans including a fleet of new intercity trains, as well as the complete refurbishment of the existing Pendolino train fleet. We will introduce more train services every week with new routes added, and a much-improved onboard service with enhanced free Wi-Fi, plug sockets, 25,000 brand new seats and improved catering. Since 8 December 2019, passengers have benefitted from improved passenger compensation, available for journeys delayed by just 15 minutes.
For the latest news, visit the Avanti West Coast Media Room: https://newsdesk.avantiwestcoast.co.uk/
Press Office: 0845 000 3333