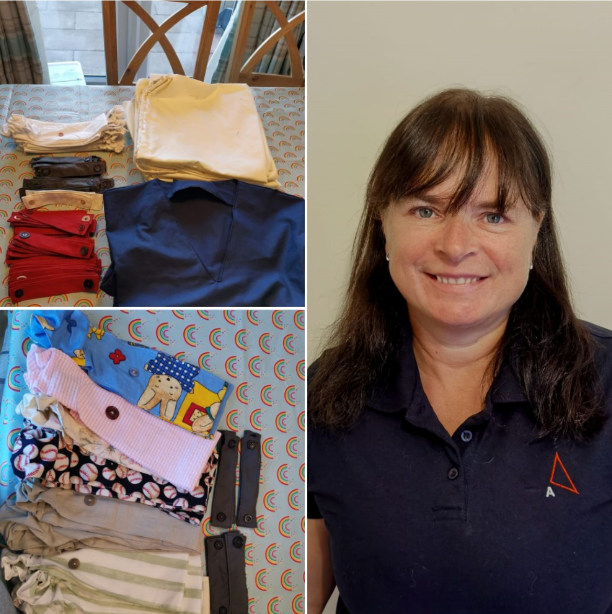 Train manager uses seamstress skills to produce scrubs for NHS workers
Preston-based Train Manager revives skills from previous career to sew scrubs and accessories during COVID-19 pandemic
Avanti West Coast Train Manager, Janet Bamber, dusts off skills as a seamstress to support efforts during coronavirus crisis
Over 1,000 accessories and nearly 50 scrubs made by Janet for NHS staff in Lancashire, as she swaps train for sewing machine
A Train Manager at Avanti West Coast has revived her skills from a previous career to produce more than 1,000 scrubs and accessories for NHS workers in Lancashire during the COVID-19 pandemic.
Janet Bamber, who works on board Avanti West Coast trains based out of Preston, used her sewing experience from three decades ago to support the efforts of two community groups - North West Sewing Group, and For the Love of Scrubs North West – volunteering to make scrubs for NHS staff who are struggling to get them during the coronavirus crisis.
A former seamstress for Bentwood Brothers in Chorley, Lancashire, which supplied Marks & Spencer, Janet is dedicating her time to the sewing group - fulfilling orders of scrubs and accessories for staff at Royal Blackburn and Preston Royal hospitals.
Janet has been able to dedicate more time while she was off work awaiting an operation and to date has made nearly 50 sets of scrubs and 1,000 headbands, scrub bags and ear defenders from duvets and other materials donated to the group.
In addition, she has been making items for colleagues across the West Coast Main Line and friends whose relatives work for the NHS.
By volunteering, Janet, who worked full-time as a seamstress before starting a family has been able to satisfy her passion for sewing – a skill she has always kept a hand in since joining the railway in 1997.
Speaking of utilising her time to put her sewing skills into practice, Janet said: "Being at home with nowhere to go, I wanted to make the most of my time and do something worthwhile during the coronavirus pandemic. I'm passionate about sewing and volunteering my time to make scrubs and accessories seemed the best way for me to make a difference. It has been brilliant to play a part in helping my local community, while being able to do something I love, and I feel grateful to have the opportunity to do this."
ENDS
Contact Information
Press Desk
Avanti West Coast
Notes to editors
About Avanti West Coast
Avanti West Coast, operator of intercity rail services on the West Coast Main Line, is a joint venture between FirstGroup and Trenitalia, delivering a cleaner, greener railway that drives the West Coast forward.
We're on a mission to revolutionise train travel, linking together the towns and major cities of the UK to create an iconic railway the country can be proud of. We've got big plans including a fleet of new intercity trains, as well as the complete refurbishment of the existing Pendolino train fleet. There will be 263 more train services every week by 2022 with new routes added, and a much-improved onboard service with enhanced free Wi-Fi, plug sockets, 25,000 brand new seats and improved catering. Since 8 December, passengers have benefitted from improved passenger compensation, available for journeys delayed by just 15 minutes.
For the latest news, visit the Avanti West Coast Media Room: https://newsdesk.avantiwestcoast.co.uk/
Press Office: 0845 000 3333