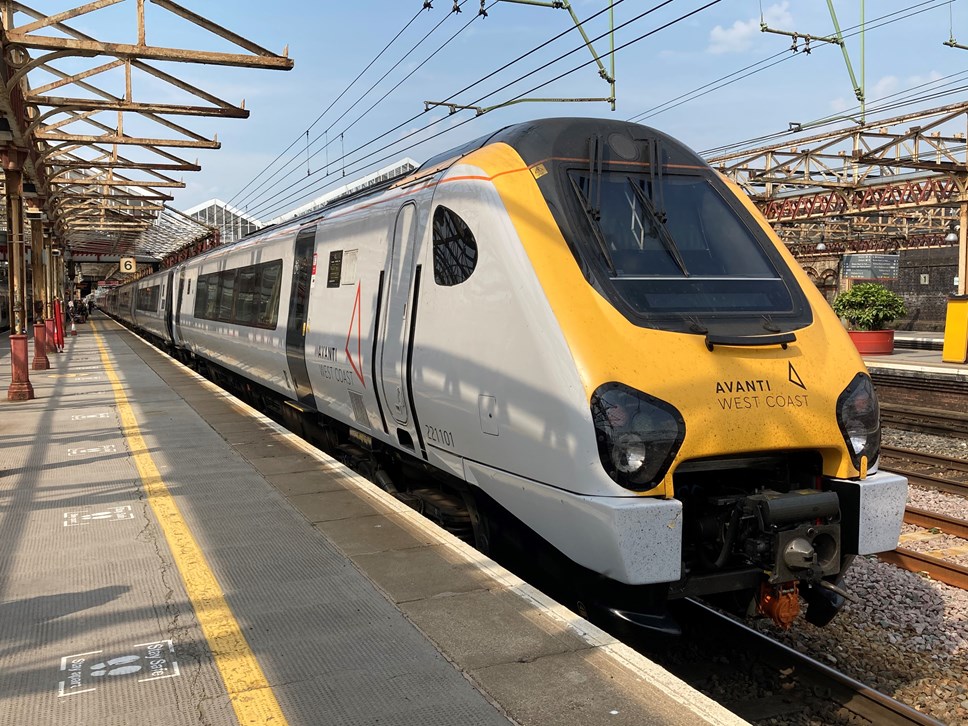 Voyager fleet upgraded by Avanti West Coast
Current fleet overhauled following a deal signed with Bombardier
Voyagers serving West Coast Main Line to get refresh
Deal signed with Bombardier to improve interiors of the fleet
Changes ahead of the delivery of new trains in 2022
Avanti West Coast's Voyager fleet is to benefit from an upgrade with the first train to be completed later this month (July).
The 20 Voyagers - which operate over the non-electrified sections of the West Coast Main Line in addition to running from London to Scotland, via the West Midlands - are being overhauled following an £8.3m deal which was signed with Bombardier last year.
New Standard Class seats covers, saloon and carpets will be included as part of the overhaul as well as a revamped toilet area. All lighting will also be replaced with LEDs.
The interior bodyside and ceiling panels in standard class saloons, vestibules as well as toilets will also be repainted.
It was announced last year that the West Coast Main Line will take delivery of 23 new Hitachi Rail Classes 805 and 807 trains in 2022 to replace the Voyagers.
Avanti West Coast Executive Director, Projects, Andy Barnes, explained: "We know that ultimately our Voyagers will be retired from the West Coast Main Line.
"But with two years on the rails, we wanted to improve them and not leave them as they are. All these improvements should enhance the customer experience and, as you will see from the images, will leave them looking very smart.

"It's a significant investment that shows we will take every opportunity to invest and improve our product and service wherever we can."
Bombardier Transportation's Chief Operating Officer, Tim Bentley, said; "We are delighted to be partnering with Avanti West Coast on this fleet upgrade. The Voyager remains a great train and by refreshing the customer environment we can keep them that way."
All 20 sets are set be completed by December 2020. They will be upgraded at Bombardier's site in Ilford, east London.
Contact Information
Press Desk
Avanti West Coast
Notes to editors
About Avanti West Coast
Avanti West Coast, operator of intercity rail services on the West Coast Main Line, is a joint venture between FirstGroup and Trenitalia, delivering a cleaner, greener railway that drives the West Coast forward.
We're on a mission to revolutionise train travel, linking together the towns and major cities of the UK to create an iconic railway the country can be proud of. We've got big plans including a fleet of new intercity trains, as well as the complete refurbishment of the existing Pendolino train fleet. There will be 263 more train services every week by 2022 with new routes added, and a much-improved onboard service with enhanced free Wi-Fi, plug sockets, 25,000 brand new seats and improved catering. Since 8 December, passengers have benefited from improved passenger compensation, available for journeys delayed by just 15 minutes.
For the latest news, visit the Avanti West Coast Media Room: https://newsdesk.avantiwestcoast.co.uk/
Press Office: 0845 000 3333
About Bombardier

With nearly 60,000 employees across two business segments, Bombardier is a global leader in the transportation industry, creating innovative and game-changing planes and trains. Our products and services provide world-class transportation experiences that set new standards in passenger comfort, energy efficiency, reliability and safety.
Headquartered in Montréal, Canada, Bombardier has production and engineering sites in over 25 countries across the segments of Aviation and Transportation. Bombardier shares are traded on the Toronto Stock Exchange (BBD). In the fiscal year ended December 31, 2019, Bombardier posted revenues of $15.8 billion. News and information are available at bombardier.com or follow us on Twitter @Bombardier