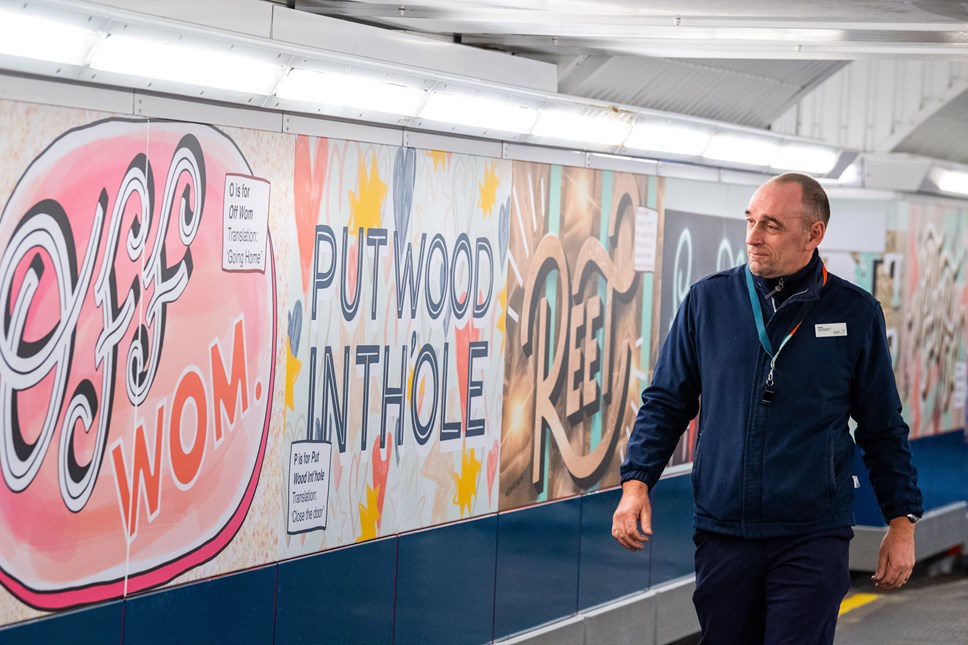 Wigan North Western Station celebrates town's rich heritage with unique mural
Community art mural reflecting the town of Wigan is unveiled at Wigan North Western station.
Avanti West Coast welcomes community art mural at Wigan North Western station
Local artist designs colourful mural that captures spirit of Greater Manchester town
Bespoke artwork celebrates history, people, and places of Wigan
A bespoke mural celebrating the heritage of the local area has been unveiled at Wigan North Western station.
The large-scale artwork is a special representation of the town and has been created by a local artist as part of a project by South East Lancashire Community Rail Partnership.
Funded through Avanti West Coast's Station Community Fund, the mural project aimed to transform the station's underpass with a memorable feature – providing a welcoming gateway for everyone travelling to or from Wigan North Western by train.
Featuring words and phrases from the Wiganese dialect – a key characteristic of the town's warm and spirited community – the artwork is decorated with a part of Wigan's heritage or reflects those who have contributed to the artwork.
The A-to-Z mural design gives a vibrant introduction to Wigan – from the local delicacy (Wigan Kebab), and the town's landmarks, as well as the local language Wiganers use in everyday conversations. It also offers the community an opportunity to rediscover their heritage.
Words and phrases were nominated by the community through workshops supported by organisations, including Wigan Youth Zone; social media; and purpose-made post-boxes hosted by independent businesses.
Lettering artist, Jess Riley, then used these as the basis of the artwork to capture the culture, personality, and rich industrial and social heritage of Wigan. QR codes displayed on the mural offer more information about the words, phrases and people behind the artwork once scanned.
Kerry Riley, Customer Experience Manager at Avanti West Coast, said: "We're proud to have played our part in the mural project and join local people to celebrate Wigan, as we want to champion the places and communities we serve.
"This unique artwork captures the vibrant, friendly spirit of the community – providing a warm welcome to people travelling to or from Wigan North Western by train. We're sure it will bring a smile to the faces of our customers, local community and the Avanti West Coast team for many years to come."
Dr Steph Dermott, Community Rail Development Officer at Wigan Community Rail, said: "It has been an amazing process to project manage and watch this mural come to life over the past few months. We hope it will give the local community great pride in their language and culture and give railway travellers a real taste of Wiganese!"
Speaking about her involvement in the art mural, Jess Riley, said: "Through this mural project with South East Lancashire Community Rail Partnership, we're celebrating the unique Wigan dialect, known as 'Wiganese', and the iconic elements of our town. It has been great to work with the community to discover their favourite Wigan words, as well as other things that people love about the town, such as local landmarks of past and present, and combine these ideas in the mural itself."
For more information about the community art mural, visit: https://www.southeastlancscrp.org.uk/wigan-north-western-mural/
ENDS
Contact Information
Laura Normansell
Avanti West Coast
Notes to editors
Image Avanti West Coast Wigan Mural 1 features Steve Johnson, Avanti West Coast Customer Service Assistant at Wigan North Western
About South East Lancashire Community Rail Partnership
South East Lancashire Community Rail Partnership (CRP) was formally established in June 2019, growing out of the work of Bolton Station Community Development Partnership. The CRP aims to take a more strategic approach with a strong emphasis on promoting social inclusion and community cohesion, particularly through arts-related activities.
About Jessica Riley
Jessica Riley is the lady behind Instagram account @oh.so.specials, an artist with a flair for creating awesome custom lettering and pretty illustrations.
About Avanti West Coast
Avanti West Coast, operator of intercity rail services on the West Coast Main Line, is a joint venture between FirstGroup and Trenitalia, delivering a cleaner, greener railway that drives the West Coast forward.
We're on a mission to revolutionise train travel, linking together the towns and major cities of the UK to create an iconic railway the country can be proud of. We've got big plans including a fleet of new intercity trains, as well as the complete refurbishment of the existing Pendolino train fleet. We will introduce more train services every week with new routes added, and a much-improved onboard service with enhanced free Wi-Fi, plug sockets, 25,000 brand new seats and improved catering. Since 8 December 2019, passengers have benefitted from improved passenger compensation, available for journeys delayed by just 15 minutes.
For the latest news, visit the Avanti West Coast Media Room: https://newsdesk.avantiwestcoast.co.uk/
Press Office: 0845 000 3333