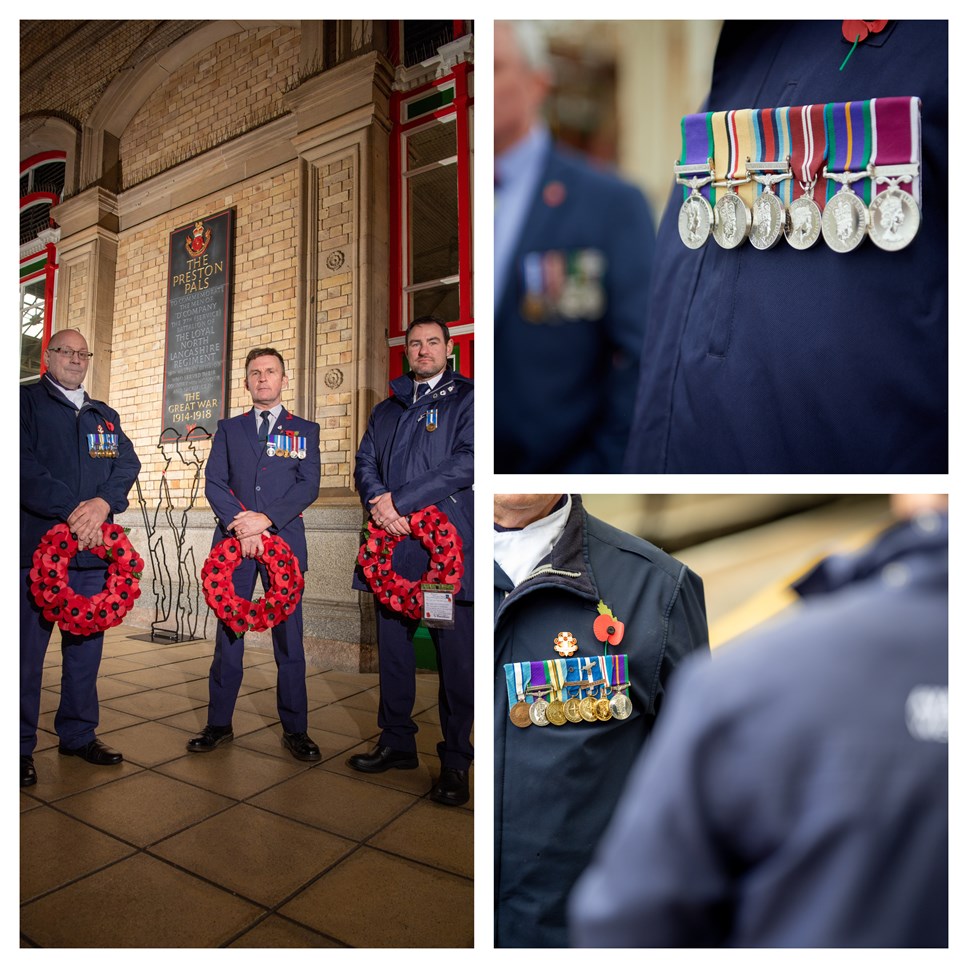 Remembering those who have served.
Armed Forces personnel past and present at Avanti West Coast pause to reflect for Remembrance.
14 November 2021
As the UK pays their respects this week to recognise the service and sacrifice of those who have served, armed forces personnel past and present at Avanti West Coast share what remembrance means to them.
Aaron Koduah, Welcome Host at Crewe station, served for seven years in the British Army's Royal Logistics Corps.
"I want to remember the immense sacrifices of those who have served and the fallen soldiers. I will be remembering all soldiers who lost their lives in Afghanistan, especially my friend Daren, who never came home."
Trainee driver, Dan Power, served in the Army for 17 years before eventually joining the railway after a train journey sparked an interest in a new career. Dan's young daughter attends Remembrance events with him each year, where she proudly wears the miniature version of his service medals.
"Unfortunately, I knew a few people who died on operations, so I always remember them. I also think of mates and colleagues who were injured and still carry the physical and mental scars of their experience – the Royal British Legion's Poppy Appeal does so much to help them when they need it."
Dave Halliwell, Avanti West Coast Chef based out of Preston, served in the Army for 25 years – predominantly in the Army Catering Corps and Royal Logistics Corps. His military career saw him deployed on 19 operational tours.
"I have always attended Remembrance events out of respect and to remember some of my friends that didn't return from tours away."
Euston-based driver, Dean Stewart served four-and-a-half years in the Army, as part of 79 Railway Squadron, and 17 Port and Maritime Regiment, where he drove trains in Kosovo. He moved from military train driving to become a train driver on the civilian passenger railway in 2001.
"Remembrance is a time to remember and appreciate all those who have served. This year I'm thinking of my grandad who passed away in September and was a decorated founder member of the SAS. He was a hero. We should never take for granted the sacrifice military personnel have made, continue to make and are willing to make."
Steve Martin, Customer Service Team Leader at Penrith, served in the Army with 12 years regular service and 10 years in the Reserves.
"As a former solider, Remembrance Day is hugely important to me, as I have served many active tours and lost friends. On this day, I remember both my grandfathers who served in WWII, and both fought at Normandy but on opposite sides."
Images (Top to bottom): Aaron Koduah; Dan Power; Dave Halliwell; Dean Stewart; Steve Martin
Avanti West Coast supported veterans, organisations, and charities local to the West Coast Main Line by transporting wreaths to London, as part of The Veterans Charity's Routes of Remembrance initiative on Armistice Day. Read more here: https://newsdesk.avantiwestcoast.co.uk/news/avanti-west-coast-gets-onboard-routes-of-remembrance