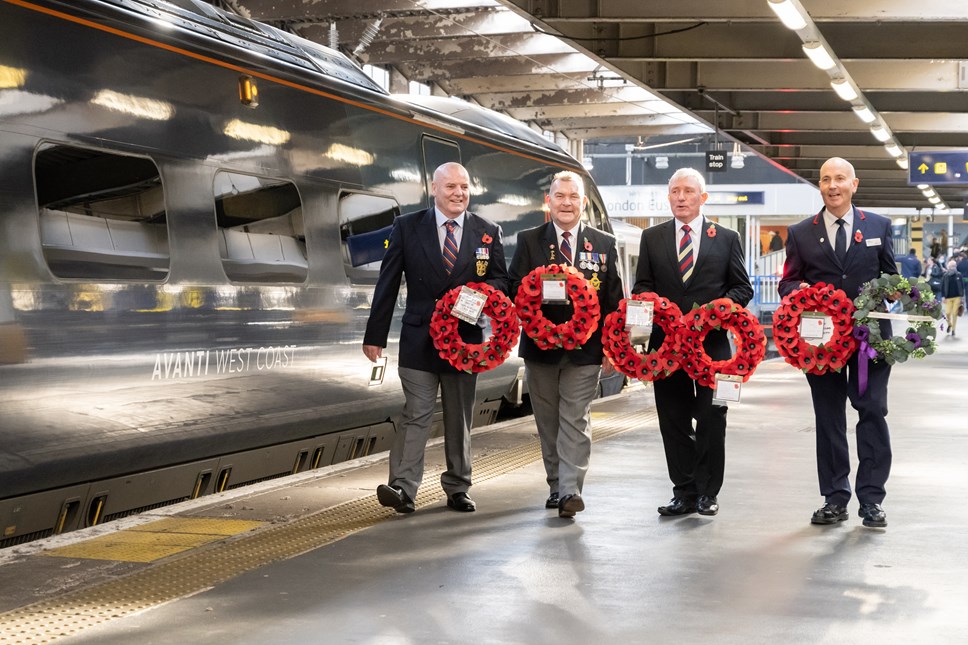 Avanti West Coast gets onboard Routes of Remembrance
Avanti West Coast transports wreaths from across the UK to London Euston for Routes of Remembrance.
Avanti West Coast supports The Veterans Charity's tribute to the fallen
Wreaths from veterans and military along West Coast route transported to Euston
Armed forces personnel past and present recognise railways links to the military
Avanti West Coast has joined train operators from across the UK to transport wreaths to London Euston as part of a special tribute to the fallen this Remembrance Day.
Routes of Remembrance – a poignant new initiative set up by The Veterans Charity - will see wreaths of tribute tour the country on or before 11 November.
Following their Poppies to Paddington event last year, which involved 250 wreaths being transported by train for Armistice Day, the charity invited communities, veterans, military units, and other organisations across the country to take a wreath to a poignant memorial.
The intercity operator supported the efforts of The Veterans Charity to transport wreaths from across the UK to London.
Veterans and reservists who work for Avanti West Coast accompanied wreaths donated by local organisations, charities, as well as military units on trains to London Euston. They were laid at the memorial outside the station as part of Network Rail's Remembrance Service.
Over the next few days, Avanti West Coast will be holding Remembrance services at stations across the West Coast Main Line to mark the service and sacrifice of those who have served.
Phil Whittingham, Managing Director at Avanti West Coast, said: "For decades, the railway has had a connection to the armed forces, so we're pleased to be joining other train operators to recognise this by participating in Routes of Remembrance.
"I'm extremely proud our employees, including armed forces personnel past and present, are helping veterans as well as communities local to the West Coast Main Line remember the service and sacrifice of those who have served.
"It's a great privilege we're a part of this special initiative to bring people together – highlighting the deep links between the railway and the military."
Danny Greeno, CEO of The Veterans Charity, said: "We've built on the success of last year's Poppies to Paddington initiative to create something unique with Routes of Remembrance involving many more train operators.
"The pandemic hasn't gone away yet, so this is for the veterans who can see that Remembrance is happening in a very unique way, plus it celebrates the deep links between the railways and the military.
ENDS
Contact Information
Laura Normansell
Avanti West Coast
Notes to editors
About The Veterans Charity
The Veterans Charity was founded in March 2008 to support UK veterans of all generations.
It provides fast, direct support to veterans facing hardship and distress.
It supplies essential items including food shopping, clothing, household goods, appliances and furniture and even mobile phones.
https://www.veteranscharity.org.uk/
About Avanti West Coast
Avanti West Coast, operator of intercity rail services on the West Coast Main Line, is a joint venture between FirstGroup and Trenitalia, delivering a cleaner, greener railway that drives the West Coast forward.
We're on a mission to revolutionise train travel, linking together the towns and major cities of the UK to create an iconic railway the country can be proud of. We've got big plans including a fleet of new intercity trains, as well as the complete refurbishment of the existing Pendolino train fleet. We will introduce more train services every week with new routes added, and a much-improved onboard service with enhanced free Wi-Fi, plug sockets, 25,000 brand new seats and improved catering. Since 8 December 2019, passengers have benefitted from improved passenger compensation, available for journeys delayed by just 15 minutes.
For the latest news, visit the Avanti West Coast Media Room: https://newsdesk.avantiwestcoast.co.uk/
Press Office: 0845 000 3333