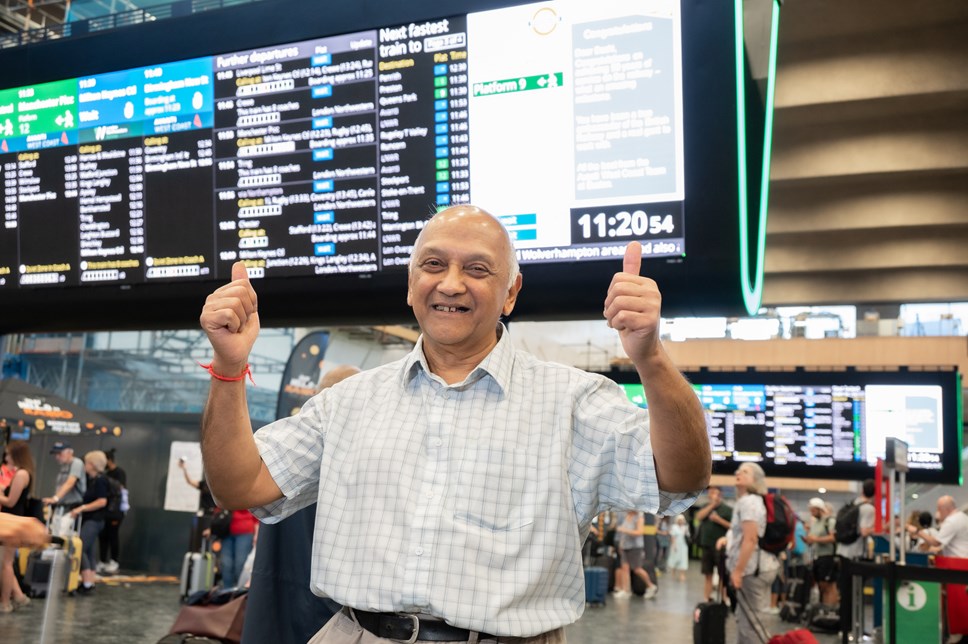 All aboard! Avanti West Coast celebrates employee's journey of 50 years on the railway
Avanti West Coast's Shashi Vyas has been celebrated by colleagues at London Euston for achieving 50 years' service on the railway.
Avanti West Coast employee, Shashi Vyas, reaches half a century on railway
50 years' service makes Shashi one of the longest current serving rail workers on West Coast
Colleagues celebrated Shashi's career milestone at London Euston
A railwayman has clocked up over 50 years' service, making him one of the longest serving employees currently working on Avanti West Coast's route.
Shashi Vyas, 74, a Cash Office Clerk based at London Euston station, who has worked on the railway for more than half a century is being celebrated by his colleagues for reaching his career milestone.
With a passion for travelling, Shashi joined the railway aged 23 as he thought it would provide an interesting opportunity for his first job after moving from Uganda to the UK in 1972. On 11 December of that year - when Apollo 17 landed on the moon, and Chuck Berry's My Ding a Ling was number one in the UK Charts - Shashi started his role within the Admin Office at British Rail's Management Training Centre in Watford.
Two years later, he then worked in the telephone enquiry at Croxley Green Depot in 1974, which involved preparing the wages for maintenance staff. He also worked at Croxley Green station in the stores, where his responsibilities included writing staff timesheets, and ordering stationery.
In 1993 Shashi moved to London Euston – where he has worked for 30 years carrying out roles in the booking office and now the station's Cash Office that involves receiving and processing money from onboard trains. He is the longest current serving member of staff in Avanti West Coast's cash office and retail team at Euston.
With over five decades of service, Shashi, joins a handful of current colleagues on the West Coast Main Line to achieve this milestone while still working.
To mark his achievement, the Avanti West Coast team presented Shashi with a photo album documenting moments from his time on the railway so far. Colleagues at Euston gathered on the station's concourse, along with Shashi's family, to give him a round of applause while a congratulatory message was displayed on the information screen.
Reflecting on what the railway means to him, Shashi said: "I love working on the railway – it's an industry I'm proud to have carved out a career in. Every day is different, and my favourite thing is meeting new people. It's the people that make the railway special and have given me the fondest memories of my career – we're one big family and all look out for each other. My colleagues have kept me going over these 50 years and everyone I've worked with is happy, welcoming and takes pride in their job. This is something that will always stay with me and are values I'll keep up, as I continue my service on the railway."
Alyona Bennett, Avanti West Coast Station Manager at London Euston, said: "Shashi is the most humble, modest, and happy colleague I have ever worked with. The most kind and infectious smile are what comes to mind when I think of Shashi. He always meets you with a smile and gratitude no matter what obstacles he may be faced with and gets on with what needs to be done.
"Shashi is a true ambassador of the railway and achieving 50 years of service is an amazing milestone! On behalf of Avanti West Coast and the team at Euston I'd like to congratulate Shashi on his achievement and thank him for all he's done. It is an absolute honour to work alongside him and we wish him many more happy years on the railway."
ENDS
Contact Information
Laura Normansell
Avanti West Coast
Notes to editors
Main image: Shashi Vyas, Cash Office Clerk at Avanti West Coast, celebrates 50 years on the railway at London Euston station.
About Avanti West Coast
Avanti West Coast, operator of intercity rail services on the West Coast Main Line, is a joint venture between FirstGroup and Trenitalia, delivering a cleaner, greener railway that drives the West Coast forward.
We're on a mission to revolutionise train travel. Our refurbed Pendolinos are returning to the rails, with a £117m investment that's delivering best in class comfort. Rebuilt using sustainable materials wherever possible, including tables made from recycled plastic bottles, our upgraded fleet offers 25,000 brand new seats, free Wi-Fi, onboard recycling and much more.
New Hitachi trains are set to replace our Voyager trains from 2023, leading to a 61% cut in carbon emissions. Quieter and roomier, with more reliable Wi-Fi, wireless charging for electrical devices and a real-time customer information system, the new 23-strong fleet is the result of a £350m investment in sustainable travel.
We're tackling climate change wherever we can, from reducing energy and water use to training drivers in eco-driving techniques and sourcing food and drink from local suppliers. Our goal is to be net zero carbon by 2031. We're on track.
For the latest news, visit the Avanti West Coast Media Centre: https://newsdesk.avantiwestcoast.co.uk/
Press Office: 0845 000 3333