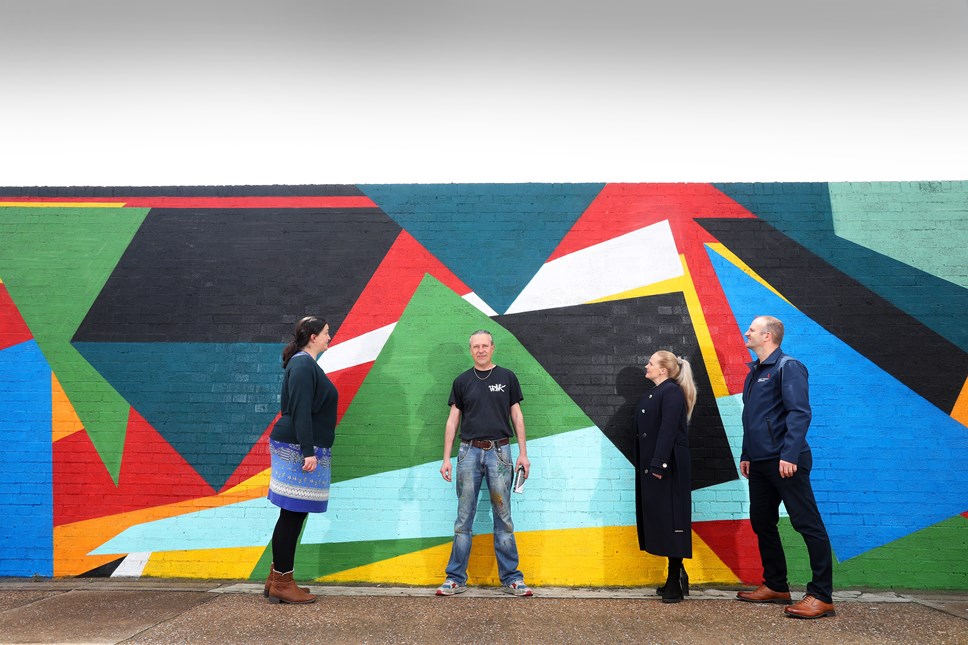 Avanti West Coast amends timetable as part of support for The Commonwealth Games
Avanti West Coast to run additional services on the London to Birmingham route throughout The Commonwealth Games.
West Coast operator to run three trains per hour on London to Birmingham route
Additional services provide over 10,000 extra seats each day for visitors to Birmingham 2022
New mural also unveiled at Birmingham International to mark Games
Avanti West Coast will be increasing service levels on its London to West Midlands route for the duration the Commonwealth Games.
The global sports event is due to take place in Birmingham from Thursday 28 July to Monday 8 August, during which time the West Coast operator will be running three trains per hour between London Euston and Birmingham, up from the current two.
This will provide more than 10,000 extra seats each day for visitors to Birmingham 2022, and is part of the wider industry effort, in partnership with the Grand Rail Collaboration, Transport for West Midlands and West Midlands Rail Executive to serve the region as well as meet the increased demand during the games.
Craig Mortiboys, Regional Growth Manager at Avanti West Coast commented: "We can't wait to play our part in this major sporting celebration with all eyes on Birmingham this summer. We're proud to be working alongside our industry partners to make sure athletes and spectators get to and from the events during the Games."
Tickets for travel during the Games are on sale now. To facilitate the additional trains and accommodate thousands of visitors to Birmingham, services on the Manchester to London route will be reduced for the 11 days of the Games. During this period there will be two trains per hour as opposed to the normal three with one service via Stoke-on-Trent and Macclesfield, and the other via Crewe.
With key stations due to be decorated in readiness for the Games, Heart of England Community Rail Partnership in association with Brink Contemporary Arts has also unveiled a new mural at Birmingham International. Funded by Avanti West Coast, the artwork by Brink Contemporary Arts takes its inspiration from the theme of connecting people with place and opportunity.
Using colours from Avanti West Coast's train livery design as a starting point, the artist's mural concept embodies a subtle sense of movement. Future transport and infrastructure developments are represented by angular shapes and forms. The colours used also reference the varied national flags of the Commonwealth countries, whilst the use of blue is a contextual hint to the Coventry City of Culture 2021.
The low wall mural also uses the Avanti West Coast Brand colours and symbolises the way rail connects cities and brings people together in celebration.
Julia Singleton-Tasker, Community Rail Officer for the Heart of England Community Rail Partnership added: "Birmingham International, with its proximity to the National Exhibition Centre, is due to play a key part in the delivery of the Games.
"We wanted a visual representation that spectators will see at speed when arriving and departing from the station. At the start of the low wall mural there is a nine square chequered flag motif to hint at the City of Culture and a nod to the two tone music movement that started in Coventry."
For more information about the Heart of England Community Rail Partnership please visit heartcommunityrail.org.uk or follow @HeartCRP on social media.
For further information about services, customers can visit avantiwestcoast.co.uk
Main Picture from left to right: Julia Singleton-Tasker, Tim from Brinks Contemporary Arts, Rebecca Stone (Station Manager for Avanti West Coast at Birmingham International), Craig Mortiboys
Contact Information
Richard Stanton
Avanti West Coast
Notes to editors
About Avanti West Coast
Avanti West Coast, operator of intercity rail services on the West Coast Main Line, is a joint venture between FirstGroup and Trenitalia, delivering a cleaner, greener railway that drives the West Coast forward.
We're on a mission to revolutionise train travel, linking together the towns and major cities of the UK to create an iconic railway the country can be proud of. We've got big plans including a fleet of new intercity trains, as well as the complete refurbishment of the existing Pendolino train fleet. We are rolling out a much-improved onboard service with enhanced free Wi-Fi, plug sockets, 25,000 brand new seats and improved catering. Since 8 December 2019, passengers have benefitted from improved passenger compensation, available for journeys delayed by just 15 minutes.
For the latest news, visit the Avanti West Coast Media Room: https://newsdesk.avantiwestcoast.co.uk/
Press Office: 0845 000 3333
About Heart of England Community Rail Partnership
The Heart of England partnership was founded in 2019 and is formed of 11 principal partners and funders, who are: Avanti West Coast, Coventry City Council, Solihull Metropolitan Borough Council, Stratford-on-Avon District Council, Warwickshire County Council, Warwick District Council, Chiltern Railways, CrossCountry, West Midlands Railways, Vintage Trains and West Midlands Rail Executive. Network Rail also supports the work of the Partnership.
The Partnership covers 36 stations over 3 train lines operating between Birmingham, Coventry, Nuneaton, Leamington Spa, Warwick and Stratford-Upon-Avon.
Community Rail is acknowledged to be powering a quiet regeneration revolution in the UK and in the West Midlands the Heart of England CRP aspire to introduce community rail to many of our urban and rural stations and lines.
For the latest news, visit the website heartcommunityrail.org.uk or follow them on Twitter: @heartcrp