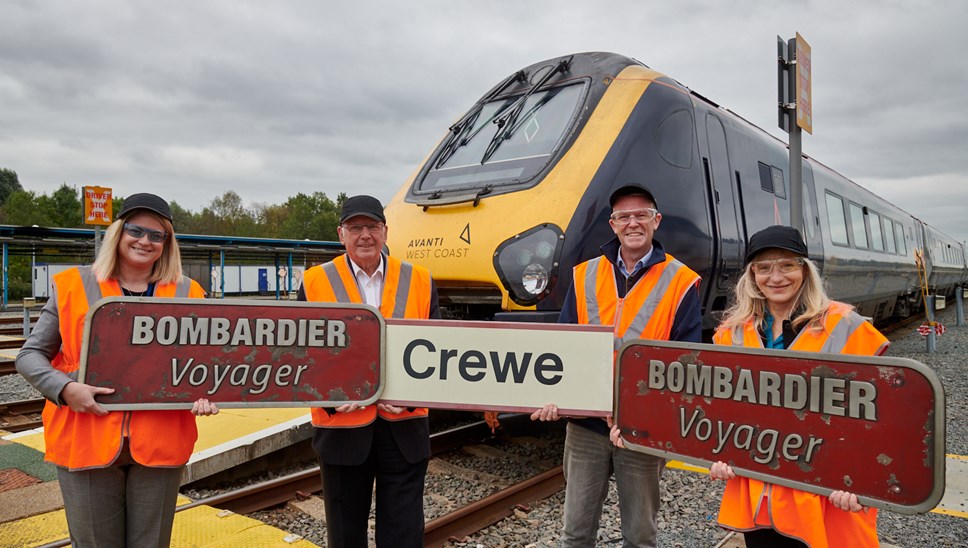 Avanti West Coast and Alstom auction off railway memorabilia for charity
Celebrity Pete Waterman, joins forces with Avanti West Coast and Alstom to launch auction in support of Railway Benefit Fund
Music producer Pete Waterman, President of Railway Benefit Fund, launches auction
Bids invited for eagerly sought after train nameplates and station signs
Auction set to raise much needed funds for the Railway Benefit Fund
Avanti West Coast and Alstom are offering enthusiasts the chance to get their hands on some eagerly sought after railway artefacts to help raise money for charity.
Two Super Voyager nameplates and a pair of Crewe Station signs are up for grabs, the proceeds of the auction going to the charity Railway Benefit Fund.,
The nameplates, 'Bombardier Voyager', were previously carried by Super Voyager 221142, clocking up several million miles in service up and down the West Coast Main Line. Rail manufacturer Alstom acquired Bombardier Transportation earlier his year.
The small Crewe signs, measuring approximately 940mm x 320mm also saw many years use at a station familiar to so many rail travellers.
Alstom is also offering enthusiasts the chance to bid for a midweek guided tour of Central Rivers, with two groups of four people on offer. Proceeds will go toward the charity which supports railway people and their families.
Record producer and president of Railway Benefit Fund, Pete Waterman attended the launch at Alstom's Central Rivers facility – home to the Super Voyager Fleet.
He said: "It was an honour to visit Central Rivers and meet with the teams from Alstom and Avanti West Coast who have kindly donated Voyager nameplates and Crewe signs for us to auction. We are so grateful for their support.
"The money we raise from this auction will allow us to support even more of our railway family and colleagues who are going through tough times. Every seven minutes somebody in rail reaches out to us for help and advice and we need to be there for them."
Gus Dunster, Executive Director Operations and Safety at Avanti West Coast added: "Modern day railway memorabilia is incredibly popular right now. So we're keeping our fingers crossed these items will help raise some much needed funds for a charity so close to our hearts."
Peter Broadley, Managing Director, Services for Alstom said: "The Railway Benefit Fund do such great work to support our people and the wider industry. It's a pleasure to be involved with a worthwhile cause and I'm sure the auction will be a great success."
Main picture (l-r): Charlotte Burnham (Project Director – Regional Diesel Fleets, Alstom), Pete Waterman, Richard Stanton (Avanti West Coast), Claire Houghton (CEO - Railway Benefit Fund)
Contact Information
Richard Stanton
Avanti West Coast
Notes to editors
How do I bid?
Anyone interested in bidding for one of the signs should email Pete at president@railwaybenefitfund.org.uk , including confirmation of the item they are bidding for together with their details and the amount they wish to bid. The signs are expected to fetch in the region of £150 each. Recent Super Voyager nameplates have fetched between £600 and £900.
The auction closes at midnight on Sunday 24th October. Winning bidders will be notified the following Monday, with all proceeds going to Railway Benefit Fund. Collection will be from Central Rivers (Burton on Trent) or Crewe station at a date to be agreed.
About Avanti West Coast
Avanti West Coast, operator of intercity rail services on the West Coast Main Line, is a joint venture between FirstGroup and Trenitalia, delivering a cleaner, greener railway that drives the West Coast forward.
We're on a mission to revolutionise train travel, linking together the towns and major cities of the UK to create an iconic railway the country can be proud of. We've got big plans including a fleet of new intercity trains, as well as the complete refurbishment of the existing Pendolino train fleet. We will introduce more train services every week with new routes added, and a much-improved onboard service with enhanced free Wi-Fi, plug sockets, 25,000 brand new seats and improved catering. Since 8 December, passengers have benefitted from improved passenger compensation, available for journeys delayed by just 15 minutes.
For the latest news, visit the Avanti West Coast Media Room: https://newsdesk.avantiwestcoast.co.uk/
Press Office: 0845 000 3333
About Alstom
Leading societies to a low carbon future, Alstom develops and markets mobility solutions that provide the sustainable foundations for the future of transportation. Alstom's product portfolio ranges from high-speed trains, metros, monorails and trams, to integrated systems, customised services, infrastructure, signalling, and digital mobility solutions. Alstom has 150,000 vehicles in commercial service worldwide. With Bombardier Transportation joining Alstom on January 29, 2021, the enlarged Group's combined proforma revenue amounts to €14 billion for the 12-month period ended March 31, 2021. Headquartered in France, Alstom is now present in 70 countries and employs more than 70,000 people. www.alstom.com/
About Railway Benefit Fund
The Railway Benefit Fund is the charity that solely supports railway people and their families. Founded in 1858, and now based in Crewe, they offer bespoke care and advice to railway families to help them through tough times.
A Pendolino was named after the charity in April 2021 as mark the start of their yearly Railway Family Week.