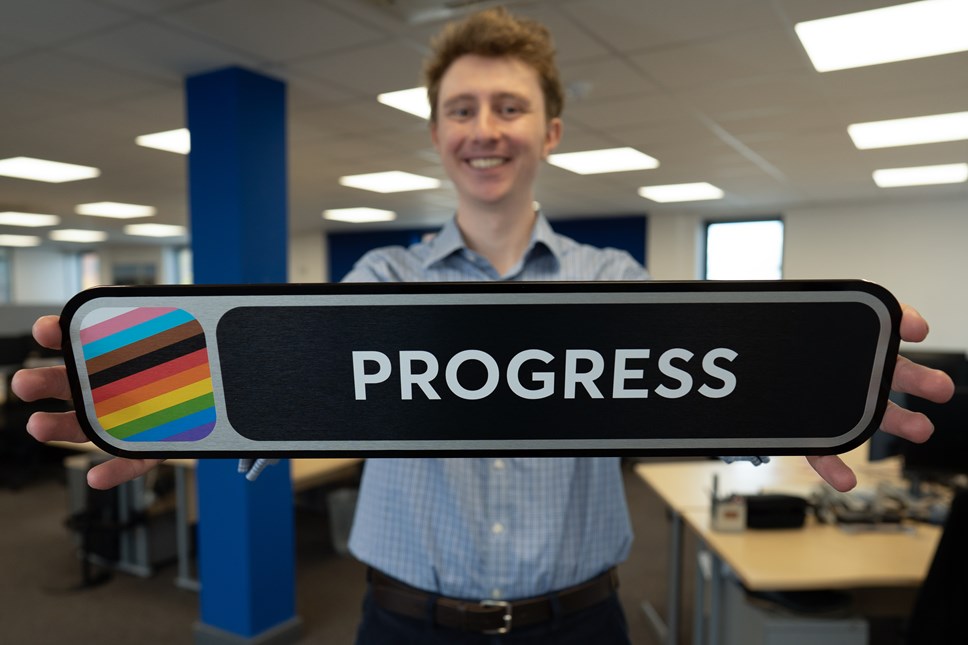 Avanti West Coast announces the name of its new Pride Train - Progress
Progress announced as the name of Avanti West Coast's Pride Train on national 'Coming Out Day'.
Progress has been chosen as the name of the UK's first fully wrapped Pride Train - 11 carriages, 265 metres long wrapped top-to-tail in the progressive pride flag colours
On National 'Coming Out Day', railway engineer Edward Hitchon Godfrey was announced as the winner of the naming competition which received over 1,500 entries
The introduction of Pride Trains helped Edward come out to colleagues and his family and winning this competition helped him come out publicly
Progress is the name of Avanti West Coast's Pride Train, which is now in regular service across the West Coast Main Line.
Announced on national 'Coming Out Day', the name was chosen as part of a competition calling on members of the public to submit suggestions to give the train an identity.
The competition was announced at the inaugural journey of the inter-city rail operator's Pride Train in August where the 11-carriage, 265 metre-long Pride train was launched by a full LGBTQ+ crew with a service from London Euston to Manchester Piccadilly.
Over 1,500 entries were received, many suggesting the name Progress for the nation's first fully wrapped Pride train which is covered head-to-toe in the colours of the Progressive Pride flag.
Edward Hitchon Godfrey has been named as the winner after his powerful submission suggesting the name Progress outlined how the introduction of Pride Trains helped him to come out.
Edward Hitchon Godfrey said: "As a young engineer entering the rail industry five years ago, I was struck by the stark contrast between a relatively progressive industry on the surface and the sometimes intolerant views expressed in the background.
"Trainbows, Pride Trains and events gave me - a closeted bisexual man - the feeling of support within the industry I love, to come out at work, and to challenge prejudiced views. Winning this competition has solidified my sense of belonging and given a real boost to my confidence in my identity. To me, the name Progress embodies both a celebration of where we have got to as an industry and as a society, and a recognition that we're not there yet - that there's still work to be done."
Discussing how the winning name was chosen, Avanti West Coast Executive Director – Commercial, Sarah Copley said: "I'm delighted that the name Progress was chosen for the Pride Train. Within a day of the competition launching, an online campaign was started calling for the livery to be called Progress, highlighting the wider LGBTQ+ community's love of the Pride Train and recognition of the progress we are making around diversity and inclusion. Of the 1,500 hundred entries submitted, hundreds suggested the name Progress so it was a clear choice for the judging panel who were very touched by Edward's story.
"We constantly listen to our people, our customers, and the communities we serve to ensure our diversity and inclusion strategy is relevant. Progress is a symbol of Avanti West Coast's commitment to live proud and support Pride 365 days a year."
With a strong focus on LGBTQ+ education, Progress features Pride related information and fun facts during the onboard announcements and is now in regular service along the West Coast Main Line.
ENDS
Contact Information
Press Desk
Avanti West Coast
Notes to editors
About Avanti West Coast
Avanti West Coast, operator of intercity rail services on the West Coast Main Line, is a joint venture between FirstGroup and Trenitalia, delivering a cleaner, greener railway that drives the West Coast forward.
We're on a mission to revolutionise train travel, linking together the towns and major cities of the UK to create an iconic railway the country can be proud of. We've got big plans including a fleet of new intercity trains, as well as the complete refurbishment of the existing Pendolino train fleet. We will introduce more train services every week with new routes added, and a much-improved onboard service with enhanced free Wi-Fi, plug sockets, 25,000 brand new seats and improved catering. Since 8 December, passengers have benefitted from improved passenger compensation, available for journeys delayed by just 15 minutes.
For the latest news, visit the Avanti West Coast Media Room: https://newsdesk.avantiwestcoast.co.uk/
Press Office: 0845 000 3333