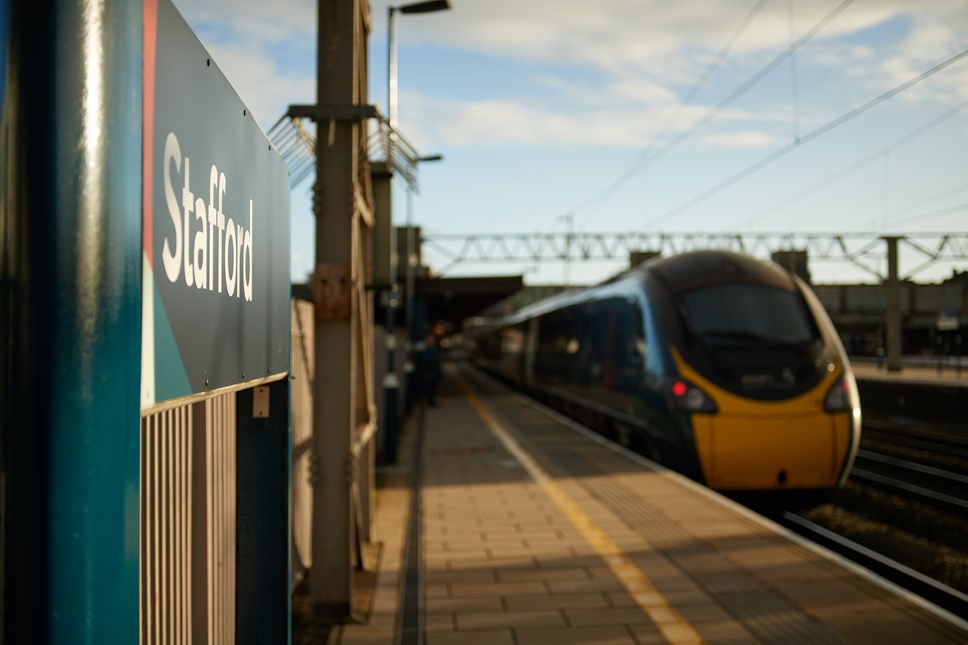 Avanti West Coast celebrates 60-year milestone for Stafford station
Avanti West Coast marks 60 years of Stafford station's modernisation with artwork created by local schoolchildren.
Local school helps Avanti West Coast mark 60 years since station rebuild
Stafford station reopened on 31 December 1962 following modernisation project
Display of colourful artwork illustrates destinations connected to Stafford by train
Avanti West Coast has marked 60 years since the modernisation of Stafford station by installing colourful displays by schoolchildren around the building.
Teaming up with North Staffordshire Community Rail Partnership (a group who work with communities to promote and develop the Crewe-Stoke-Derby rail route, as well as Stafford, Stone and Penkridge stations) the intercity operator reached out to local schoolchildren to celebrate the 60th anniversary of Stafford's rebuild.
Pupils from Parkside Primary School were invited to create artwork illustrating destinations in the UK that can be reached by train from Stafford. The drawings and sketches take inspiration from people synonymous with the towns and cities, including artist L.S Lowry and The Beatles.
Displayed in different areas of the station, the artwork is accompanied by a brief description to give rail users an insight into each of the destinations showcased by the schoolchildren aged between 2 – 11 years old.
Stafford station was rebuilt in the 1960s as part of British Railway's modernisation programme which saw the introduction of the electrification to the West Coast Main Line. It involved the construction of buildings on all platforms, as well as the concourse and booking office block.
Features including a combined refreshment and waiting room were delivered under the scheme for Stafford new station, which became fully operational in 1962.
Joanna Buckley, Community Manager at Avanti West Coast, said: "Stafford is a key destination on our route and one we're proud to serve, which is why we wanted to mark 60 years since its reopening.
"We've enjoyed working with the young local people to recognise the important role the station continues to play in the community and hope the bright artwork will inspire the next generation to take the train to explore the great destinations that can easily be reached by rail from Stafford."
As part of Avanti West Coast's December timetable change Stafford now has calls on North Wales and Manchester services – providing direct services between those destinations, as well as increasing the frequency of direct services to London Euston.
ENDS
Contact Information
Laura Normansell
Avanti West Coast
Notes to editors
About Avanti West Coast
Avanti West Coast, operator of intercity rail services on the West Coast Main Line, is a joint venture between FirstGroup and Trenitalia, delivering a cleaner, greener railway that drives the West Coast forward.
We're on a mission to revolutionise train travel. Our refurbed Pendolinos are returning to the rails, with a £117m investment that's delivering best in class comfort. Rebuilt using sustainable materials wherever possible, including tables made from recycled plastic bottles, our upgraded fleet offers 25,000 brand new seats, free Wi-Fi, onboard recycling and much more.
New Hitachi trains are set to replace our Voyager trains from 2023, leading to a 61% cut in carbon emissions. Quieter and roomier, with more reliable Wi-Fi, wireless charging for electrical devices and a real-time customer information system, the new 23-strong fleet is the result of a £350m investment in sustainable travel.
We're tackling climate change wherever we can, from reducing energy and water use to training drivers in eco-driving techniques and sourcing food and drink from local suppliers. Our goal is to be net zero carbon by 2031. We're on track.
For the latest news, visit the Avanti West Coast Media Centre: https://newsdesk.avantiwestcoast.co.uk/
Press Office: 0845 000 3333
About North Staffordshire Community Rail Partnership
We are North Staffordshire Community Rail Partnership and we work to promote and develop the Crewe-Stoke-Derby rail route, known as the North Staffordshire Line, as well as Stone, Stafford and Penkridge stations.
Our key aims are:
Involving the local community, including schools, businesses and local councils, in innovative projects to improve the route for passengers
Developing station improvement projects to improve the travel experience
Encouraging and facilitating station 'adoption', building volunteer support for route stations from the community
Promoting train services for travel to work, to education and for leisure
To improve the Crewe – Stoke – Derby rail service to help realise its strategic importance as a key rail link between the North West and the East Midlands and as a connecting service to all parts of the UK