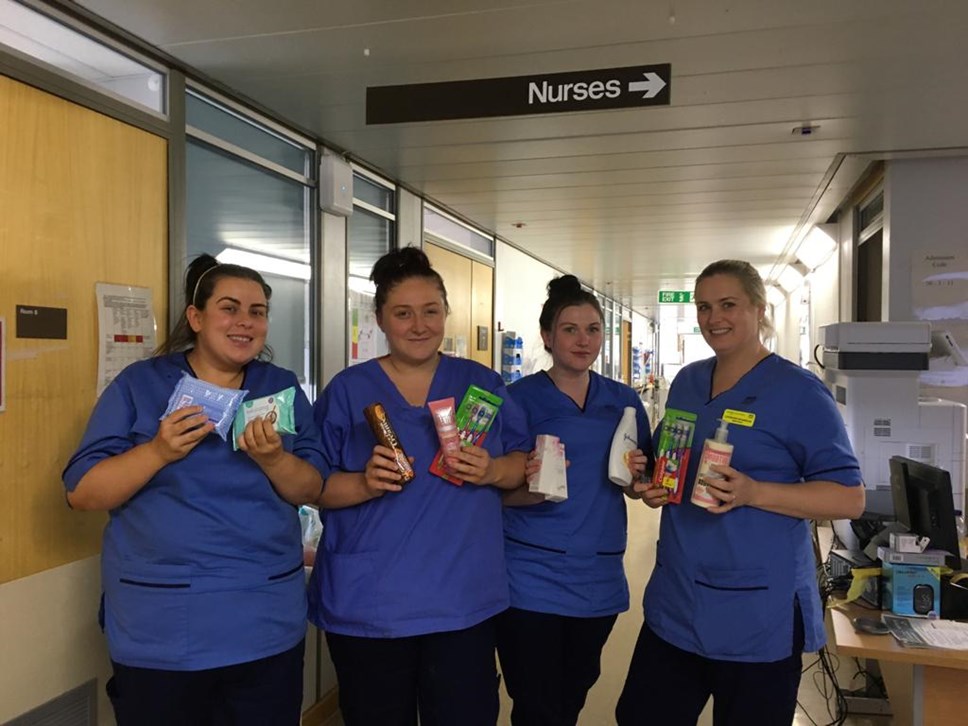 Local communities and key workers helped by Avanti West Coast employees during COVID-19 crisis
Food and essential items donated to support communities and NHS workers.
Avanti West Coast staff are supporting NHS workers and local communities in response to COVID-19 crisis
Employees from across the network pitching in with donations and volunteering to help
Avanti West Coast employees have been helping the communities they serve on the West Coast Main Line by providing assistance to those who need it most during the COVID-19 crisis.
Working together, frontline staff at stations, onboard, and those in office-based roles, now working from home, have arranged initiatives including food collections and donations of essential items to support communities and NHS workers near to Avanti West Coast's routes.
Their efforts to help are being undertaken alongside their day-to-day duties, as the inter-city operator continues to provide vital services for those travelling including key workers and customers making essential journeys.
These include the team at Glasgow Central station who have bought, and donated toiletries, food and essential items for staff at Royal Alexandra Hospital. This was organised by Train Manager Marie-Claire Duffy who is planning on more donations.
Food, toiletries, board games and activity books donated by the staff at Carlisle are being used to make packages for residents of local care homes.
In the West Midlands, the teams based at Birmingham New Street, Birmingham International, Coventry and Rugby have donated chocolate to young patients at Queen Elizabeth Hospital and essential items and care packages to other hospitals nearby.
At Preston, 110 biryanis and 50 pizzas were delivered to NHS workers at Royal Preston Hospital by Train Manager, Hussain Master, as part of his role volunteering at a charity in Lancashire. Colleagues based at Preston continue to donate essential items, including toiletries to healthcare workers.
Other staff at Avanti West Coast have dedicated their time by signing up to volunteer between shifts or outside of their normal working hours.
Managing Director of Avanti West Coast, Phil Whittingham, said: "It comes as no surprise to me that our people on the frontline and behind the scenes have been doing so much to help their communities.
"Not only are they keeping the railway running to ensure key workers can make essential journeys, but they are pitching in to help others at this difficult time. I can't thank them enough for what they are doing and it's testament to their professionalism and character."
ENDS
Contact Information
Laura Normansell
Avanti West Coast
Notes to editors
Efforts of Avanti West Coast staff in response to COVID-19
As part of his volunteering for a local charity in Lancashire, Hussain Master, a Train Manager based at Preston, has delivered takeaway food to NHS workers at Royal Preston Hospital and surprise packages of essential items to local key workers. He said: "Volunteering has given me a great opportunity to help others when they need it most. I feel blessed to be able to make a difference and it is so rewarding – especially when you see the expressions on people's faces."
Marie-Claire Duffy, a Train Manager, has been dropping off toiletries and snacks, donated by Avanti West Coast staff who are based out of Glasgow Central station, at Royal Alexandra Hospital in Paisley for NHS workers. She said: "I'm really thankful to my colleagues who have made donations that are greatly needed by our NHS workers. The nurses were absolutely delighted with the donations of essential toiletries and snacks for their patients. I will continue to regularly drop-off donations, as I live nearby to the hospital and want to do my bit to help."
Amy Dunn, who works as a Customer Resolutions Adviser based in Birmingham, has volunteered via the Good SAM app to be a check in and chat volunteer calling those who are on their own. She said: "Part of my role within CRC involves speaking to people on the phone so didn't even hesitate. I am still working from home but just make the odd call here and there between working and looking after my two kids. It's been brilliant and so rewarding."
Train driver based at London Euston, Glynne Price, has been helping his local branch of Age UK in Milton Keynes. He has collected much needed sanitiser donated by Avanti West Coast for carers to clean their vehicles transporting the vulnerable.
He has also been fitting key safe boxes for elderly people so carers can access their homes. He said: "It's brilliant to be involved and when I do get to see some people I helped; they are just so appreciative. It's nice to give something back."
Nichola Fionda, Customer Service Assistant at London Euston, has signed up as an NHS click and chat responder, as well as helping with buying shopping and medicine for people in the local community. She said: I joined the NHS volunteering scheme because I know what it feels like first-hand when you feel like there is no one to talk to and I want to help others."
Nicola Hague, who works in the Food & Beverage Team, has been delivering prescriptions and shopping to the vulnerable as part of a community group near her home in Gately, Stockport. She said: "It really is the highlight of my week. It means a lot to me and those people we're helping."
About Avanti West Coast
Avanti West Coast, operator of intercity rail services on the West Coast Main Line, is a joint venture between FirstGroup and Trenitalia, delivering a cleaner, greener railway that drives the West Coast forward.
We're on a mission to revolutionise train travel, linking together the towns and major cities of the UK to create an iconic railway the country can be proud of. We've got big plans including a fleet of new intercity trains, as well as the complete refurbishment of the existing Pendolino train fleet. There will be 263 more train services every week by 2022 with new routes added, and a much-improved onboard service with enhanced free Wi-Fi, plug sockets, 25,000 brand new seats and improved catering. Since 8 December, passengers have benefitted from improved passenger compensation, available for journeys delayed by just 15 minutes.
For the latest news, visit the Avanti West Coast Media Room: https://newsdesk.avantiwestcoast.co.uk/
Press Office: 0845 000 3333