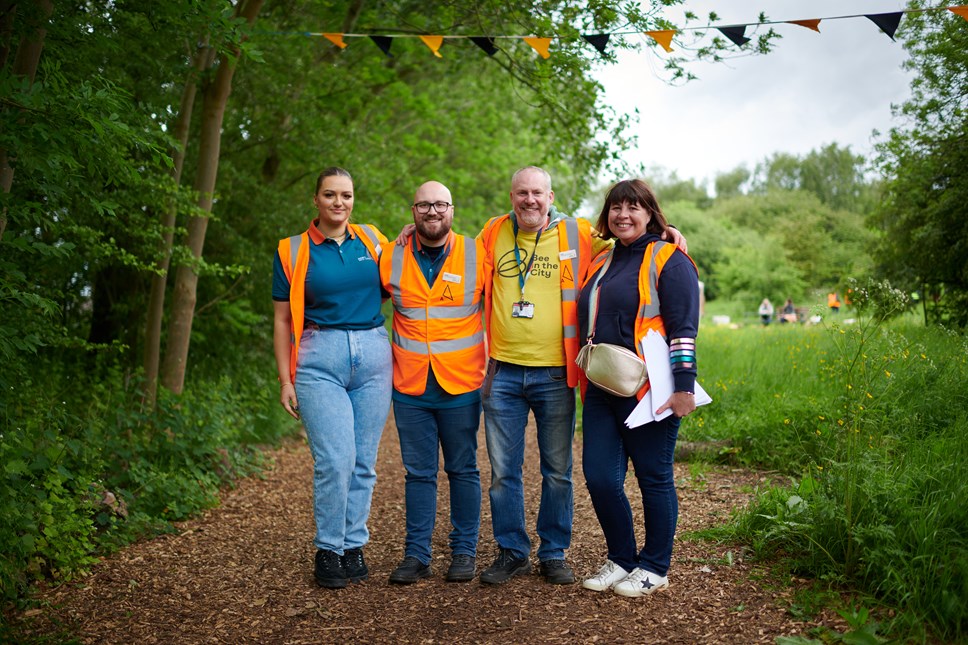 Avanti West Coast helps Bee Sanctuary to attract more volunteers
Avanti West Coast hosts community event to encourage people to support Bee Sanctuary Movement.
Avanti West Coast join up with Bee Sanctuary Movement to host community event
Station staff support hive of activity to showcase local charity and raise funds
Buzz around pollinators designed to inspire people to help efforts to protect bees
Avanti West Coast employees have teamed up with a charity to encourage Greater Manchester residents to get buzzy supporting bees.
The intercity operator helped Bee Sanctuary Movement – a Manchester-based volunteer group and registered charity that focuses on rewilding neglected green spaces – to host a special event to inspire people to support their work to protect the insects.
In return for a charitable donation, residents and members of the community had the opportunity to attend a Wine, Bees, and Cheese evening at the home of the charity, in Highfield Country Park, Levenshulme – to learn about the charity's work and how they could get involved.
Featuring performances from local music artists and talks, the event was designed to bring together local adults to encourage them to volunteer their time and skills to support Bee Sanctuary Movement's work to change green areas as well as improve wildlife.
Over £200 was raised on the night that was attended by fifty people, which included retired gardeners who offered their services and residents that signed up to the sanctuary's weekly volunteer days.
The community fundraiser is the latest initiative by Avanti West Coast's Community and Sustainability Champions at Manchester Piccadilly and Stockport stations to make a difference locally as well as champion the work of their chosen charity, who they have supported for two years.
Last year the station colleagues worked with Bee Sanctuary Movement to welcome local schoolchildren to learn about bees with interactive sessions to mark World Bee Day.
Joanna Buckley, Community Manager at Avanti West Coast, said: "We want to make a difference to the people and places we serve, so it has been great to give something back to the community here in Greater Manchester by creating a buzz around a cause that matters to them.
"Through our involvement with Bee Sanctuary Movement, we've seen the charity grow from a small volunteer-led project to housing its own visitor centre. We want to continue to support the charity's work and help it forge links with the wider community – especially as it relies entirely on volunteers. We'd like to thank everyone who attended the evening and hope it will inspire more people to protect pollinators and boost wildlife in their local area."
Sheila Standard, Coordinator at Bee Sanctuary Movement, said: "Avanti West Coast have been brilliant in helping to get more people interested in the Bee Sanctuary Movement. They bring schoolchildren to the park and support our events to attract people to volunteer, as well as spend time with nature. This place is about being in nature and highlighting how precious it is. If you don't know what nature is, you're not going to love and protect it, so by welcoming the community to experience what the charity is all about, we hope to encourage more people to play their part in supporting our work and the environment around them."
ENDS
Contact Information
Laura Normansell
Avanti West Coast
Notes to editors
Main image: Avanti West Coast Community Champions (L-R): Amelia Bateman, Jordan Pitt, Geoff Baker, and Lisa Magee
About Bee Sanctuary Movement
We began as a small number of local people that wanted to clear away the litter and sow wild flower seed in a neglected area of our local Nature Reserve.
We have become a community-based volunteer group, with over 50 followers and registered charity that focuses on re-wilding and enhancing our neglected green spaces in our local areas. We want to increase biodiversity and create Bee and wildlife friendly spaces. Using 100% Community Energy, we encourage people to learn more about nature through their green spaces and gardens. We are creating beautiful, diverse and educational spaces, as well as providing advice and education about Bees.
The Bee Sanctuary Movement – Creating Bee Sanctuaries and Enhancing Bio-diversity
About Avanti West Coast
Avanti West Coast, operator of intercity rail services on the West Coast Main Line, is a joint venture between FirstGroup and Trenitalia, delivering a cleaner, greener railway that drives the West Coast forward.
We're on a mission to revolutionise train travel. Our refurbed Pendolinos are returning to the rails, with a £117m investment that's delivering best in class comfort. Rebuilt using sustainable materials wherever possible, including tables made from recycled plastic bottles, our upgraded fleet offers 25,000 brand new seats, free Wi-Fi, onboard recycling and much more.
New Hitachi trains are set to replace our Voyager trains from 2024, leading to a 61% cut in carbon emissions. Quieter and roomier, with more reliable Wi-Fi, wireless charging for electrical devices and a real-time customer information system, the new 23-strong fleet is the result of a £350m investment in sustainable travel.
We're tackling climate change wherever we can, from reducing energy and water use to training drivers in eco-driving techniques and sourcing food and drink from local suppliers. Our goal is to be net zero carbon by 2031. We're on track.
For the latest news, visit the Avanti West Coast Media Centre: https://newsdesk.avantiwestcoast.co.uk/
Press Office: 0845 000 3333