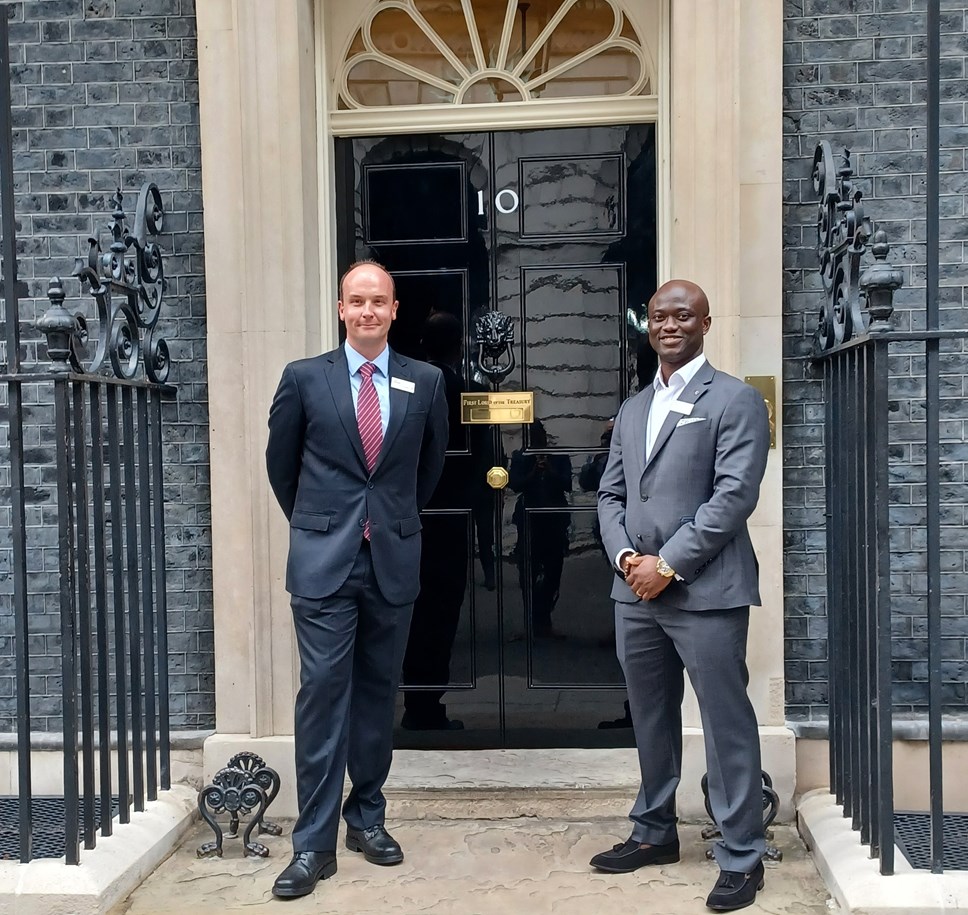 Avanti West Coast heroes thanked at Number 10 reception
Train Driver Lyle Mitchell and Train Manager Samuel Obiri-Yeboah represented colleagues at event to recognise efforts during pandemic.
Driver Lyle Mitchell and Train Manager Samuel Obiri-Yeboah attended event representing Avanti West Coast

Transport sector recognised for their efforts during COVID-19 pandemic

Thanked by the Prime Minister and Transport Secretary for keeping country moving
Avanti West Coast employees who worked throughout the COVID-19 pandemic have been recognised for their efforts at a special reception held at 10 Downing Street.
Representing the long-distance operator, Train Driver Lyle Mitchell and Train Manager Samuel Obiri-Yeboah were personally thanked by Prime Minister Boris Johnson and Transport Secretary, Grant Shapps.
The pair were guests alongside other workers from the transport sector at the event this week (August 3) which highlighted their invaluable contribution during the pandemic.
Transport Secretary Grant Shapps said: "All of the amazing people who work in transport deserve our profound thanks for keeping Britain moving throughout the pandemic.
"I'd like to say a special thanks to train manager Samuel Obiri-Yeboah and driver Lyle Mitchell at Avanti West Coast, who have shown such dedication, positivity and compassion."
Lyle, based at Avanti West Coast's Euston drivers' depot, said: "It's a great privilege to represent train drivers and my fellow colleagues at Avanti West Coast, as well as the rail industry in general, during such a difficult and challenging time for everyone.
"I feel proud to work for an industry where we have been able to keep the country moving, safely transporting key workers and those who need to travel."
Samuel, also based at Euston, said: "I was really honoured to represent Avanti West Coast and meet wonderful people from all areas of transport. It was overwhelming to be part of this occasion and I will remember it forever.
"I love working with the public and supporting my colleagues. We've a responsibility to make sure our customers can travel safely and to have played a part in that has made me incredibly proud."
Phil Whittingham, Managing Director at Avanti West Coast, said: "We are so proud of our people who have worked tirelessly during this period and continue to do so. They have made sure their fellow key workers and those making essential journeys have travelled safely. It's great they've been recognised for that contribution.
"Lyle and Samuel are the perfect examples of how our people have conducted themselves professionally and with pride through such difficult circumstances. Both of them are excellent role models, as well as colleagues, and a credit to Avanti West Coast."
Ends
Contact Information
Press Desk
Avanti West Coast
Notes to editors
About Avanti West Coast
Avanti West Coast, operator of intercity rail services on the West Coast Main Line, is a joint venture between FirstGroup and Trenitalia, delivering a cleaner, greener railway that drives the West Coast forward.
We're on a mission to revolutionise train travel, linking together the towns and major cities of the UK to create an iconic railway the country can be proud of. We've got big plans including a fleet of new intercity trains, as well as the complete refurbishment of the existing Pendolino train fleet. We will introduce more train services every week with new routes added, and a much-improved onboard service with enhanced free Wi-Fi, plug sockets, 25,000 brand new seats and improved catering. Since December 2019, passengers have benefitted from improved passenger compensation, available for journeys delayed by just 15 minutes.
For the latest news, visit the Avanti West Coast Media Room: https://newsdesk.avantiwestcoast.co.uk/
Press Office: 0845 000 3333