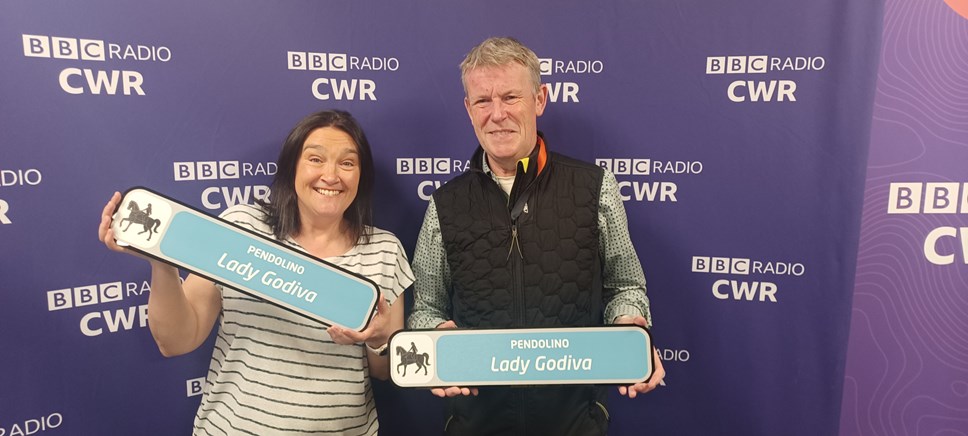 Avanti West Coast marks the fourth anniversary of City of Culture train naming
Pendolino 'Lady Godiva' clocks up over 1 million miles in first four years.
Avanti West Coast celebrates four years of Pendolino Lady Godiva
Over one million miles travelled by the train named after Coventry's iconic figure
BBC CWR, the local radio station for Coventry and Warwickshire, host presented with replica Lady Godiva nameplates
One of Avanti West Coast's Pendolino trains has clocked over one million miles in service since it took the name Lady Godiva back in 2019.
The iconic tilting train was named after the legendary figure to celebrate Coventry City of Culture. The idea of BBC CWR's Saturday Morning Breakfast Show presenter Lorna Bailey, the train has proudly the flown the flag for the city, travelling the length and breadth of the West Coast Main Line.
Widely regarded as the hardest working fleet in the UK, Pendolino 390039 'Lady Godiva' has amassed 1,026,723 miles in the intervening four years, whilst running 4,765 services.
London Euston is its most popular destination, having visited the capital on 2271 occasions. The electric train has also visited Manchester (885 times), Birmingham (1226), Liverpool (340), Glasgow (320), Edinburgh (111) and made 74 trips to Blackpool.
Lady Godiva has also passed through its home city of Coventry on 1514 occasions.

To mark the occasion, Lorna, who also named the train back in 2019, was presented with her own replica nameplate. She added: "It was such a huge amount of fun and one of my proudest moments at BBC Coventry and Warwickshire. It's incredible to think how far Lady G has travelled. The name plate will have pride of place chez Lorna."
Maria McCarron, Station Manager at Avanti West Coast said: "It always brings a smile to my face when Lady G passes through the station. That's a lot of miles, and several million customers and I have no doubt she has many more in the tank."
Later this year Lady G will take two well deserved week's off, during which time her interior will be transformed as part of the wider £117m investment to refurbish the Pendolino fleet.
Picture: BBC's Lorna Bailey is presented with mini Lady Godiva nameplates by Avanti West Coast's Richard Stanton.
Contact Information
Richard Stanton
Avanti West Coast
Notes to editors
About Avanti West Coast
Avanti West Coast, operator of intercity rail services on the West Coast Main Line, is a joint venture between FirstGroup and Trenitalia, delivering a cleaner, greener railway that drives the West Coast forward.
We're on a mission to revolutionise train travel, linking together the towns and major cities of the UK to create an iconic railway the country can be proud of. We've got big plans including a fleet of new intercity trains, as well as the complete refurbishment of the existing Pendolino train fleet. We will introduce more train services every week with new routes added, and a much-improved onboard service with enhanced free Wi-Fi, plug sockets, 25,000 brand new seats and improved catering. Since December 2019, passengers have benefitted from improved passenger compensation, available for journeys delayed by just 15 minutes.
For the latest news, visit the Avanti West Coast Media Room: https://newsdesk.avantiwestcoast.co.uk/
Press Office: 0845 000 3333