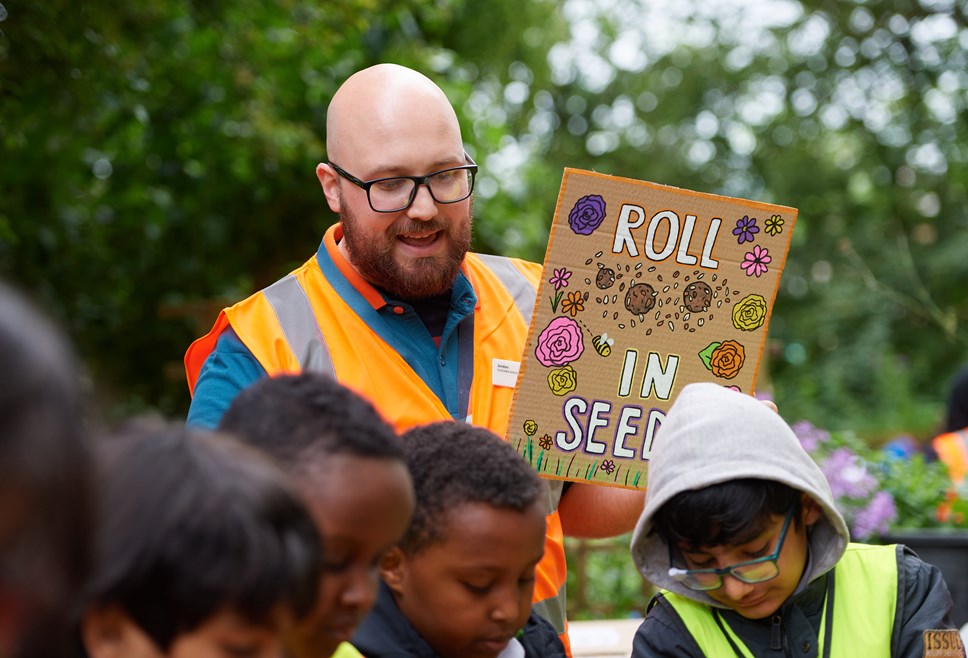 Avanti West Coast marks World Bee Day hosting a hive of activity for schoolchildren
Avanti West Coast creates buzz about bees for schoolchildren in Manchester with support of local charity.
Avanti West Coast team up with Bee Sanctuary Movement to mark World Bee Day
Station staff deliver sessions to teach young people about pollinators
Buzz around wild bees and wildflowers aims to inspire change to green spaces
Employees at Avanti West Coast have teamed up with a charity to create a buzz for Manchester schoolchildren to mark World Bee Day.
Working with Bee Sanctuary Movement – a community-based volunteer group and registered charity in Manchester that focuses on rewilding neglected green spaces in the local area – the intercity operator invited children from schools in Beswick and Rusholme to learn about bees.
Pupils from Ashbury Meadow and Claremont Primary schools took part in interactive sessions hosted by the charity and Avanti West Coast at the Bee Sanctuary – a space in Highfield Country Park full of different food sources for the insects.
Inspiring young people to become bee-friendly was the idea of Avanti West Coast's Community and Sustainability Champions (Amelia Bateman, Geoff Baker, Jordan Pitt, and Lisa Magee) at Manchester Piccadilly and Stockport stations, as part of their efforts to support the work of local charities and make a difference in the communities they serve.
They identified World Bee Day as an opportunity to join up with the local charity to connect young people with local initiatives.
The Bee Sanctuary Movement's work involves inspiring people to action and change green areas and improve wildlife.
The schools invited to participate are part of Avanti West Coast's School Engagement Programme, which aspires to connect young people from a range of diverse socio-economic backgrounds to opportunities across the West Coast Main Line.
The sessions involved making wildflower seedballs, a tour of the Bee Sanctuary, learning how to build a bee hotel, colouring activities, and talks on how to care for wildflowers and the environment.
Focusing on wild bees and wildflowers native to England, the activities were designed to give children the opportunity to learn about the pollinators and their importance in the ecosystem.
With both schools located in what was once the centre of the world's cotton industry, pupils were also given an insight into the heritage of the Manchester Bee – a symbol of the city for over 150 years that denotes Mancunians' hard work ethic.
Joanna Buckley, Community Manager at Avanti West Coast, said: "We had a great time creating a buzz with local school pupils on World Bee Day. Engaging children around local initiatives is part of Avanti West Coast's commitment to connect young people to opportunities.
"Championing the work of the local community and the Bee Sanctuary Movement was great fun and seeing the children eager to learn how they can make a difference was rewarding. We hope it inspires them to become bee friendly and care for these vital species in the future."
Sheila Standard, Coordinator and Trustee of Bee Sanctuary Movement, said: "We were thrilled when Avanti West Coast contacted us with the idea of inviting local schoolchildren to the sanctuary for World Bee Day. It has been great meeting Avanti West Coast's Community and Sustainability Champions, who share our mission to help wild bees and other wildlife, as well as planning the event with them. We were spurred on to finish projects in time for the day and excited to welcome lots of budding new naturalists. We hope this is just the beginning of a future relationship."
Mark Gibson, Assistant Headteacher at Ashbury Meadow Primary School, said: "Taking part in activities like this gives children the opportunity to be able to experience things they might not be able to do in their normal life. World Bee Day is a great opportunity for our pupils to learn more about wildlife and conservation, alongside deepening their knowledge of a key symbol for Manchester."
ENDS
Contact Information
Laura Normansell
Avanti West Coast
Notes to editors
About Avanti West Coast
Avanti West Coast, operator of intercity rail services on the West Coast Main Line, is a joint venture between FirstGroup and Trenitalia, delivering a cleaner, greener railway that drives the West Coast forward.
We're on a mission to revolutionise train travel, linking together the towns and major cities of the UK to create an iconic railway the country can be proud of. We've got big plans including a fleet of new intercity trains, as well as the complete refurbishment of the existing Pendolino train fleet. We will introduce more train services every week with new routes added, and a much-improved onboard service with enhanced free Wi-Fi, plug sockets, 25,000 brand new seats and improved catering. Since 8 December 2019, passengers have benefitted from improved passenger compensation, available for journeys delayed by just 15 minutes.
For the latest news, visit the Avanti West Coast Media Room: https://newsdesk.avantiwestcoast.co.uk/
Press Office: 0845 000 3333