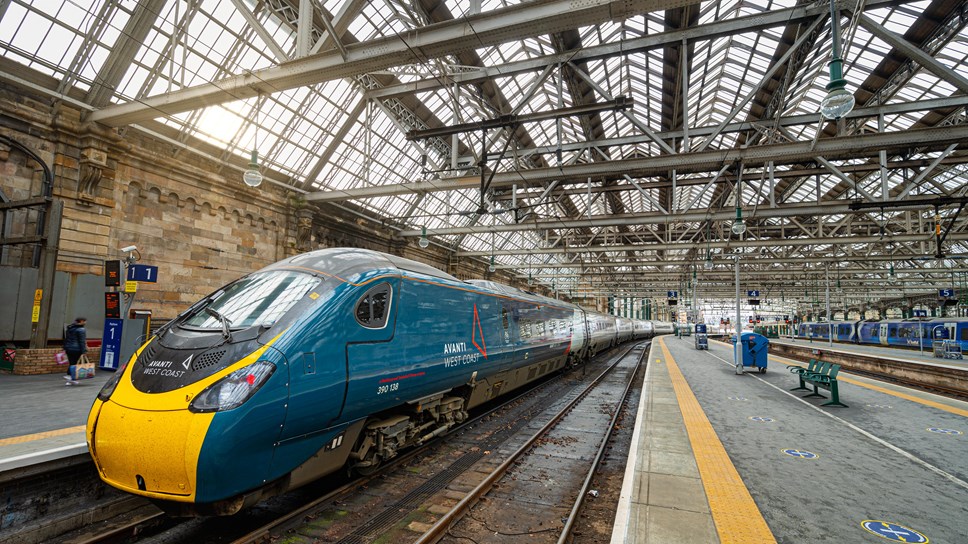 Avanti West Coast welcomes return of direct cross-border services at weekends
Avanti West Coast's direct services between London and Scotland resume at weekends following major improvement work.
Key section of West Coast Main Line linking Glasgow and Edinburgh to London reopens
Avanti West Coast's direct weekend services to and from Scotland resume after three months of major improvement work
Modernisation of Carstairs Junction to provide greater reliability on West Coast
Avanti West Coast is set to welcome the return of its direct cross-border services at weekends following the completion of major improvement work by Network Rail.
From Saturday 10 June, the intercity operator's trains to Glasgow and Edinburgh will run direct between the Scottish cities and London at weekends as a key section of the West Coast Main Line has reopened.
This follows a three-month closure between 4 March and 4 June to upgrade and remodel Carstairs Junction which links Glasgow and Edinburgh to London.
The Carstairs Modernisation Project was delivered by Network Rail as part of a £164m Scottish Government investment to make the junction more reliable and able to better cope with demands for passenger and freight services.
The work included the installation of new track sections, overhead lines, signalling and telecoms, as well as improvements to station platforms, embankments, and drainage.
Increased line-speeds, greater reliability and flexibility are the key benefits of the 12-week programme to modernise Carstairs Junction.
To mark the return of direct services between Scotland and London, Avanti West Coast has extended its innovative low-cost ticket, Superfare, on its Anglo-Scot route to include weekends.
The Superfare ticket enables customers to book a journey for a specific date with the choice of morning, afternoon, or evening slots at a cheaper fare – with the exact time of travel being selected by the intercity operator.
Customers that can be flexible with their travel plans can now purchase a one-way ticket for £30 when making journeys on Saturdays or Sundays between Glasgow and London.
Barry Milsom, Executive Director of Operations and Safety at Avanti West Coast, said: "We're delighted by the return of our direct weekend services between London and Scotland, so our customers can once again enjoy seamless journeys. We would like to thank our customers for their patience over the past three months while Network Rail delivered major improvements on a key section of the West Coast Main Line. The work to renew the track, signals, and overhead lines will make cross-border journeys more reliable for customers for many years to come.
"We look forward to welcoming our customers back onboard and hope the further extension of our Superfare ticket will encourage people to take the train to and from Scotland this summer."
Jim McCLeary, Network Rail's Project Lead for the remodelling of Carstairs Junction said: "Closing such a key junction on a critical cross-border route has been a massive undertaking for everyone involved in the project - and for the rail industry generally.
"By completing this crucial upgrade work we have improved the capabilities of the junction, providing better future journeys for passengers and more capacity for freight.
"We're grateful to passengers for their patience during this work. We appreciate it has been inconvenient but with services now returning to a full timetable, we hope that passengers enjoy the benefits this investment in the railway has delivered."
ENDS
Contact Information
Laura Normansell
Avanti West Coast
Notes to editors
Notes to Editors
Superfare tickets is being trialled with 100,000 available until the end of July. They are available on an independent website - https://avantisuperfare.co.uk/
About Avanti West Coast
Avanti West Coast, operator of intercity rail services on the West Coast Main Line, is a joint venture between FirstGroup and Trenitalia, delivering a cleaner, greener railway that drives the West Coast forward.
We're on a mission to revolutionise train travel. Our refurbed Pendolinos are returning to the rails, with a £117m investment that's delivering best in class comfort. Rebuilt using sustainable materials wherever possible, including tables made from recycled plastic bottles, our upgraded fleet offers 25,000 brand new seats, free Wi-Fi, onboard recycling and much more.
New Hitachi trains are set to replace our Voyager trains from 2023, leading to a 61% cut in carbon emissions. Quieter and roomier, with more reliable Wi-Fi, wireless charging for electrical devices and a real-time customer information system, the new 23-strong fleet is the result of a £350m investment in sustainable travel.
We're tackling climate change wherever we can, from reducing energy and water use to training drivers in eco-driving techniques and sourcing food and drink from local suppliers. Our goal is to be net zero carbon by 2031. We're on track.
For the latest news, visit the Avanti West Coast Media Centre: https://newsdesk.avantiwestcoast.co.uk/
Press Office: 0845 000 3333