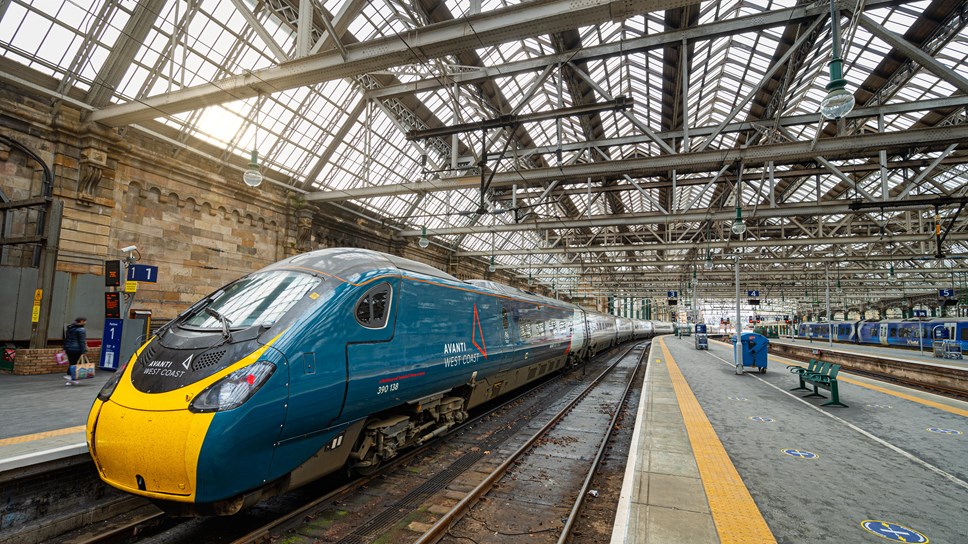 Community art project set to bring Hope to Hamilton
Avanti West Coast supports charity to raise awareness of mental health with interactive artwork.
Avanti West Coast supports charity with art project to promote mental wellbeing
Rail 74 Community Rail Partnership supporting local people seeking help
Interactive art installation at Hamilton station will be created by local community
Avanti West Coast has awarded a charity £40,000 in funding to deliver a unique art project at Hamilton Central station.
Titled 'Hope in Hamilton', the project centres on creating a piece of interactive art at the station with the input of local people in south Lanarkshire who are being supported with their mental wellbeing.
The idea builds upon on the work of Rail 74 Community Rail Partnership (CRP) - a charity that aims to deliver community benefits along the Rutherglen to Hamilton Central line through innovative projects – to improve mental health.
Avanti West Coast are supporting the initiative through their Community Rail Project Fund and are partnering with fellow train operators ScotRail and CrossCountry to help deliver Hope in Hamilton.
With the support of Samaritans, a series of workshops will be held over eight months for members of the community, including patients from NHS Beckford Lodge, individuals being supported by Lanarkshire Action for Mental Health, and Police Scotland Youth volunteers, to design the art installation.
Award-winning artist, Rob Mulholland, from Arcadia Sculpture Centre in Loch Lomond, has been commissioned to bring the participants' ideas to life before the artwork is installed on the platform next year.
Speaking of his involvement, Rob said: "I'm delighted to be part of such an interesting project that focuses on mental wellbeing and look forward to translating the ideas of various groups and individuals into a contemporary artwork to be enjoyed by the community and visitors to Hamilton."
The project aims to help the participants by giving them a creative outlet and opportunity to interact with those who have shared experiences. It follows Rail 74 CRP's 'Conversation Café' sessions before the COVID-19 pandemic to get passengers onboard trains and stations between Rutherglen and Hamilton Central to talk.
Suzie McCheyne, Development support at Rail 74 CRP, said: "We are extremely excited and want to bring a real sense of hope and pride to the area and provide an appealing, interactive art piece at Hamilton Central Station collaborating with the local community as a legacy of cohesion and providing real voices and input alongside a greater awareness of local and national support services relating to mental health wellbeing for our communities in times of need."
Joanna Buckley, Community Manager at Avanti West Coast, said: "We're proud to be playing our part in bringing the community of Hamilton together to create artwork that champions the town and its people, while raising awareness of mental wellbeing.
"Through our work with Samaritans we know the importance of seeking help if you're struggling. We hope this project will make a difference by signposting people to support available and reminding them they're not alone, which is more vital than ever as we face the impact of the coronavirus pandemic."
Samaritans volunteers are always available to listen, 24 hours a day, 365 days a year, free of charge on the phone - 116 123 or email – jo@samaritans.org.
ENDS
Contact Information
Laura Normansell
Avanti West Coast
Notes to editors
Images:
Avanti West Coast Pendolino at Glasgow
Hope in Hamilton (L - R): Suzie McCheyne (Development support at Rail 74 CRP); Rob Mulholland (from Arcadia Sculpture Centre in Loch Lomond)
About Avanti West Coast
Avanti West Coast, operator of intercity rail services on the West Coast Main Line, is a joint venture between FirstGroup and Trenitalia, delivering a cleaner, greener railway that drives the West Coast forward.
We're on a mission to revolutionise train travel, linking together the towns and major cities of the UK to create an iconic railway the country can be proud of. We've got big plans including a fleet of new intercity trains, as well as the complete refurbishment of the existing Pendolino train fleet. We will introduce more train services every week with new routes added, and a much-improved onboard service with enhanced free Wi-Fi, plug sockets, 25,000 brand new seats and improved catering. Since 8 December 2019, passengers have benefitted from improved passenger compensation, available for journeys delayed by just 15 minutes.
For the latest news, visit the Avanti West Coast Media Room: https://newsdesk.avantiwestcoast.co.uk/
Press Office: 0845 000 3333
About Rail 74 Community Rail Partnership
Rail 74 Community Rail Partnership are a registered charity. Our main focus is on supporting the delivery of community benefits through the medium of innovative projects within the surrounding communities of the rail stations and rail passengers. The stations along the line we currently support are Rutherglen, Cambuslang, Newton, Blantyre, Hamilton West and Hamilton Central.
Our aims are:
To reduce the effects of poverty through bringing communities to work together in partnership
To raise attainment through education/promoting rail safety
To increase social cohesiveness through community action/volunteering
To improve the areas around the stations and communities; helping them to thrive
About Samaritans
Anyone can contact Samaritans FREE any time from any phone on 116 123, even a mobile without credit. This number won't show up on your phone bill. Or you can email jo@samaritans.org or visit samaritans.org.
Every day, Samaritans volunteers respond to around 10,000 calls for help.
Samaritans is a charity and it's the public's kind donations and more than 20,000 volunteers that mean we are always there for anyone struggling to cope. Find out how you can support us or volunteer with us.
The rail industry and British Transport Police (BTP) work in partnership with Samaritans to reduce suicides on the railway and support those affected by them. Our suicide prevention programme includes training railway employees and BTP staff to look out for and offer support to people who may be considering suicide and working with the wider community to de-stigmatise suicide and promote help-seeking behaviour. To date almost 23,000 rail staff and BTP Officers have received suicide prevention training.