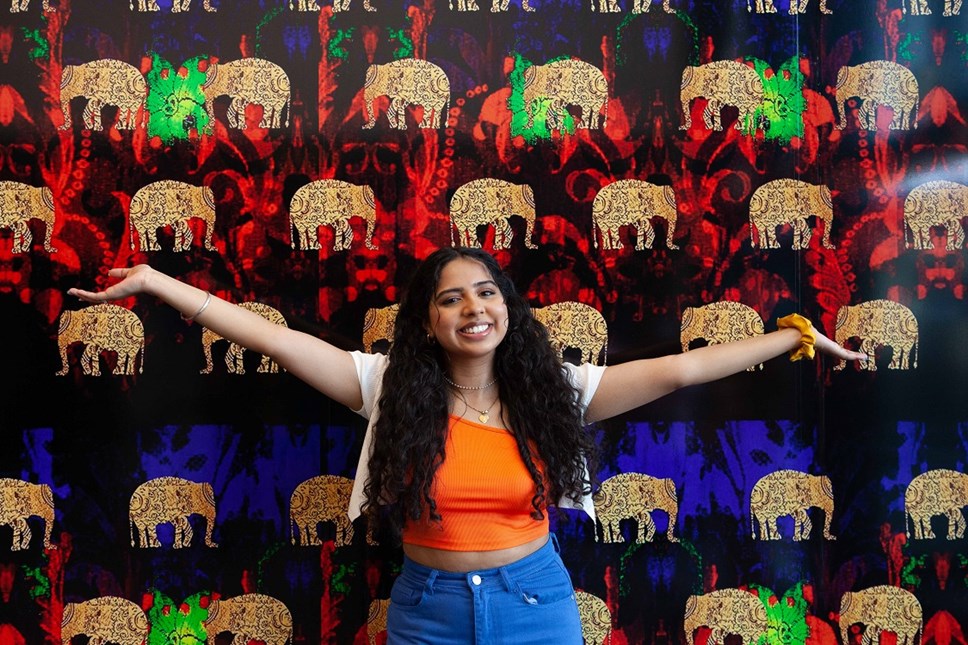 Ground-breaking public art exhibitions enjoy extended run at Coventry station
Public art exhibitions prove a big hit with customers at Avanti West Coast's Coventry station.
Avanti West Coast partners with Coventry City Council for exhibition at station
Two exhibitions showcase "the strength, beauty and creativity of Brown women".
Coventry station provides a striking canvas for collections titled JOY and Nungi.
Two ground-breaking art exhibitions at Coventry Station described by its creators as "showcasing the strength, beauty and creativity of Brown women" have been given an extended run after proving a popular with customers.
The exhibitions, JOY and Nungi, were created as part of Unapologetic, a festival held as part of City of Culture and were unveiled at the brand-new station as a powerful first impression to visitors of the city, and for local people.
A big hit with rail customers after opening earlier this year, Avanti West Coast – who manage the station - has agreed to an extended run to 22nd August. The exhibitions were made possible thanks to this support from the train operator and Coventry City Council.
Nicola Ryder, Commercial Partnerships Manager at Avanti West Coast, said: "As proud Transport Partner for Coventry UK City of Culture 2021, the new station building is the perfect canvas for both exhibitions.
"It's a very powerful display and one that challenges thinking. It has been great to see so many people stop to immerse themselves in the art as they pass through the station. Coventry is truly a global and cosmopolitan city and we had no hesitation in agreeing to the extended run."
JOY features the work of five emerging and established local artists, who were commissioned by an independent panel to produce artwork responding the idea of joy as a form of activism following a public call out.
Nungi, which in Punjabi means 'naked', features black and white photography of of several women. The subjects were invited to sit for a photoshoot to express their authentic selves and take control of their visibility and image, and to share the result in a public space.
Mariam Abdurahman, who contributed to both the JOY and Nungi exhibitions, said: "Seeing hijabi women in such a public space in this way is so empowering.
"As a multi-ethnic artist I use art as a form of storytelling to represent the beauty of women of colour as it gives me immense joy. I am thrilled to have been given an opportunity to showcase my work challenging society's standard of fitting in; that is a huge achievement in my creative career.
"The Nungi project has motivated me to be confident in myself and to celebrate being Unapologetic, breaking from the stereotype that you have to perfect."
Cllr David Welsh, cabinet member for housing and communities, said: "I am really proud that we were able to support, the first exhibition of many, I hope, in our fantastic new railway station building.
"This amazing display showcases the talent in our city, celebrates strong Brown women and brings our new station to life. It also adds to the art we have also been able to integrate into the original station building too."
Picture Captions:
Main Image: British Punjabi artist Reema Sahota with her work as part of the JOY exhibition.
Nungi - Exhibition co-creators Shine Duggal (l) and Navkiran Kaur Mann (r).
Mariam Abdurahman is featured as part of the Nungi exhibition.
Contact Information
Richard Stanton
Avanti West Coast
Notes to editors
About Avanti West Coast
Avanti West Coast, operator of intercity rail services on the West Coast Main Line, is a joint venture between FirstGroup and Trenitalia, delivering a cleaner, greener railway that drives the West Coast forward.
We're on a mission to revolutionise train travel, linking together the towns and major cities of the UK to create an iconic railway the country can be proud of. We've got big plans including a fleet of new intercity trains, as well as the complete refurbishment of the existing Pendolino train fleet. We will introduce more train services every week with new routes added, and a much-improved onboard service with enhanced free Wi-Fi, plug sockets, 25,000 brand new seats and improved catering. Since 8 December 2019, passengers have benefitted from improved passenger compensation, available for journeys delayed by just 15 minutes.
For the latest news, visit the Avanti West Coast Media Room: https://newsdesk.avantiwestcoast.co.uk/
Press Office: 0845 000 3333