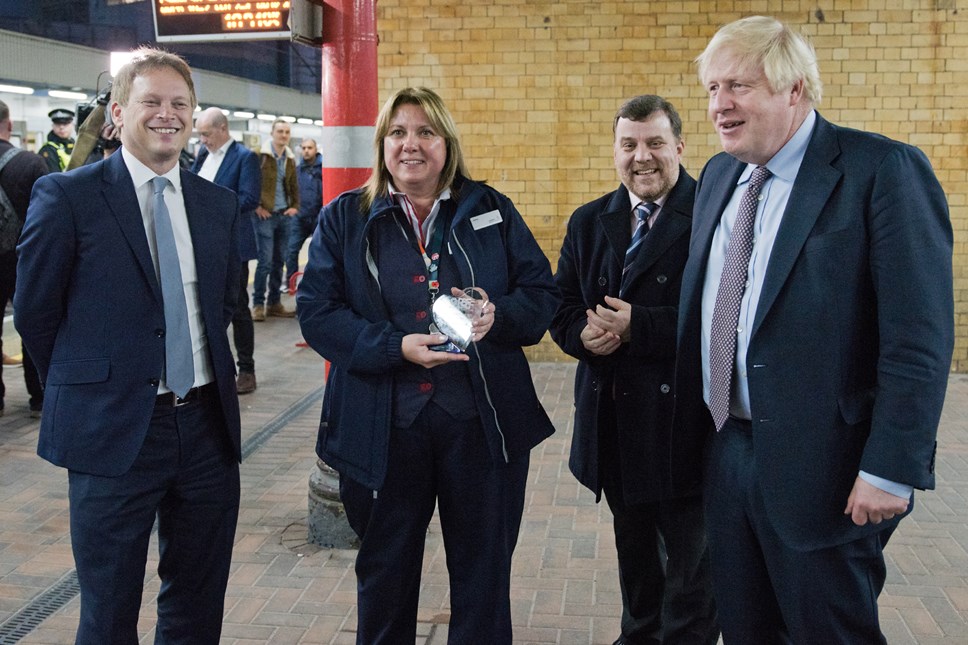 Heroic Avanti West Coast employee honoured by Prime Minister
Jennifer Birdsall was presented with a Railway Benefit Fund Heart of Gold Award by Boris Johnson at Warrington Bank Quay.
Avanti West Coast employee, Jennifer Birdsall, honoured by PM in surprise visit
Jennifer recognised for looking after vulnerable customers and station community with Railway Benefit Fund Heart of Gold Award
An Avanti West Coast employee who sat for hours talking to a woman contemplating suicide has been honoured by the Prime Minister.
In a surprise visit to Warrington Bank Quay Station, Boris Johnson handed a "Heart of Gold" award to Jennifer Birdsall, a Customer Service Assistant who has helped save the lives of multiple vulnerable individuals in her career.
The Prime Minister, alongside Secretary of State for Transport, the Rt Hon Grant Shapps MP, presented Jennifer with her award, taking time to talk about her role at the station before jumping on an Avanti West Coast service for Wolverhampton.
As well as helping vulnerable people, Jennifer has built an army of fans at Warrington where she is known for making cups of tea and coffee for train enthusiasts and working with local volunteers to arrange station plant displays.
She was expecting to receive the award, under the "Going the Extra Mile" category from the Railway Benefit Fund after colleagues at the station nominated her but was not expecting to receive it in person from the Prime Minister, who stopped at Warrington during a tour of stations in the North.
Talking after receiving the award, Jennifer said: "I'm a bit overwhelmed I have to say. Never did I expect to win anything. I'm just doing my job.
"The Railway Benefit Fund do such great work, so it means a lot to be recognised by them. But the award is a much for me as it is for the wonderful team we have at Bank Quay.
"We're all part of the railway family and to have the Prime Minister and Secretary of State visit was extra special."
The Heart of Gold Awards are organised by the Railway Benefit Fund, a charity that supports current and former railway employees, and are designed to celebrate the efforts of people working in the rail industry.
Claire Houghton, CEO of the Railway Benefit Fund, said: "RBF are delighted to present our Going the Extra Mile Award to Jennifer. We were so moved by her nomination which demonstrated her incredible kindness and dedication to her colleagues and customers. Congratulations Jennifer and keep up the good work!"
Jennifer was also praised by Pete Waterman, the pop impresario and President of RBF who uses Warrington Bank Quay regularly. "The Going the Extra Mile Award couldn't go to a more deserving individual; I see Jenny regularly when I travel from Warrington Bank Quay, and she is always so warm and friendly. Jenny truly has a Heart of Gold," he said.
Jennifer added that she was honoured to receive the award on behalf of her colleagues at the station. "To win the Heart of Gold Award is truly amazing and I'm proud to receive it on behalf of all my colleagues at Warrington Bank Quay. We're a close-knit team, who are proud to serve Warrington and want to make a difference in the community."
Contact Information
Richard Stanton
Avanti West Coast
Notes to editors
About Railway Benefit Fund
The Railway Benefit Fund (RBF) is a UK charity solely dedicated to supporting current, retired and former railway employees and their families through tough times. Founded in 1858 they have been supporting the rail industry for over 160 years.
The RBF Heart of Gold Awards, which includes the Heart of Gold category sponsored by Furrer & Frey, celebrate those in the rail industry who go the extra mile and make a real difference. The nominations and voting are by the everyday people who work in rail, giving them the opportunity to thank the colleagues they appreciate, value and who inspire them.
https://www.railwaybenefitfund.org.uk/
About Avanti West Coast
Avanti West Coast, operator of intercity rail services on the West Coast Main Line, is a joint venture between FirstGroup and Trenitalia, delivering a cleaner, greener railway that drives the West Coast forward.
We're on a mission to revolutionise train travel, linking together the towns and major cities of the UK to create an iconic railway the country can be proud of. We've got big plans including a fleet of new intercity trains, as well as the complete refurbishment of the existing Pendolino train fleet. We will introduce more train services every week with new routes added, and a much-improved onboard service with enhanced free Wi-Fi, plug sockets, 25,000 brand new seats and improved catering. Since 8 December 2019, passengers have benefitted from improved passenger compensation, available for journeys delayed by just 15 minutes.
For the latest news, visit the Avanti West Coast Media Room: https://newsdesk.avantiwestcoast.co.uk/
Press Office: 0845 000 3333