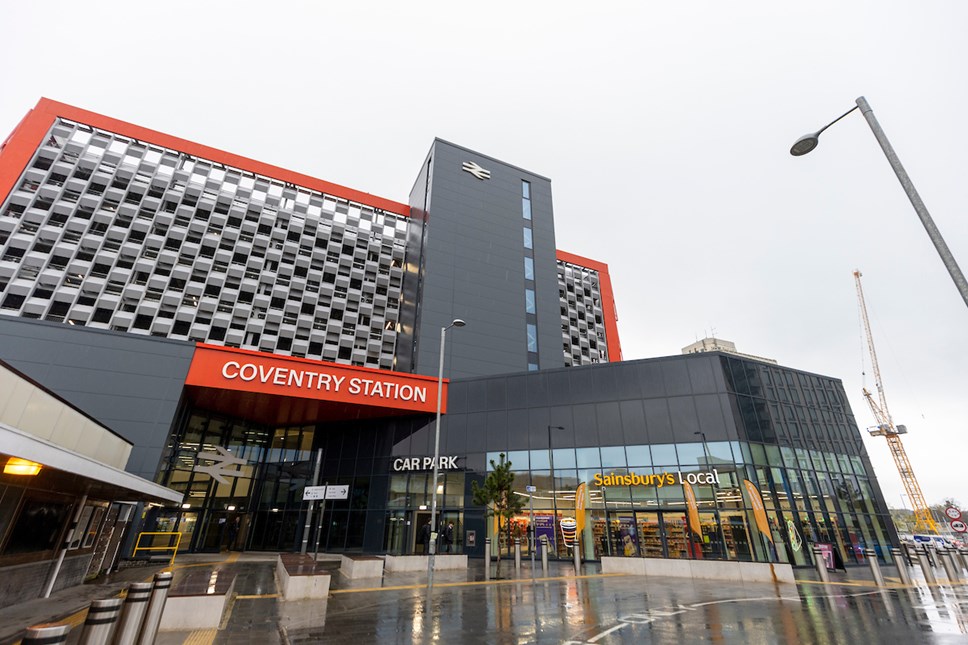 New Sainsbury's store opens at Avanti West Coast's Coventry station
The retail transformation of Coventry station continues with the opening of a new Sainsbury's Local store.
New Sainsbury's store now open for business at revamped Coventry station
Continued investment in station facilities set to further transform customer experience
More outlets to open in the coming months as part of redevelopment

Sainsbury's has become the first retailer to open for business at the redeveloped Coventry railway station.
The new store is open at the Avanti West Coast managed station from 6am to 11pm, seven days a week serving a specially selected range of products. Known as Sainsbury's Coventry Station Local, it also has a collection point for picking up products from Argos, Habitat and Tu Clothing when customers order them online.
With more retail outlets expected to follow in the coming months, together with continued investment in station facilities, the customer experience will be further transformed.
Maria McCarron, Station Manager for Avanti West Coast at Coventry station said: "Our customers are really starting to see the benefit of the new station. Easier access, improved facilities and now the start of the retail transformation with the arrival of Sainsbury's, and more shops to follow later this year.
"We're also just about to open our new Courtyard area on platform 1, offering our customers a place to relax whilst they wait for their trains."
Avanti West Coast has also worked with the Railway Heritage Trust to renovate the station's unique tiled walls, including the area on the stairwell to provide a more prominent display for the old steam train nameplate 'City of Coventry'.
Patrick Dunne, Sainsbury's Property Director, said: "We're delighted to have opened a fresh, modern store as part of the redevelopment of Coventry Station and Friargate. Our station Local stores consistently prove a hit with customers, who appreciate being able to pop into Sainsbury's whenever they are passing through, and I look forward to seeing our new Coventry Station store flourish."
As well as serving the thousands of rail travellers passing through the busy station, the new retail area will also benefit Coventry's most sustainable new office building. Thousands of office-based staff, working and visiting Two Friargate every day, as well as the established One Friargate, will ensure the new stores enjoy buoyant custom.
Councillor Jim O'Boyle, Cabinet Member for jobs, regeneration and climate change said: "I'm really pleased to see this new store open, it will be a great asset for commuters and for local people. The new extension to the station has really made its mark and now there is good reason for everyone, not just train passengers, to pop in. I'm looking forward to the rest of the units being occupied to help give a warm Coventry welcome to everyone arriving by rail."
Contact Information
Richard Stanton
Avanti West Coast
Notes to editors
About Avanti West Coast
Avanti West Coast, operator of intercity rail services on the West Coast Main Line, is a joint venture between FirstGroup and Trenitalia, delivering a cleaner, greener railway that drives the West Coast forward.
We're on a mission to revolutionise train travel. Our refurbed Pendolinos are returning to the rails, with a £117m investment that's delivering best in class comfort. Rebuilt using sustainable materials wherever possible, including tables made from recycled plastic bottles, our upgraded fleet offers 25,000 brand new seats, free Wi-Fi, onboard recycling and much more.
New Hitachi trains are set to replace our Voyager trains from 2023, leading to a 61% cut in carbon emissions. Quieter and roomier, with more reliable Wi-Fi, wireless charging for electric devices and a real-time customer information system, the new 23-strong fleet is the result of a £350m investment in sustainable travel.
We're tackling climate change wherever we can, from reducing energy and water use to training drivers in eco-driving techniques and sourcing food and drink from local suppliers. Our goal is to be net zero carbon by 2031. We're on track.
For the latest news, visit the Avanti West Coast Media Room: https://newsdesk.avantiwestcoast.co.uk/
Press Office: 0845 000 3333
About Sainsbury's
Offering delicious, great quality food at competitive prices has been at the heart of what we do since John James and Mary Ann Sainsbury opened our first store in 1869. Today, inspiring and delighting our customers with tasty food remains our priority.
Driven by our passion for food, together we serve and help every customer. We help everyone eat better by enabling customers to improve their diets while reducing their impact on the environment, one plate at a time.
Media enquiries: Duncan Kennedy 07541 110563 | duncan.kennedy@sainsburys.co.uk