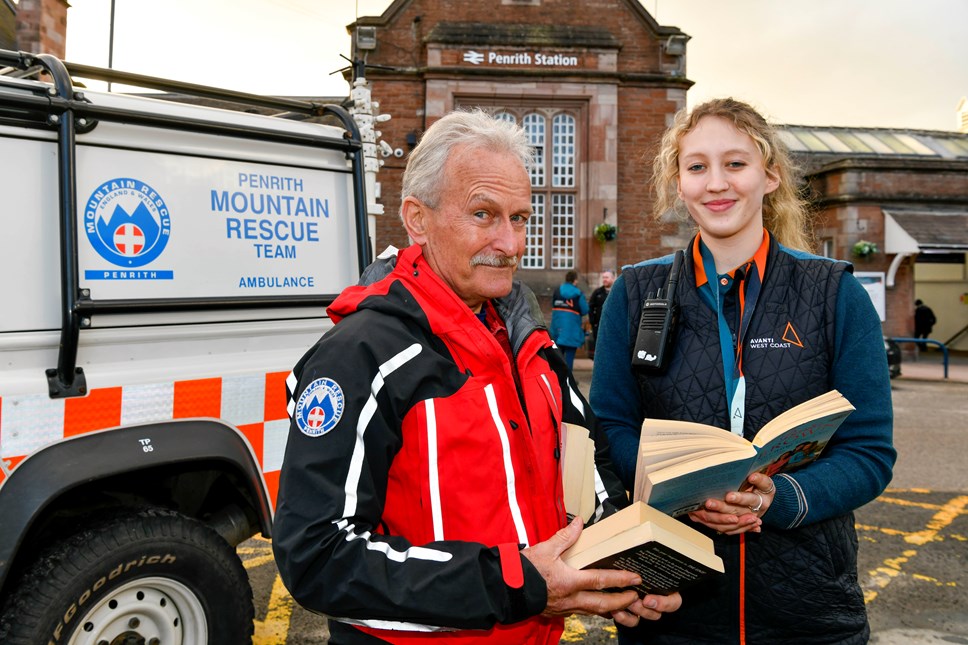 Novel scheme boosts funds for Penrith Mountain Rescue Team
Avanti West Coast's charity bookshelf reaches fundraising milestone for Penrith Mountain Rescue Team.
Avanti West Coast fundraising initiative at Penrith reaches £8,000 milestone
Customers and community help raise vital funds for Penrith Mountain Rescue
Cumbrian station's charity bookshelf offers variety of titles in return for donation
Penrith station has helped to raise thousands of pounds in vital funds for the Cumbrian town's local volunteer search and rescue team with a successful community bookshelf scheme.
The fundraising initiative, which encourages passengers and the community using Penrith station to take a book in return for a charitable donation, has raised over £8,000 for Penrith Mountain Rescue Team (MRT).
Funded entirely by donations, Penrith MRT operates with approximately 40 on call team members who are made up of unpaid volunteers. They assist those lost or injured on the fells and cover the largest geographic area of any of the Lake District MRTs.
The £8,000 fundraising milestone has been achieved over eight years after colleagues at Penrith station chose to dedicate its charity bookshelf to supporting their local MRT, to raise money and awareness of their work.
Money received through the station's bookshelf scheme is essential – contributing to the charity's annual operating costs.
Peter King, Leader of Penrith MRT, commented: "Penrith MRT is incredibly grateful for the support of the staff at the station in making this such a successful, long running fundraiser for us. It's a win-win: passengers choose a good read, and their donations help us to continue to serve whoever gets into difficulty in our patch – whatever the time of day, and whatever the conditions."
Mark Green, Avanti West Coast Station Manager at Penrith, said: "We're proud to support Penrith Mountain Rescue Team, who are an integral part of the local community – looking out for the thousands of visitors that explore this beautiful part of the world. The charity bookshelf has helped to raise vital funds and just goes to show that a small donation can make a big difference. We would like to thank our customers and the community for joining us to show our appreciation for the great work the Mountain Rescue Team do every day of the year."
To keep the bookshelf stocked up and help the Avanti West Coast team continue fundraising, the local community are invited to donate unwanted literature at Penrith station.
ENDS
Contact Information
Laura Normansell
Avanti West Coast
Notes to editors
Main image (left to right): Stephen Crowsley (Penrith Mountain Rescue volunteer) and Laura Hazelhurst (Avanti West Coast Customer Service Assistant at Penrith)
Notes to Editors
Penrith Mountain Rescue Team
Penrith MRT is a registered charity and is a member of the Lake District Search and Mountain Rescue Association (LDSAMRA).
Penrith Mountain Rescue Team has 40 members, all of whom are volunteers. They are available 24/7 for 365 days in the year. In 2022 the team responded to 39 call outs; the total for 2021 was 45. Its ability to operate relies on donations.
The area covered extends from the far eastern fells of the Lake District around Haweswater across to the North Pennines and Cross Fell and all the way up to the Scottish border, accounting for about 1600sq miles.
Further information about Penrith MRT is available at: www.penrithmrt.org.uk
About Avanti West Coast
Avanti West Coast, operator of intercity rail services on the West Coast Main Line, is a joint venture between FirstGroup and Trenitalia, delivering a cleaner, greener railway that drives the West Coast forward.
We're on a mission to revolutionise train travel. Our refurbed Pendolinos are returning to the rails, with a £117m investment that's delivering best in class comfort. Rebuilt using sustainable materials wherever possible, including tables made from recycled plastic bottles, our upgraded fleet offers 25,000 brand new seats, free Wi-Fi, onboard recycling and much more.
New Hitachi trains are set to replace our Voyager trains from 2023, leading to a 61% cut in carbon emissions. Quieter and roomier, with more reliable Wi-Fi, wireless charging for electrical devices and a real-time customer information system, the new 23-strong fleet is the result of a £350m investment in sustainable travel.
We're tackling climate change wherever we can, from reducing energy and water use to training drivers in eco-driving techniques and sourcing food and drink from local suppliers. Our goal is to be net zero carbon by 2031. We're on track.
For the latest news, visit the Avanti West Coast Media Centre: https://newsdesk.avantiwestcoast.co.uk/
Press Office: 0845 000 3333