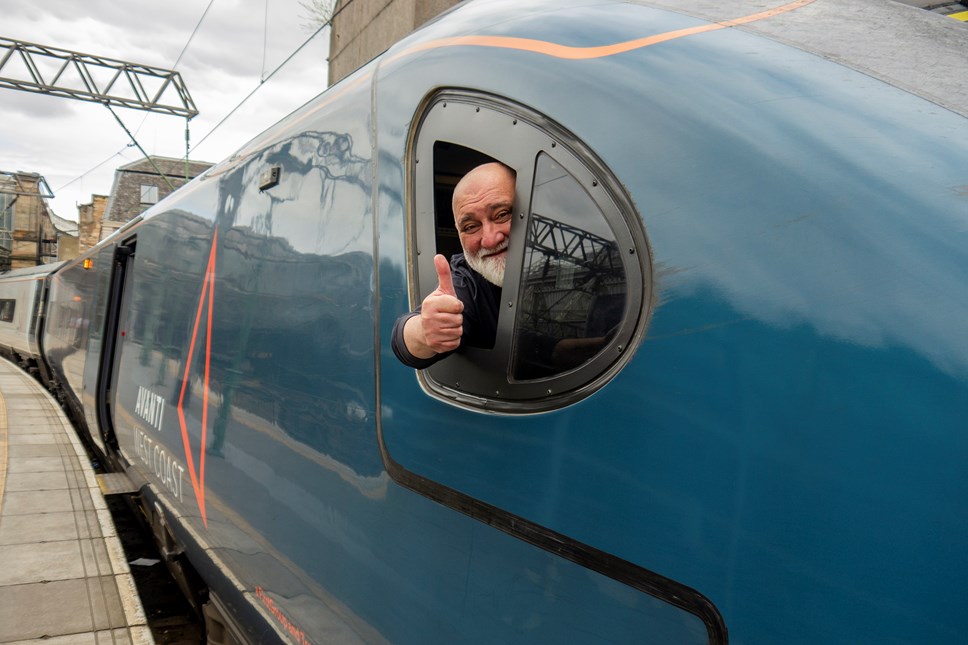 Radio 4 comedy series celebrating rail travel to feature Avanti West Coast routes
Avanti West Coast routes feature in 'Strangers on a Train', a new Radio Four comedy series with actor and author Alexei Sayle.
Comedian Alexei Sayle stars in new BBC Radio 4 series in which he interviews those travelling around the UK by train
'Strangers on a Train' sees the actor and author enjoy days out on Avanti West Coast services to Glasgow and Holyhead
Customers and staff share their stories in a six programme series on Sunday evenings
A new Radio 4 comedy series celebrating rail travel is to feature customers and staff on Avanti West Coast routes from London to Glasgow and Holyhead.
Strangers on a Train, to be broadcast this in July and August, will hear stories shared by customers and employees while they travel across the UK.
Presented by comedian, actor and author Alexi Sayle, the six part series sees him embark on a rail journey, taking a chance on who he might meet and inviting them to have a conversation with him.
The programme sees him break the golden rule of travelling by train and actually talk to his fellow passengers in a quest for conversations that reveal their lives, hopes, dreams and destinations.
There he finds humour, sadness and surprise as people talk about what is going on in their lives and, as Alexei passes through familiar towns and cities, he also tells stories and memories from his career and childhood.
In the second episode, Alexei travels with Avanti West Coast from London to Glasgow and meets a number of customers including a two people who are on holiday from Indonesia and have just fulfilled a lifetime's dream of watching Liverpool play at Anfield.
He also talks to another who has been to his public speaking club which he joined to overcome his extreme shyness and someone who has lived most of her life on a sheep farm overlooking the stunningly beautiful Holy Loch in Argyll and Bute in Scotland.
In the penultimate episode, Alexei returns to the West Coast route, travelling on an Avanti West Coast service from London to Holyhead.
One of his encounters includes an actor and musician on his way to perform in a musical in Llandudno and an organisational psychologist whose work involves helping people discover what they really want to do in life.
He also chats with Holyhead based Stephany Scrivener who has just celebrated her 20-year service award as a customer service assistant on the railway and tells Alexei of her meeting with two of her most famous customers - a young Prince William and Kate Middleton now Duke and Duchess of Cambridge.
The London to Glasgow programme also features Mark Green, Station Manager for Avanti West Coast at Penrith, who shares some of his memories from his 30 years on the railway.
"It was great to sit down and chat with Alexei," says Mark. "It's clear he has a passion for travelling by train and that shone through in all his conversations with fellow travellers. It reinforced just how important the industry is to a whole host of people, all from different backgrounds and with their own story to tell."
Contact Information
Richard Stanton
Avanti West Coast
Notes to editors
Notes to Editors
Strangers on a Train is a Ride production for BBC Radio 4.
Episode 2 featuring London to Glasgow airs on Sunday 17 July at 7.15pm
Episode 5 featuring London to Holyhead airs on Sunday 7 August at 7.15pm
Full programme schedules can be found here and will also be available on BBC Sounds.
About Avanti West Coast
Avanti West Coast, operator of intercity rail services on the West Coast Main Line, is a joint venture between FirstGroup and Trenitalia, delivering a cleaner, greener railway that drives the West Coast forward.
We're on a mission to revolutionise train travel, linking together the towns and major cities of the UK to create an iconic railway the country can be proud of. We've got big plans including a fleet of new intercity trains, as well as the complete refurbishment of the existing Pendolino train fleet. We will introduce more train services every week with new routes added, and a much-improved onboard service with enhanced free Wi-Fi, plug sockets, 25,000 brand new seats and improved catering. Since 8 December 2019, passengers have benefitted from improved passenger compensation, available for journeys delayed by just 15 minutes.
For the latest news, visit the Avanti West Coast Media Room: https://newsdesk.avantiwestcoast.co.uk/
Press Office: 0845 000 3333