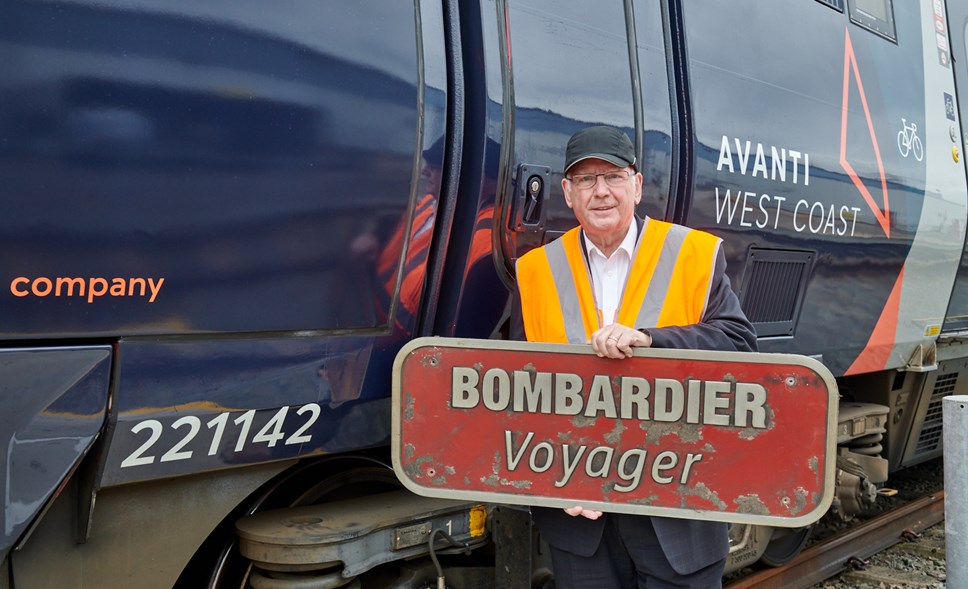 Railway memorabilia auction helps Railway Benefit Fund reach Christmas target
Pete Waterman issues thank you message to Avanti West Coast and Alstom after auction raises over £3,500 for Railway Benefit Fund.
Eagerly sought after train nameplates and station signs fetch over £3,500
Music producer Pete Waterman, President of Railway Benefit Fund, issues special 'Thank You' message
Auction helps charity reach target for annual Christmas appeal
Avanti West Coast and Alstom have raised over £3,500 for charity in an auction of railway memorabilia.
Two nameplates, previously carried by one of the Super Voyager fleet (set number 221142), and a pair of Crewe Station signs were quickly snapped up by enthusiasts, the proceeds going to the Railway Benefit Fund.
The nameplates, 'Bombardier Voyager' proved extremely popular, the four figure winning bids reflecting the growing popularity of modern railway artefacts.
The final sum of £3,877 went a long way to helping the charity reach their Christmas Appeal target of £40,000.
Record producer and president of Railway Benefit Fund, Pete Waterman said: "A very special thank you to all the bidders and especially the winners whose generosity means we've raised an amazing £3,500.
"Thanks too to Avanti West Coast and Alstom. Its perfect timing in the run up to Christmas when we need support the most."
Gus Dunster, Executive Director Operations and Safety at Avanti West Coast added: "Its great we've been able to find these items a good home and in the process raise some much needed funds for a charity so close to our hearts."
Peter Broadley, Managing Director, Services for Alstom said: "We knew the auction would be popular, but it's exceeded all our expectations, and for a great cause too. Well done to all the bidders and to everyone involved."
Contact Information
Richard Stanton
Avanti West Coast