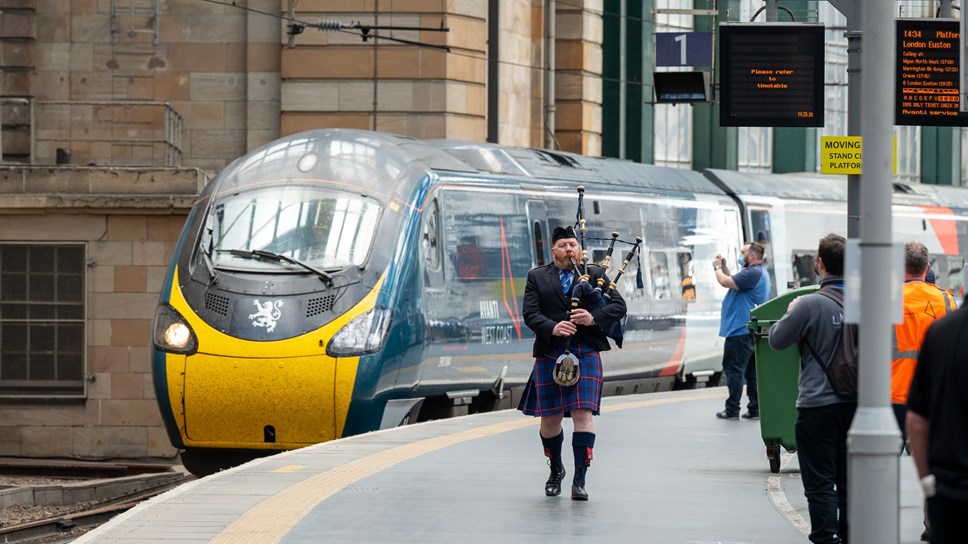 Royal Scot train attempts London to Glasgow record
Record was missed by just 21 seconds following the collaborative efforts of Avanti West Coast and Network Rail.
Pendolino train makes inaugural 401.25-mile journey as Royal Scot
Record-breaking journey attempt celebrates rail travel between home nations
Charity event sees non-stop journey between London and Glasgow
Avanti West Coast has named one of its Pendolino trains 'Royal Scot' to mark a record attempt with Network Rail for the fastest journey between London and Glasgow.
The 390044 Pendolino carries the name of what was once the flagship train in the West Coast Main Line Timetable and which provided the fastest passenger services from London to Glasgow for many years.
Royal Scot made its inaugural journey today (17 June) with a non-stop run from London Euston to Glasgow Central that aimed to beat a record of 3 hours 52 minutes and 40 seconds that was set in 1984 by an Advanced Passenger Train (APT) – the tilting high speed train developed by British Rail for the West Coast Main Line.
While the record was missed by just 21 seconds the collaborative efforts of Avanti West Coast and Network Rail enabled the nine-carriage Pendolino to travel at an average speed of 103 mph during the journey. The final time was clocked at 3 hours, 53 minutes and one second.
Today's run was the fastest ever by a Pendolino between London and Glasgow , breaking the previous record of 3 hours 55 minutes 27 seconds in 2006.
Britain's biggest-selling rail title, The Railway Magazine, also offered its readers an exclusive seat onboard – with proceeds from ticket sales going to Avanti West Coast's charity partner, Action for Children, and Railway Benefit Fund.
The charity event champions the ease of travelling between the home nations by train and the environmental benefits of rail travel – the ordinary journey time (4 hours 30 minutes) for the 401.25-mile journey by train emits 24kg of CO2e per passenger compared with a plane journey of the same distance that emits 158kg per passenger – saving 134kg of CO2e per passenger.
The record run is the latest project to be carried out by Avanti West Coast and Network Rail. It follows the delivery of additional upgrade works while the rail network was quieter with fewer trains. These upgrades aim to make journeys more reliable as the industry welcomes back passengers.
Sir Peter Hendy, Chairman of Network Rail, said: "Today marked a brilliant collaboration across the railway industry! This this event shows how the clean, green railway of today can cement economic growth, jobs, housing and social cohesion through better connectivity across the United Kingdom. There will be more on better connectivity by rail and faster journey times between England and Scotland when I publish my final Union Connectivity Report for the Prime Minister in the summer."
Thank you for all your support 🧡 In the words of So Solid Crew, we missed it by 21 seconds. But we're so proud of everyone who supported us and helped us raise money for a good cause. @NetworkRail @RailwayMagazine @ActnForChildren @RBF1858 pic.twitter.com/BjrnK7C4tS

— Avanti West Coast (@AvantiWestCoast) June 17, 2021
Steve Montgomery, First Rail Managing Director, said: "As we begin to build back better from the pandemic, the essential role of rail services in connecting our major cities and driving economic growth whilst combating climate change, has never been clearer. This record attempt shows how effectively rail can deliver cross-border connectivity.
Phil Whittingham, Managing Director at Avanti West Coast said: "While we're disappointed we've not broken the record today, we are proud to have worked with industry partners to showcase the vital role rail can play in enabling cleaner, greener travel and connectivity across the United Kingdom.
"We want to connect people and places to opportunity, so we're pleased to champion the railway's part in this with our record attempt, while supporting Action for Children and Railway Benefit Fund whose work supports families and individuals along our route. The addition of Royal Scot to our Pendolino fleet highlights our commitment to connecting the nations we serve on the West Coast Main Line and we look forward to helping to deliver better Union Connectivity."
Locks Farmer, Director of Fundraising & Marketing, Action for Children, said: "We are so grateful Avanti West Coast has supported Action for Children through this exciting record attempt. The money raised will help ensure we can continue providing essential support to children who desperately need our help. Thanks to Avanti West Coast, Action for Children can be a lifeline to children and young people, giving them the tools they need to have a safe and happy childhood."
Pete Waterman, President of the Railway Benefit Fund, said: "It's a real privilege for the Railway Benefit Fund to be involved in this Record Run attempt. Time is of the essence for us all and every seven minutes somebody in our railway family reaches out to the RBF for help and advice. We are so thankful for the support of Avanti West Coast and Railway Magazine, which ensures we can continue to meet the increase in demand for our services and help the Railway family through tough times."
Contact Information
Rob Singh
Notes to editors
The data used within this press release was created using DEFRA Carbon Conversion factors to establish CO2e totals for both train and plane journeys from London to Glasgow. Defra conversion factors are regularly updated and are used across the industry as a reputable conversion source. CO2e is the abbreviation of Carbon Dioxide equivalent. A term often used to compare the emissions from various greenhouse gases on the basis of their global warming potential.
About Action for Children
Action for Children protects and supports vulnerable children and young people by providing practical and emotional care and support, ensuring their voices are heard and campaigning to bring lasting improvements to their lives. With 476 services in communities across the UK, the charity helps more than 387,000 children, teenagers, parents and carers a year.
About Railway Benefit Fund
The Railway Benefit Fund is the charity that solely supports railway people and their families. Founded in 1858, and now based in Crewe, they offer bespoke care and advice to railway families to help them through tough times.
About Network Rail
We own, operate and develop Britain's railway infrastructure; that's 20,000 miles of track, 30,000 bridges, tunnels and viaducts and the thousands of signals, level crossings and stations. We run 20 of Britain's largest stations while all the others, over 2,500, are run by the country's train operating companies.
Usually, there are almost five million journeys made in Britain and over 600 freight trains run on the network. People depend on Britain's railway for their daily commute, to visit friends and loved ones and to get them home safe every day. Our role is to deliver a safe and reliable railway, so we carefully manage and deliver thousands of projects every year that form part of the multi-billion pound Railway Upgrade Plan, to grow and expand the nation's railway network to respond to the tremendous growth and demand the railway has experienced – a doubling of passenger journeys over the past 20 years.
About Avanti West Coast
Avanti West Coast, operator of intercity rail services on the West Coast Main Line, is a joint venture between FirstGroup and Trenitalia, delivering a cleaner, greener railway that drives the West Coast forward.
We're on a mission to revolutionise train travel, linking together the towns and major cities of the UK to create an iconic railway the country can be proud of. We've got big plans including a fleet of new intercity trains, as well as the complete refurbishment of the existing Pendolino train fleet. We will introduce more train services every week with new routes added, and a much-improved onboard service with enhanced free Wi-Fi, plug sockets, 25,000 brand new seats and improved catering. Since 8 December 2019, passengers have benefitted from improved passenger compensation, available for journeys delayed by just 15 minutes.
For the latest news, visit the Avanti West Coast Media Room: https://newsdesk.avantiwestcoast.co.uk/
Press Office: 0845 000 3333