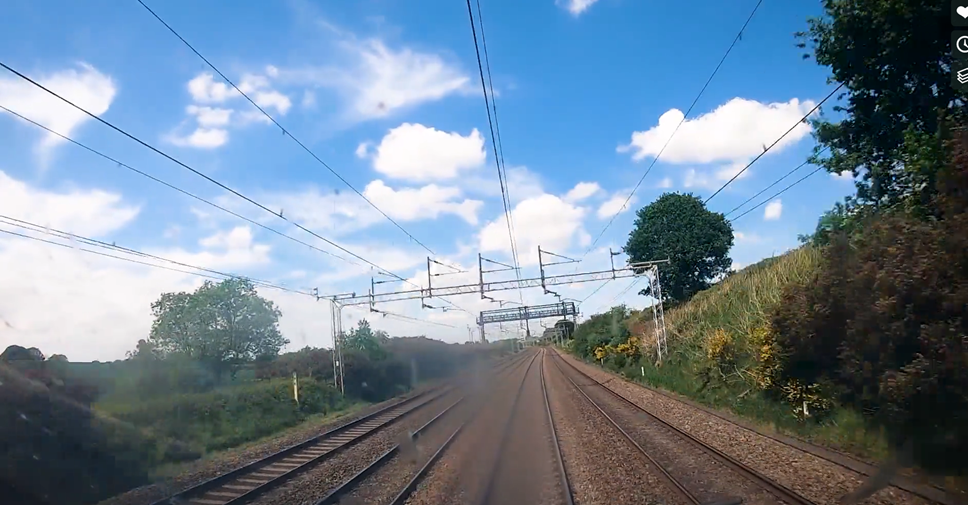 "Tales from the Tracks" treats Avanti West Coast fans to driver's view
New video series offers unique insight into the West Coast Main Line from driver's cab with commentary by Avanti West Coast train drivers.
Eight-part video series gives viewers experience of inside driver's cab
Features commentary from two experienced Avanti West Coast drivers
Aims to inspire the next generation of railway drivers
Avanti West Coast has treated those missing rail travel to a new video series giving viewers a fascinating insider-look from the unique viewpoint of a train driver.
The eight-part video series, Tales from the Tracks, was recorded during lockdown and showcases the West Coast Main Line from inside the driver's cab of an iconic Pendolino.
Using a front-mounted digital camera, the series guides viewers with uninterrupted views, complemented by commentary from two experienced Avanti West Coast drivers who discuss points of interest and impart their wisdom along the way.
The vignettes highlight the 'best of' of the inter-city operator's London Euston to Glasgow Central route, featuring stunning scenery. This is combined with soothing tones of drivers, Darran Townsend and Dave Egerton, providing the voice-overs throughout.
With over 50 years driving experience between them, Darran and Dave provide anecdotes and interesting facts about the West Coast Main Line from The Great Train Robbery in 1963 where £2.6 million was stolen, to accounts of 2am journeys through the Lake District under a full moon with 360 degree views of snow-capped mountains. For the diehard rail aficionados, Darran and Dave also recall the 1937 record breaking steam engine journey which accidentally broke the speed limit on the approach to Crewe, having just set a speed record of 114mph with its 6220 Coronation Class engine.
Darran, a Driver Team Manager at Preston, is a third-generation railway man, who followed in his father's footsteps. Dave is a Driver based out of Manchester Piccadilly and his sister and two sons also work for Avanti West Coast.
The train featured in the video, Pendolino 390001, departed Euston on the 12:10pm service and took four hours and 55 minutes to complete the journey at an average speed of 82mph.
It is hoped the videos will help comfort customers who have missed travelling with Avanti West Coast, as well as inspire those considering a career as a train driver.
Speaking about filming the footage, Dave said: "I'm so proud to say I'm a train driver. I really couldn't imagine myself doing anything else,
"It's a real privilege to have been able to chat with Darran and share some insight in what it's like to drive high speed trains. There can't be many better office windows."
The series is available to watch on Avanti West Coast's website and will also be rolled out across the company's social media channels.

Website URL: https://www.avantiwestcoast.co.uk/tales-from-the-tracks
Highlights from Tales from the Tracks
While each leg of the journey has its own delights, there are some features of the West Coast route to look out for across the 8-part series:
Watch out for a glimpse of the M1, as you sail past traffic at speed during the M1 and Kilsby tunnel instalment of the journey.
Thrill in the brisk getaway of the Pendolino on its speedy 125 mile per hour journey (full tilt) through Rugby station.
Listen to fascinating stories including the 1963 Great Train Robbery where £2.6 million was stolen to accounts of 2am journeys through the Lake District under a full moon with 360 degree views of snow-capped mountains.
And be sure to enjoy the final moments in the series, as the train draws into the beautiful architecture of Glasgow Central station, the final destination.
ENDS
Contact Information
Press Desk
Avanti West Coast
Notes to editors
About Avanti West Coast
Avanti West Coast, operator of intercity rail services on the West Coast Main Line, is a joint venture between FirstGroup and Trenitalia, delivering a cleaner, greener railway that drives the West Coast forward.
We're on a mission to revolutionise train travel, linking together the towns and major cities of the UK to create an iconic railway the country can be proud of. We've got big plans including a fleet of new intercity trains, as well as the complete refurbishment of the existing Pendolino train fleet. There will be 263 more train services every week by 2022 with new routes added, and a much-improved onboard service with enhanced free Wi-Fi, plug sockets, 25,000 brand new seats and improved catering. Since 8 December, passengers have benefitted from improved passenger compensation, available for journeys delayed by just 15 minutes.
For the latest news, visit the Avanti West Coast Media Room: https://newsdesk.avantiwestcoast.co.uk/
Press Office: 0845 000 3333