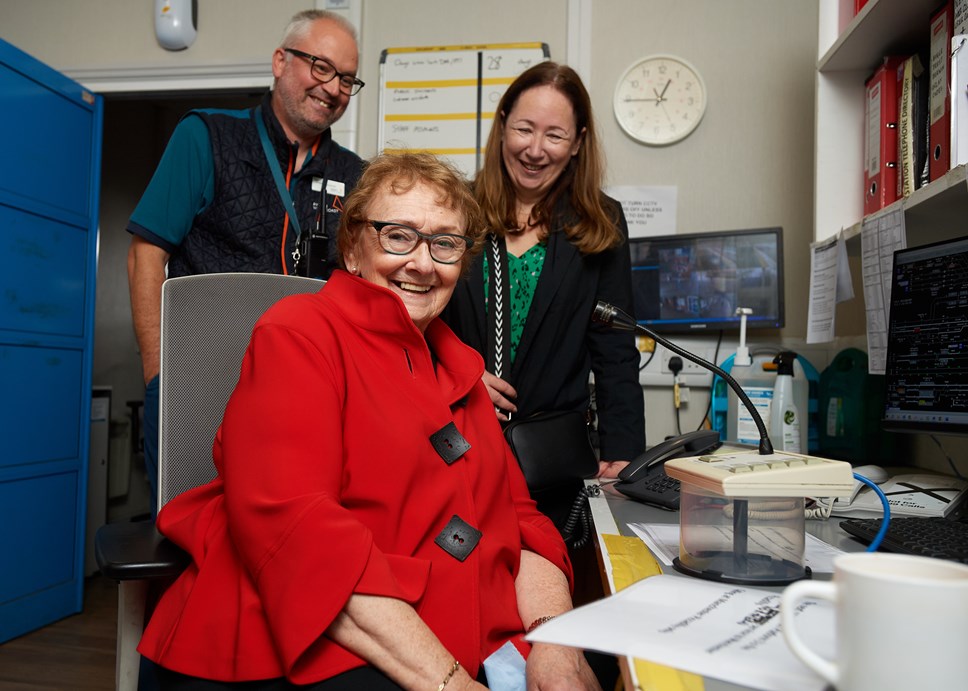 The next station announcer to arrive at Stockport is… 83-year-old gran June!
Avanti West Coast helps June Rosen fulfil her longstanding dream to announce trains.
Avanti West Coast help grandmother realise ambition of being a station announcer
Family surprise "amazing mum" with lifelong dream during special trip to Stockport
June Rosen, 83, swaps volunteering role for the day to take up announcing on platforms
Avanti West Coast has helped an 83-year-old grandmother achieve her lifelong ambition to become a station announcer.
June Rosen took to the public address system at Stockport during a surprise visit arranged by the intercity operator and her family – fulfilling her dream to make train announcements at a main line railway station.
Keeping passengers informed with arrivals and departures at the Greater Manchester station, the grandmother of four, brought a smile to people's faces with her friendly and cheerful nature after being welcomed by the Avanti West Coast team to take over the microphone in the office at Stockport.
June, who lives in Wilmslow, revealed her long-held dream to read train announcements while celebrating her 82nd birthday. The retired NHS worker, who clocked up almost 60 years in the healthcare sector and now volunteers at a local hospice, told her family she loved standing on platforms listening to the announcements and thought it would be a lovely job.
The railway has played an important role in June's life for as long as she can remember. As a child she travelled by train to see her grandparents in Leicester and now makes regular journeys from Stockport to London with Avanti West Coast to see her family.
After discovering her mother's quirky ambition, June's daughter Cari Rosen, set out to make it a reality, and create another railway memory.
"The railway brings our family together, which is important to us all, so I thought if it's possible for my mum to experience what it's like to be a Station Announcer, it would make it even more special", said Cari.
Under the pretence of a day out on the train, June travelled to Stockport with her daughter, Cari, where she was met by the Avanti West Coast team who gave her a behind-the-scenes tour of the station and an insight into the announcer role, before letting her read aloud announcements for passengers on the platforms.
Explaining why she wanted to surprise her mum, Cari said: "Mum always puts others first. She's an amazing mum, grandmother, sister, and friend. Her work has been about other people and anyone who has ever worked with her is only too aware of how much she cared for her patients and the comfort she brought to many in their final days.
"Even now, in retirement, she continues to use those skills and qualities in her volunteering role. She does so much for others and it's lovely to be able to do something for her that shows how much she is valued by everyone who knows her. It's wonderful with the help of Avanti West Coast we've been able to let mum fulfil her long-held dream."
Karen Grimshaw, Avanti West Coast Station Manager at Stockport, said: "When we heard June's story, we couldn't wait to welcome her to Stockport to experience the role of Station Announcer, especially as the railway is close to her heart. While announcements are there to keep people safe and informed, they also provide an opportunity to brighten someone's day.
"June did a brilliant job of being that friendly, comforting voice and judging by the reaction of people's faces they seemed to enjoy listening to the announcements as much as she did reading them! We're delighted to have played our part in making a dream come true and hope June will always remember this day."
ENDS
Contact Information
Laura Normansell
Avanti West Coast
Notes to editors
Main image (Left to Right): Lee Hardman (Avanti West Coast Customer Service Assistant at Stockport); June Rosen; Cari Rosen (June's daughter)
About Avanti West Coast
Avanti West Coast, operator of intercity rail services on the West Coast Main Line, is a joint venture between FirstGroup and Trenitalia, delivering a cleaner, greener railway that drives the West Coast forward.
We're on a mission to revolutionise train travel. Our refurbed Pendolinos are returning to the rails, with a £117m investment that's delivering best in class comfort. Rebuilt using sustainable materials wherever possible, including tables made from recycled plastic bottles, our upgraded fleet offers 25,000 brand new seats, free Wi-Fi, onboard recycling and much more.
New Hitachi trains are set to replace our Voyager trains from 2023, leading to a 61% cut in carbon emissions. Quieter and roomier, with more reliable Wi-Fi, wireless charging for electrical devices and a real-time customer information system, the new 23-strong fleet is the result of a £350m investment in sustainable travel.
We're tackling climate change wherever we can, from reducing energy and water use to training drivers in eco-driving techniques and sourcing food and drink from local suppliers. Our goal is to be net zero carbon by 2031. We're on track.
For the latest news, visit the Avanti West Coast Media Centre: https://newsdesk.avantiwestcoast.co.uk/
Press Office: 0845 000 3333