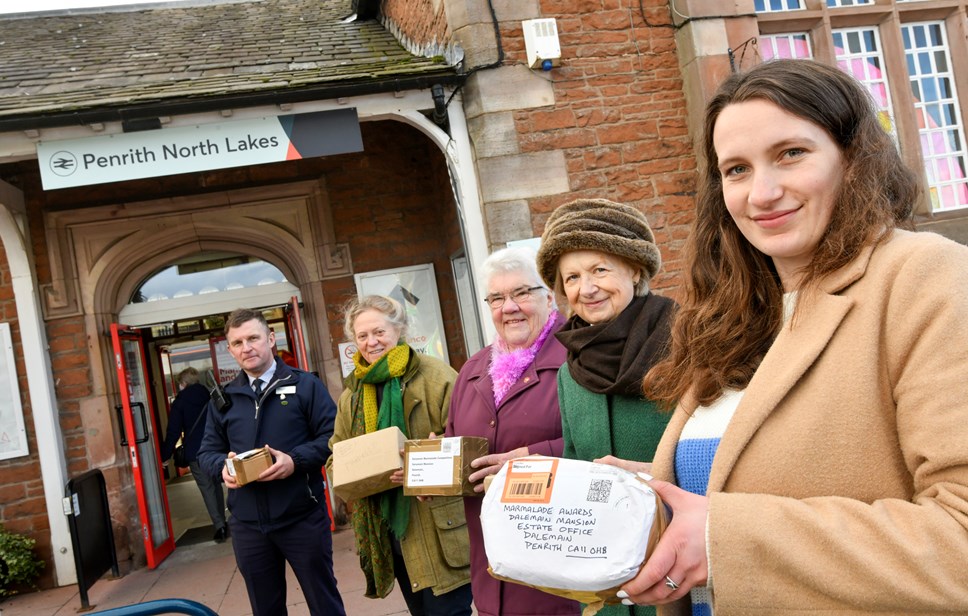 West Coast "Marmalade Line" provides right track in search for winning preserve
Avanti West Coast supports search to find world's best marmalade by transporting jars of preserves to MarmaLake District.
Avanti West Coast welcomes entries for World's Original Marmalade Awards
West Coast Marmalade Line delivers entries from around the UK to Penrith
Jars destined for awards transported by Pendolino train to MarmaLake District
Avanti West Coast has renamed its route through Cumbria to support the search to find the world's best marmalade.
Sections of the West Coast Main Line between London and Glasgow were named the "West Coast Marmalade Line" to mark a renowned competition that aims to find the tastiest preserve.
It featured drop-off points at selected stations along the route – offering amateur marmalade makers an alternative to posting their prized jars.
The train operator's efforts to zest up its route is part of its support for the annual World's Original Marmalade Awards and Festival. The winners of this year's awards will be announced in May.
Entries travelled on a Pendolino train - known as the "Marmalade Express" for the journey - to Penrith, where they were collected and taken a few miles down the road for judging at Dalemain Mansion - home of the awards and festival.
For every jar submitted, entrants donate £10 towards palliative care charities, including Hospice at Home, who provide care and support to patients, family members and carers affected by life limiting illness in North and East Cumbria.
To date the event, which attracts competitors from around the world, including Australia and Japan, as well as promoting small producers, has raised over £270,000 for hospice care.
Mark Green, Avanti West Coast Station Manager at Penrith, said: "This prestigious event is great for Penrith and Cumbria, which are fondly known as the MarmaLake District when the region welcomes marmalade entries. At the same time, it supports the vital work of Hospice at Home, so we're delighted to be championing this key event that makes a difference in the communities we serve.
"Entries for this world-famous competition come far and wide and we're proud to have provided the West Coast Marmalade Line to give entrants an a-peel-ing alternative to posting their jars and ensure potential prize-winning preserves are delivered safely to Penrith."
Jane Hasell-McCosh, founder of the Dalemain Marmalade Awards, said: "We are delighted that the Marmalade Express has returned for the awards. It is a wonderful opportunity to encourage marmalade makers to enter the competition and it is lovely to think that the jars travel by train, to the home of the MarmaLake District. Dalemain Mansion has strong links with the railway, and it is great to see those links grow with the help of this delicious preserve!"
ENDS
Contact Information
Laura Normansell
Avanti West Coast
Notes to editors
Main image L - R: Stephen Martin (Avanti West Coast Team Leader at Penrith); Jane Hasell-McCosh (Founder of Dalemain Marmalade Awards); Doreen Cameron (Marmalade Awards judge); Lady Elizabeth Leeming (Hospice at Home President); Emily Green (Dalemain Mansion)
About World's Original Marmalade Awards
These quirky awards were founded in 2005 by Jane Hasell-McCosh with the initial idea of preserving, growing and widening one of the most British of customs – making marmalade. They have gone on to generate a following far beyond Jane's wildest expectations and have humour and a life of their own, inspiring people from all over the world to get involved.
The Awards are centred on Dalemain Mansion; a Georgian stately home lived in by the same family for over 300 years, which also happens to hold a very rich archive of Marmalade recipes. People enter the Marmalade Awards from a wide array of countries including Australia, Japan, Colombia, Senegal, Brazil, the Czech Republic, Canada, India and Singapore.
https://www.dalemain.com/marmalade-awards/
About Avanti West Coast
Avanti West Coast, operator of intercity rail services on the West Coast Main Line, is a joint venture between FirstGroup and Trenitalia, delivering a cleaner, greener railway that drives the West Coast forward.
We're on a mission to revolutionise train travel, linking together the towns and major cities of the UK to create an iconic railway the country can be proud of. We've got big plans including a fleet of new intercity trains, as well as the complete refurbishment of the existing Pendolino train fleet. We will introduce more train services every week with new routes added, and a much-improved onboard service with enhanced free Wi-Fi, plug sockets, 25,000 brand new seats and improved catering. Since 8 December 2019, passengers have benefitted from improved passenger compensation, available for journeys delayed by just 15 minutes.
For the latest news, visit the Avanti West Coast Media Room: https://newsdesk.avantiwestcoast.co.uk/
Press Office: 0845 000 3333