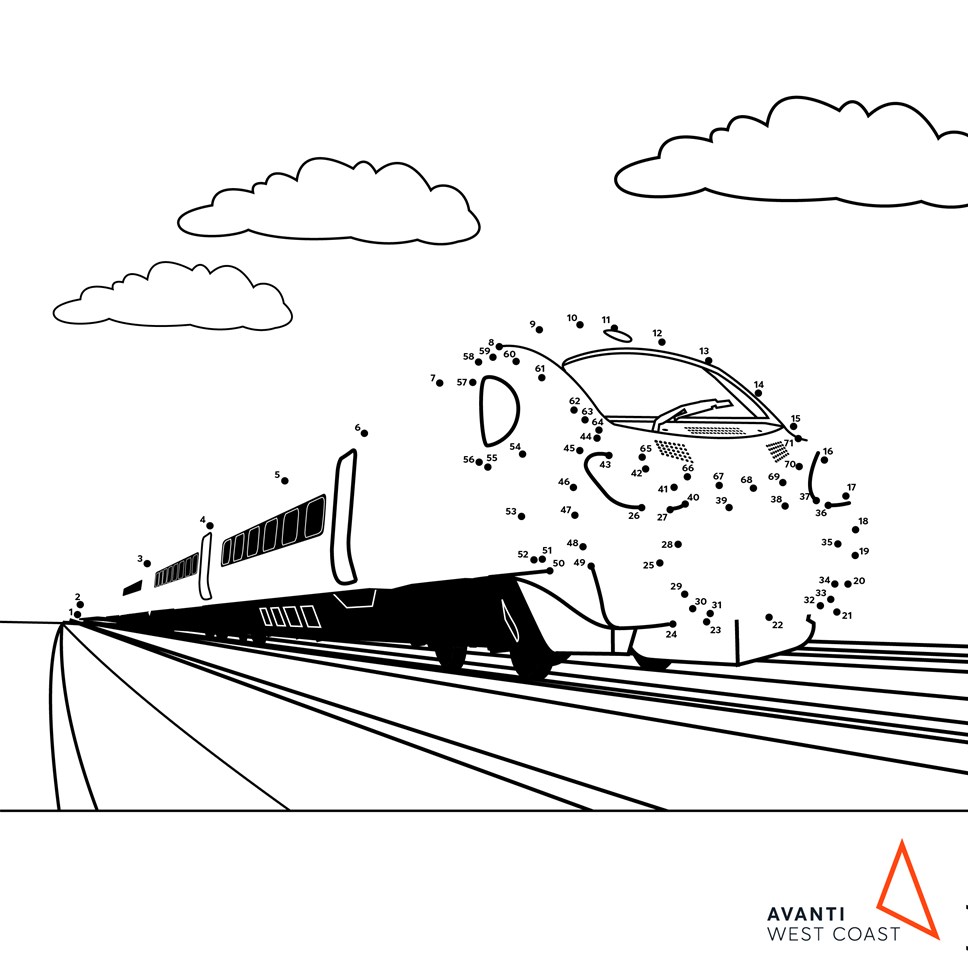 All aboard the Avanti West Coast 'Dot to Dot' Express
Avanti West Coast launch a series of fun activities for railway obsessed youngsters.
Avanti West Coast is offering a little help to those parents with railway obsessed children who are missing their trains.
They have prepared a number of activities on social media, part fun and part educational to both challenge and stimulate youngsters as schools are closed during lockdown.
These tasks include: -
A dot to dot challenge to draw your own Class 390 Pendolino;
Pin the station on the network map; and
A colouring in challenge.

More activities are planned for young ones and available via the Avanti West Coast Twitter (@AvantiWestCoast) and Facebook accounts.
"We understand how much our younger rail enthusiasts are missing their trains," explained Daisy Hawker-Wallace, Head of PR for Avanti West Coast. "Whilst these won't replace the thrill of seeing a Pendolino whizz through the station, we hope they will help to keep the passion alive and give their parents five minutes' peace!"
Contact Information
Richard Stanton
Avanti West Coast
Notes to editors
About Avanti West Coast
Avanti West Coast, operator of intercity rail services on the West Coast Main Line, is a joint venture between FirstGroup and Trenitalia, delivering a cleaner, greener railway that drives the West Coast forward.
We're on a mission to revolutionise train travel, linking together the towns and major cities of the UK to create an iconic railway the country can be proud of. We've got big plans including a fleet of new intercity trains, as well as the complete refurbishment of the existing Pendolino train fleet. There will be 263 more train services every week by 2022 with new routes added, and a much-improved onboard service with enhanced free Wi-Fi, plug sockets, 25,000 brand new seats and improved catering. Since 8 December, passengers have benefited from improved passenger compensation, available for journeys delayed by just 15 minutes.
For the latest news, visit the Avanti West Coast Media Room: https://newsdesk.avantiwestcoast.co.uk/
Press Office: 0845 000 3333