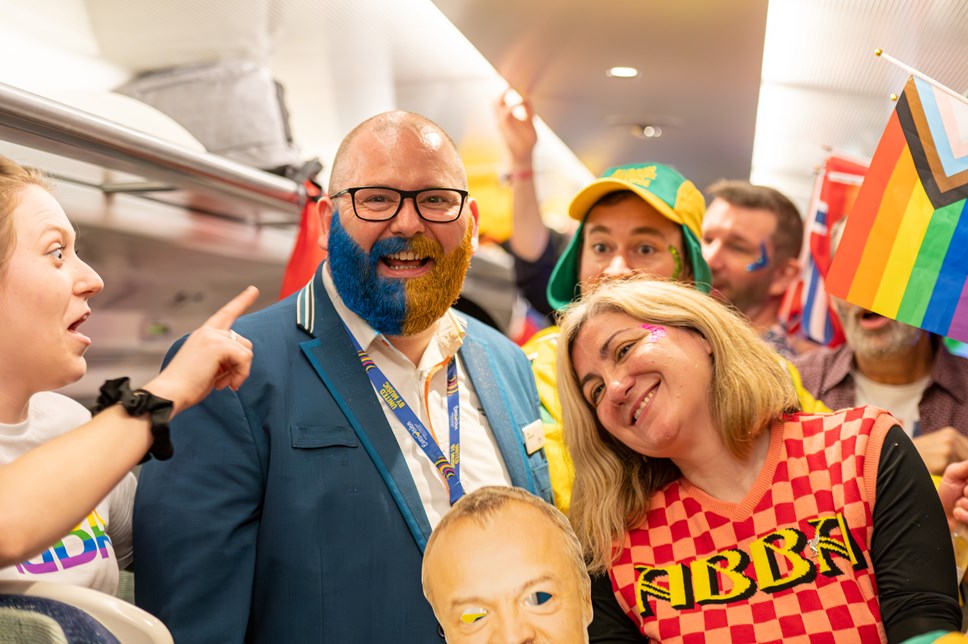 All aboard the Avanti West Coast Eurovision Express
Superfans taken to Liverpool by Avanti West Coast as Eurovision excitement builds.
Over 100 Superfans arrive into Liverpool on special Eurovision train
Music producer Pete Waterman delights fans with surprise appearance
Fans arriving at Liverpool serenaded by English National Opera
Avanti West Coast has transported a train full of dedicated Eurovision Song Contest "Superfans" to Liverpool on a special service for the start of the competition.
More than 100 excited international fans boarded Avanti West Coast's Pride Train at London Euston and were treated to a Eurovision themed journey as they sped their way to Liverpool, the city hosting this year's event on behalf of the people of Ukraine.
Guests were also treated to a surprise visit from music producer, Pete Waterman who joined the train at Crewe and delighted fans with tales of Eurovision and his career in the pop.
Looking after the fans was train manager Jan Fuller-Green, himself a member of fans' group OGAE and a veteran of two Eurovision events in Stockholm and Lisbon.
He said: "Having travelled around Europe its amazing to have the competition on our doorstep. It's such an honour for me to look after the Superfans today. Such amazing tales, all united by the love of Eurovision and music."
Guests, with the help of Network Rail and Liverpool City Council, were welcomed at Lime Street station by Lord Mayor, Councillor Roy Gladden, drag queen Jonny Woo, along with Metro Mayor Steve Rotheram and Culture Minister Stuart Andrew. They were then serenaded by the English National Opera with Abba's hit Waterloo.
The Superfans are all members of The Organisation des Amateurs de l'Eurovision, or OGAE for short, the largest Eurovision Song Contest fan network in the world. Founded in Finland in the 1980s, the network now includes more than 45 national clubs across Europe and beyond, with over 15,000 individual members.
OGAE UK was established over 30 years ago and now has over 5,000 members right across the UK and beyond and is currently the UK's largest Eurovision Fan Club and the largest club in the OGAE International network.
Simon Bennett, President of OGAE International and Secretary of OGAE UK enthused: "We are absolutely thrilled to be partnered with Avanti West Coast and to give our members a chance to travel to Liverpool in style. The atmosphere in Liverpool is already fantastic but this means our members can get the party started even before they arrive in the city."
Nicola Ryder, Commercial Partnerships Manager at Avanti West Coast said: "We're incredibly proud to play our part in getting this group of dedicated fans to and from Eurovision. Liverpool always guarantees a friendly welcome, the home of so many great musicians over the years making it the perfect venue to host this year's event on behalf of the people of Ukraine."
"The atmosphere on the journey north was amazing and we have no doubt our guests will have a Eurovision to remember."
Customers looking to travel to Liverpool are encouraged to check before they travel given planned strike action by both ASLEF and RMT members. On Friday 12 May Avanti West Coast is unable to run any services. A limited service will run on Saturday 13 May. Trains are expected to be very busy on Sunday 13 May.
More details can be found here: https://www.avantiwestcoast.co.uk/travel-information/strike
Local train services by Merseyrail are unaffected by the industrial action.
Contact Information
Richard Stanton
Avanti West Coast
Notes to editors
Main image: Jan Green, Avanti West Coast Train Manager and OGAE member joins superfans onboard the Eurovision Express to Liverpool.
About Avanti West Coast
Avanti West Coast, operator of intercity rail services on the West Coast Main Line, is a joint venture between FirstGroup and Trenitalia, delivering a cleaner, greener railway that drives the West Coast forward.
We're on a mission to revolutionise train travel, linking together the towns and major cities of the UK to create an iconic railway the country can be proud of. We've got big plans including a fleet of new intercity trains, as well as the complete refurbishment of the existing Pendolino train fleet. We will introduce more train services every week with new routes added, and a much-improved onboard service with enhanced free Wi-Fi, plug sockets, 25,000 brand new seats and improved catering. Since December 2019, passengers have benefitted from improved passenger compensation, available for journeys delayed by just 15 minutes.
For the latest news, visit the Avanti West Coast Media Room: https://newsdesk.avantiwestcoast.co.uk/
Press Office: 0845 000 3333