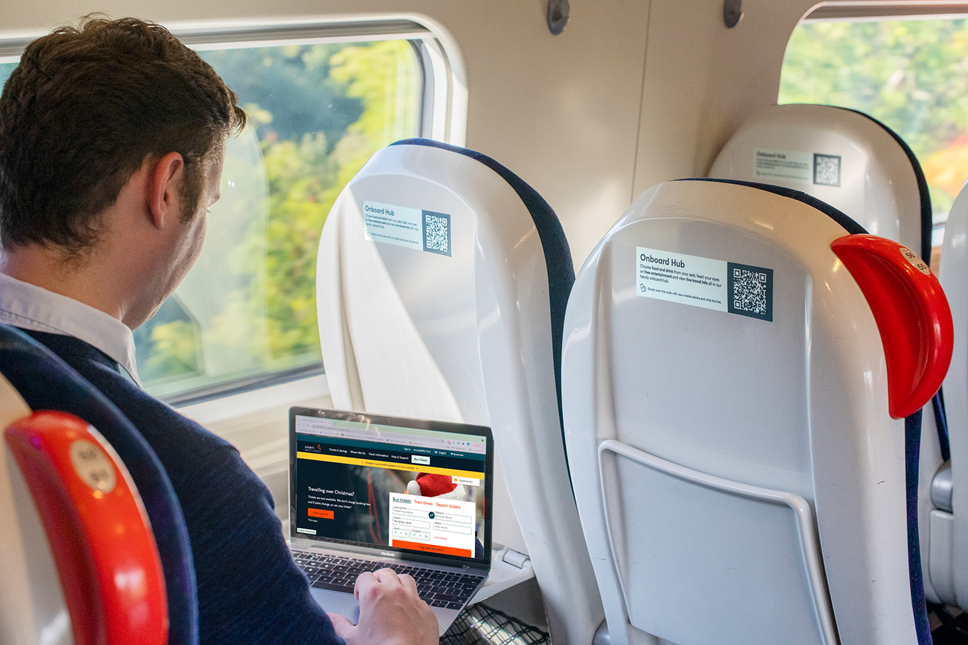 Avanti West Coast becomes first train operator to be recognised for accessible website
Avanti West Coast website is awarded accreditation for being accessible to people with a range of disabilities.
Avanti West Coast becomes first train operator to be recognised for accessible website
Avanti West Coast website awarded Shaw Trust Accessibility Accreditation
Web content accessible to people with range of disabilities
Work to meet accessibility standards is latest initiative to make rail inclusive to all
Avanti West Coast has become the first train operator to be awarded an accreditation that recognises its web content is accessible to people with disabilities.
The intercity operator's website has achieved Shaw Trust Web Accreditation – a mark confirming it has been tested by people with a wide range of disabilities and found to be accessible.
Working alongside Shaw Trust Accessibility Services, Avanti West Coast made updates and changes to content on its website to meet Web Content Accessibility Guidelines (WCAG), which is an international standard.
An assessment by the charitable enterprise's digital auditors, as well as a series of automated and human tests by users with a disability identified what design and coding (what defines content structure on the front-end of a website) changes were required to meet these standards.
To address the requirements to obtain the accreditation, coding was changed to ensure content is accessible to keyboard only users and assistive technologies, including screen readers. In addition, changes were made to the design of webpages to provide sufficient colour contrast between text and background for visually impaired users.
Avanti West Coast's website conforms to WCAG 2.1 Level AA – going above the minimum requirement of WCAG standards and making it accessible to more people.
The accreditation follows the launch of Avanti West Coast's dedicated social media forum earlier this year to create an interactive online community for disabled customers travelling on its route.
Brandon Peat, Accessibility and Inclusion Manager at Avanti West Coast, said: "We want everyone to use the railway and recognise it's important a consistent approach is adopted, which is why we're pleased to be the first train operator to be awarded this accessibility accreditation for our web content by Shaw Trust.
"Providing an accessible website is the latest project we've delivered as part of our commitment to make journeys and easy and convenient for all our customers. It has been great to work with Shaw Trust to make sure our website meets the Web Content Accessibility Guidelines and we hope it will enable customers to book and plan their journey confidently and independently every time they travel with us."
Joe Manock, National Account Manager, Shaw Trust Accessibility Services, said: "Shaw Trust are absolutely delighted to have awarded Avanti West Coast their WCAG 2.1 AA Accreditation for the outstanding work in making their website accessible and inclusive for all. We have been impressed at the way they have left no stone unturned in making sure that one and all can access their services. It has been a real pleasure to work with the Avanti West Coast Team and we look forward to continuing supporting them on their Accessible journey."
ENDS
Contact Information
Laura Normansell
Avanti West Coast
Notes to editors
Web Content Accessibility Guidelines (WCAG) explains how to make web content more accessible to people with disabilities. WCAG covers websites, applications and other digital content. It is developed by the World Wide Web Consortium (W3C) Web Accessibility Initiative (WAI). WCAG is an international standard.
There are three levels of conformance:
Level A is the minimum level.
Level AA includes all Level A and AA requirements.
Level AAA includes all Level A, AA and AAA requirements.
https://www.w3.org/WAI/standards-guidelines/wcag/
About Shaw Trust Accessibility Services
Accessibility Services is a charitable enterprise with over 30 years' combined experience in delivering high quality, professional accessibility services.
We work with central and local government bodies, private sector companies and charities across the UK and internationally. Our aim is to support organisations to create an accessible environment for their staff and customers.
We are part of Shaw Trust, the UK's largest not-for-profit social enterprise providing services and support to enable people to access rewarding employment opportunities. From child to career, Shaw Trust works in service of people with complex needs, breaking down barriers to equal opportunity and providing continuity of support and good help into good work – so that we might all share a more prosperous future. Shaw Trust's social enterprise exists to generate social value and advance social mobility. Shaw Trust is an organisation with a 'commercial brain and a charitable heart'. Where enterprise surplus has a social purpose. Surpluses are reinvested through Shaw Trust Foundation into programmes to level-up prospects for individuals and communities, designed to deliver inclusive growth. Shaw Trust is a national charity, which has grown in reach since it formed in 1982 in the village of Shaw, Wiltshire. Originally the charity supported the few local disabled people from Shaw to help them find employment. Now Shaw Trust supports over 50,000 people a year throughout the UK and further afield so they can live independent and inclusive lives.
Accessibility Services provides guidance and support in:
Digital accessibility
Training in digital accessibility
Media services (accessible documents, transcripts and captioning)
Digital accessibility consultancy
Inclusion is at the core of our work and the dedicated team strives to enable disabled individuals to live more independently and engage in community life both on and offline.
As a charitable enterprise part of our aim is to educate and influence by increasing awareness of digital and physical inclusion in society. Moreover, the team understands the challenges organisations face and actively works to improve accessibility in society through the services it delivers.
https://www.accessibility-services.co.uk/
About Avanti West Coast
Avanti West Coast, operator of intercity rail services on the West Coast Main Line, is a joint venture between FirstGroup and Trenitalia, delivering a cleaner, greener railway that drives the West Coast forward.
We're on a mission to revolutionise train travel, linking together the towns and major cities of the UK to create an iconic railway the country can be proud of. We've got big plans including a fleet of new intercity trains, as well as the complete refurbishment of the existing Pendolino train fleet. We will introduce more train services every week with new routes added, and a much-improved onboard service with enhanced free Wi-Fi, plug sockets, 25,000 brand new seats and improved catering. Since 8 December 2019, passengers have benefitted from improved passenger compensation, available for journeys delayed by just 15 minutes.
For the latest news, visit the Avanti West Coast Media Room: https://newsdesk.avantiwestcoast.co.uk/
Press Office: 0845 000 3333